Reports of social unrest and political crisis in the Ukraine has filled global headlines in recent days. But for many investors, this news is likely an afterthought when thinking about their investment portfolios. After all, the only thing that seems to matter to most investors today is the stock market, and only the most specialized are likely to have any exposure to names found on Ukraine's PFTS Stock Exchage such as Ukrnafta, Motor Sich or Centernergo. But for the many yield starved investors that have found themselves in recent years venturing into unfamiliar territory across capital markets in the desperate pursuit of income, they may have far more direct exposure to the crisis in the Ukraine then they may realize.
Ukraine is largely absent from the global stock market investment scene. When dissecting the MSCI Emerging Market Index (NYSEARCA:EEM), Ukraine is nowhere to be found. Instead, it is listed as a frontier market along with the likes of Nigeria, Kazakhstan and Oman. But unlike these three countries that make up 20% of the MSCI Frontier Market 100 ETF (NYSEARCA:FM), Ukraine currently has no companies listed as a holding in the product. As a result, any investor that has an equity exposure to Ukraine has likely gone to a great deal of concentrated effort to establish such a position, as they are not simply stumbling upon such a position in a packaged stock market ETF.
The country has a notable presence in the global bond market, however. Despite being listed as a frontier market on the stock side, Ukraine is listed as an emerging market on the bond side. And for those many yield seeking investors that have been forced out of FDIC insured CDs from their local banks and plunged into the deep end of the capital market pool in trying to generate income, it may come as a surprise that they may actually have a fairly decent sized exposure to Ukraine when its all said and done.
The Emerging Market Bond asset class has become popular with income thirsty investors in recent years. With yields in the 5% to 6% range, it is understandable why this is the case. Two emerging market bond products hold the lion's share of the assets in the ETF space. The first is the iShares JPMorgan USD Emerging Market Bond Fund (NYSEARCA:EMB). The second is PowerShares Emerging Market Sovereign Debt Portfolio (NYSEARCA:PCY). It is notable that these products have direct exposures to Ukraine bonds totaling 3% and 4%, respectively, of the entire product.
At first glance, this exposure still seems like a negligible issue. After all, even with a fairly aggressive 5% portfolio position in emerging market bonds for an income oriented investor, the allocation to Ukraine within these products would limit overall account exposure to just 0.15% to 0.20%. But the situation is more complicated than just the fact that the citizens in Ukraine are lashing out at their government, as the problems currently afflicting Ukraine also exist across a number of emerging markets. For example, Ukraine has accumulated a massive current account deficit and has a currency that has been depreciating in value relative to its major global counterparts including the U.S. dollar (NYSEARCA:UUP), euro (NYSEARCA:FXE) and Japanese yen (NYSEARCA:FXY).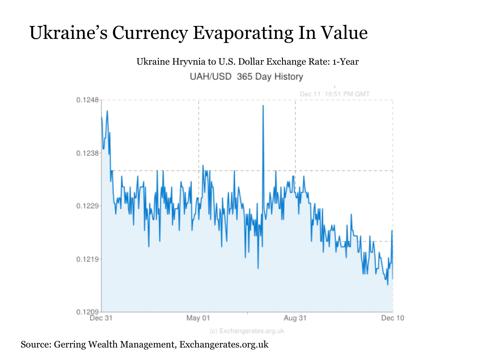 Making matters worse, it has roughly $10 billion in debt payments coming due between now and the end of 2014. This, of course, leads to the heart of the issue as to why the citizens of Ukraine are upset in the first place. They became angry when government officials suddenly scuttled a partnership deal with the European Union in late November in favor of revitalizing trade relations with Russia. Underlying this situation is the dilemma Ukraine faces as to from whom exactly they can secure the necessary financing to avoid defaulting on this maturing debt.
Unfortunately, many other economies across the emerging market bond space face similar problems in the years ahead. Many countries encouraged by the torrential inflow of central bank liquidity in recent years have accumulated sizeable debt burdens and current account deficits. These include major emerging markets such as Brazil, Indonesia, Turkey and South Africa. Together, these countries make up a far more notable 22% of the iShares JPMorgan USD Emerging Market Bond Fund and 16% of the PowerShares Emerging Market Sovereign Debt Portfolio . It is also worth noting that the PCY in particular is heavy on countries that are close neighbors to Ukraine in Eastern Europe including Latvia, Hungary, Romania, Lithuania, Croatia, Poland and Russia that combined make up another 33% of the largely equal country weighted PCY.
While the current situation in the Ukraine is far more severe right now relative to most emerging market sovereigns, it is simply at the forefront of a problem that has the potential to grow exponentially across the emerging market space as central bank policy stimulus is first stopped and subsequently withdrawn in coming years. Moreover, sometimes all it takes is a relatively small economy like Ukraine to face potential default on its debt to ignite a contagion that rapidly accelerates the corrective process. Under such a scenario, what was once an isolated emerging market debt issue can quickly become a global capital markets crisis. We only need to recall all of the turmoil surrounding the situation in Greece over the last few years to see how this can all play out. And with emerging market bond yields and spreads still hovering near historical lows, the risk for such a flight to quality correction is elevated.
In the end, the situation in Ukraine is likely to be contained from an emerging market debt and capital markets perspective. But what it does highlight is that systemic risks are once again rising across the globe. And the free pass that has been afforded the global economy over the last few years from aggressive monetary stimulus by central banks may soon be coming to an end whether policy makers like it or not. Such are the unintended consequences than can arise when running the monetary printing presses for far too long.
This post is for information purposes only. There are risks involved with investing including loss of principal. Gerring Wealth Management (GWM) makes no explicit or implicit guarantee with respect to performance or the outcome of any investment or projections made by GWM. There is no guarantee that the goals of the strategies discussed by GWM will be met.
Disclosure: I have no positions in any stocks mentioned, and no plans to initiate any positions within the next 72 hours. I wrote this article myself, and it expresses my own opinions. I am not receiving compensation for it (other than from Seeking Alpha). I have no business relationship with any company whose stock is mentioned in this article.