Zynga Inc. (NASDAQ:ZNGA) formerly known as Zynga Game Network Inc, was established in 2007 and is headquartered in San Francisco, California. The company is involved in the development of online social games which are accessible through social websites, Zynga's own website and mobile platforms. The company generates its revenue through advertising, in-game sales of virtual goods and mobile game download fees. Farmville and Zynga Poker are the most successful games in its product portfolio. The primary source of revenue for the company is the virtual currency that players use to purchase virtual goods within the game environment. The company generates around 86% of its revenue from virtual currency sales and mobile game downloads. The remaining 11% of Zynga's revenue is made up of advertisements. It generates a significant portion of its revenue through Facebook. For the twelve months ended December 31, 2012 and 2011, 81% and 93% of the company's bookings, respectively, were generated through the Facebook platform; while 18% and 5% of its bookings, respectively, were generated through mobile platforms.
Market Performance
Shares of Zynga are quoted on NASDAQ and are currently trading at around $4. The market has seen an appreciation in the valuation of Zynga since the start of the year. Zynga's shares have appreciated by 86% since the beginning of the year. The main reason behind this growth was the company's above analyst estimates guidance in the first and fourth quarters; but for the remaining quarters the guidance was below analyst estimates. Hence, no significant increase was seen in valuations.
Trends

Revenue in billions

2011

2012

2013(NYSE:E)

2014(E)

Revenue

1.14

1.28

.70

.63

EPS

(0.49)

(0.26)

(0.06)

(.04)
Negative EPS and declining revenue year on year have contributed to such low valuations of Zynga, but as we see from the table the EPS situation is getting better despite the revenue decline. The company is cutting overheads and costs which may have contributed to an improved EPS. Evidently, the improvement has not been because of business growth as we can see that the revenue is expected to shrink in the future.
Future Prospects
The Facebook Effect
Zynga is largely dependent on Facebook for its user traffic. As mentioned earlier, around 81% of the bookings in 2012 were generated through Facebook's platform. In the late 2012, Facebook loosened its alliance with Zynga, enabling other game developers to attract their users via Facebook. Facebook's platform now offers an almost equal footing for online social game developers. "Facebook is moving toward treating all developers as equal," Will Harbin, the CEO of game maker Kixeye Inc, said. "We have streamlined our terms with Zynga so that Zynga.com's use of Facebook Platform is governed by the same policies as the rest of the ecosystem," Facebook said in a statement. Log-ins, payments and advertising requirements were eased for Zynga at the expense of their special rights on Facebook. As a result of this development, Zynga has been facing tougher competition on the Facebook platform and it is possible that the company will lose its active user share. However, the flexibility of payments and logins should allow Zynga to attract customers through its own website. With eased advertisement requirements, Zynga's games will be less crowded by adverts; something which all users will appreciate. On other point worth mentioning here is that Zynga's fee payments to Facebook will ease down. The company paid around $338 million in lieu of fees to Facebook during the first quarter of 2012. The relaxed payment and advertisement terms will surely decrease the level of fee payment thereby increasing EPS position of Zynga. Overall, we believe that the company will lose its share of active users because of stiffer competition on Facebook because the traffic on Facebook's Platform is much higher than that on Zynga's own website; and mostly the traffic to Zynga.com is directed from Facebook. Hence, the dependency on Facebook is a big problem for Zynga at present and in the future. However, Zynga is better off focusing on mobile apps because of a strong growth factor in the mobile industry.
Market Dynamics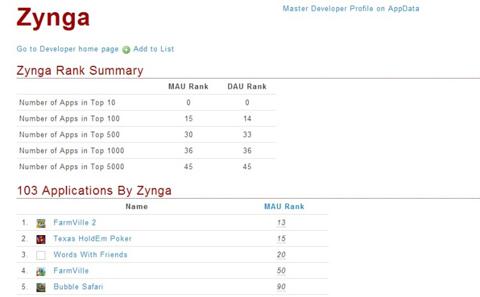 Click to enlarge
The online and mobile gaming industry is constantly evolving. New games are being developed on a daily basis. This constantly changing industry entails its fair share of risk because it requires constant innovation; the companies that fail to innovate on a regular basis will eventually lag behind. Zynga was the market leader with the top six games of the previous year, according to AppData. At present it does not have any games in the top ten in terms of MAU (Monthly Active Users), with Farmville 2 standing at number 13. King.com, with only 15 applications as compared to Zynga's 103, is on the AppData leaderboard. All these facts points toward the changing market dynamics and position. In the given industry any company is as good as its flagship apps or games. So, it is hard to predict a long term winner in this scenario. Zynga can be the market leader in the near future if it comes up with several good apps and games, but so can any other developer. Hence, the position of any company in this industry is volatile and subject to the rate of successful innovation. Overall, this is a high risk industry which makes Zynga a high risk investment; but high risk means high reward. Any investment depends upon the investor's appetite for risk.
Real Money Gambling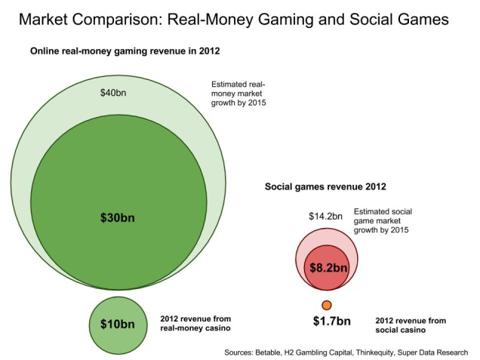 Click to enlarge
The company was weighing its options to enter real money gambling but scrapped off this option in the second quarter 2013. By 2017 the US may represent up to 30% of the global online gaming market and generate gross win just over $7.4billion, which will continue to grow annually. Zynga launched ZyngaPlusPoker and ZyngaPlusCasino in the UK but is not expanding into the US market which could have been a growth prospect. This could be due to the failure to lobby or Zynga's belief that the costs of competing against companies like IGN will outweigh the benefits. Whatever the reason may be, the company backed out from a growing online gaming industry which could have helped it to reinstate a positive EPS.
Cost Restructuring
Zynga announced substantial cost restructuring in June. Back in 2012, it reduced its employee base by 150 approximately and achieved cost savings of an estimated $15 to $20 million. The company repeated the same exercise in 2013 and let go off 520 employees; getting to an employee base which was even less than when it held its IPO. This restructuring was directed towards controlling costs and improving the EPS of the company. In fact, Zynga has been successful in improving EPS despite a decline in revenue. If the company finds a way to increase its revenues, these cost cuts will further boost its net income position; hence, improving the EPS outlook of the company. However, all these efforts will be in vain if the revenues of the company continue to follow the current trends and the MAU standings of the company deteriorate further. The important thing to note here is that the cost management will buy Zynga the time to reposition and come up with market leading products, otherwise the rapidly changing industry will not show mercy to even one of the leading social gaming services.
Transition: The Mobile Industry
The mobile gaming industry is booming. A market study suggests that the gaming sales on tablets and smartphones are getting doubled every 4-5 years and it is expected that the sales will reach a figure of $1.5 billion by 2014-2015. Zynga's mobile monthly average users make up around 24% of the total MAU of the company. The company is shifting from PC to mobile as a 75% growth factor was seen in mobile MAU in the past year. The growing mobile industry is an opportunity for Zynga if it is able to offer competitive social games. Zynga hired Clive Downie to be its new COO. Downie was involved with Electronic Arts in the past and was responsible for famous titles like FIFA and Need For Speed. Under his guidance, Zynga may be able to develop attractive titles that will allow it to grow in the mobile social gaming market. Furthermore, in our view Zynga's strategy of constantly following its successful titles with sequels will not be very successful. Mobile games have a limited shelf life and the sequels are deemed to be even shorter lived because of their resemblance to the original game. The key to success would be new, innovative and high quality social games that have a high retention rate.
Financial Performance
Profitability
The revenue of the company is expected to decline sharply as compared to the previous year. Despite guidance above analyst estimates the company is facing problems in terms of revenue growth. The Facebook effect and the delayed shift to mobile games might be the cause of shrinking revenues. The company has reported a net loss in the previous three years but there are indications of improvement in net loss position. This is because of the cost cutting activities carried out by Zynga in the past couple of years. However, the company needs to find growth otherwise it will be difficult to guard earnings by cost reduction.
Liquidity
Despite declining revenues the company has around $1.1 billion of cash and its current ratio is around 4x, which is a very healthy figure as far as the balance sheet is concerned. This strong liquidity position is a competitive advantage and it buys Zynga the time to come up with some new social games that have the potential for being successful.
Investor Attraction
Zynga has been suffering from negative EPS trends during the past several years and as investors tend to rely heavily on EPS, the company's valuation will be affected if the EPS does not recover. With industry P/S of 2.06, Zynga's revenue is expensive as its P/S is 4.08. This means that the market is valuing Zynga higher than the industry. With a volatile and rapidly changing industry, it is prudent to assume average P/S for even the market leaders. Hence, Zynga is overpriced with reference to the revenue it is generating. This also means that if the revenue position of the company does not improve in the near future, the P/S will come down by virtue of declining valuations. According to our estimates, based on P/S, if the company follows the same trend and sustains the current level of revenues, the target price should be $2.20. However, if the company is able to increase its revenue, the story could be quite different. The ex-cash valuation of the company stands at $2.7 and the P/S at 1.7.
Conclusion
Zynga has enjoyed a leading position in the social games market in the past but recently it has been facing difficulties in sustaining revenue levels because of the loosened ties with Facebook, which have resulted in an increased level of competition but cost reductions due to fee relaxations from Facebook will release the pressure from earnings. Zynga's delayed transition towards mobile games has also contributed to its decreasing revenues. At present, the company is making a rapid shift towards mobile games and its revenue will grow if it offers competitive and attractive titles. This is quite possible because Zynga has bought time to develop competitive games due to its solid liquidity position. The cost reduction policy has further reduced the strain on Zynga's cash pile.
There are growth opportunities in the social games industry but given the competitive and innovative environment, it is difficult for a single company to dominate the industry for too long. Zynga do have cost benefits for now from current reduction program and from the current Facebook scenario but in the long run the ability to attract gamers is the only thing that can make Zynga successful. Recently, Zynga's games are not as popular as they were before and with expanded developers base the industry is high risk. Zynga may show future growth but every other company has the same odds. Investment in any social gaming company is high risk and the risk-averse and risk-neutral investors should avoid it. As far as Zynga is concerned, it is better positioned than other companies to take advantage of the future prospects but the inherent risks of the industry will also play their role. In our opinion, Zynga is a good speculative play in the rising industry that is smartphone-gaming. The ex-cash valuations seem pretty cheap and with a solid cash pile, it does have the necessary resources to turn out another blockbuster game, especially when it has already proved itself to be an innovative company which has continued to evolve despite the huge Facebook setback. Therefore, at these price levels Zynga is well pointed to rally and with limited downside (ex-cash valuations are low) seems like a good buy.
Risk factors:
Development by comppetitors of several successful game titles in the mobile industry would change the thesis.
Change in gaming industry dynamics can also have a negative impact on this thesis.
Disclosure: I have no positions in any stocks mentioned, and no plans to initiate any positions within the next 72 hours. I wrote this article myself, and it expresses my own opinions. I am not receiving compensation for it (other than from Seeking Alpha). I have no business relationship with any company whose stock is mentioned in this article.
Additional disclosure: Equity Flux is a team of analysts. This article was written by our Technology analyst. We did not receive compensation for this article (other than from Seeking Alpha), and we have no business relationship with any company whose stock is mentioned in this article.