Introduction
In this article I'll have a closer look at Smith and Wesson Holdings (SWHC) which is without a doubt one of the world's largest and most respected weapons manufacturer. As the company has just released its quarterly results, I will provide my view on the company's financial statements and its balance sheet. I will also briefly discuss its outlook, which will result in my investment thesis at the end of this article.
My view on the financial results
In the second quarter of financial year 2014 (Smith and Wesson's financial year starts in May and ends in April), the company reported a total revenue of $139.3M which is a 2% increase compared to the same period last year. But it's remarkable to see that Smith and Wesson was able to reduce its cost of sales by an astonishing 7.5% to 'just' $81.4M. The combination of both factors caused the gross profit to increase by a stunning 19% to $57.9M. Unfortunately this impressive increase was almost neutralized by a 60% increase in general and administrative costs, which caused the operating income to increase by just 8%.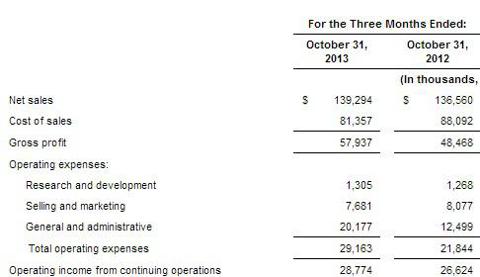 Looking at the bottom line of the company, Smith and Wesson reports a net income of $17M which translates to $0.28/share.
As most of my readers know, I also always have a look at the cash flow statements of companies, as those statements usually give a much better impression of the quality of the underlying business.
So when we move over to the cash flow statements for the first six months of the financial year, SWHC generated an operating cash flow of $24M, which was entirely used to fund capital expenditures as the company spent $26.1M on the acquisition of properties and equipment. This caused the company to be free cash flow negative by $2M.

It's also interesting to see that the company borrowed $101.5M and it used the proceeds to repurchase $100.8M worth of its own shares. This will ultimately benefit the shareholders, as the net profit will now have to be divided over less outstanding shares.
My view on the balance sheet
Moving over to the balance sheet, Smith and Wesson had a working capital position of $133M at the end of October, which is $14M less than at the end of April of this year. This might sound bad, but let's not forget the company also repurchased its own shares for a total value of in excess of $100M. The current ratio still was extremely healthy as it came in at 2.45. Keep in mind a ratio higher than 1 means the company has sufficient current assets to cover its current liabilities.

At the end of H1 2014, SWHC had a book value of $2.34/share. This is a decline of approximately $0.45/share compared to the end of April this year, and this was entirely caused by the fact that Smith and Wesson bought back approximately 8.4 million shares at a price of 4-5 times its book value.
Outlook
For the third quarter of the current financial year, Smith and Wesson expects to increase its revenue even further to $140-145M and expects a stable EPS which is expected to come in at around $0.28-0.30. It's encouraging to see the management team thinks it can keep its margins stable. For the full year 2014, revenues are expected to come in at around $610-620M (which means the company is de facto counting on a very strong Q4 with $155-165M in revenue), and an EPS of $1.30-1.35, which means the company is currently trading at just 9 times its earnings, which is quite cheap.
I'm glad with the company's reaffirmed guidance, and I think a lot of investors will be very pleased with this update.
Investment Thesis
Even though Smith and Wesson was free cash flow negative again in the first half of the financial year 2014, I'm happy with the upbeat outlook for the remainder of the year,as the management expects to end FY 2014 on a strong note.
Smith and Wesson closed at $12.12 today, which means the company is currently trading at just 9 times the net earnings, and I think that's a bit cheap, especially as I'm expecting SWHC to return to a free cash flow positive stage again.
I'll obviously have to wait to see what the share price does on Wednesday, but at this point it might actually be worth it to write an in-the-money put option on SWHC. I'm particularly looking at a P14 June 2017 at $2.70. If SWHC trades below $14 by expiration date, I will get the shares assigned at a cost of $11.30 ($14-$2.70). If SWHC trades higher than $14 at expiration date, I can just keep the option premium.
Disclosure: I have no positions in any stocks mentioned, and no plans to initiate any positions within the next 72 hours. I wrote this article myself, and it expresses my own opinions. I am not receiving compensation for it (other than from Seeking Alpha). I have no business relationship with any company whose stock is mentioned in this article.
Additional disclosure: I have no position in SWHC, but might write an in-the-money put option,as explained in the article.