Today I am back as part of a series I started a year ago discussing short interest moves in the stock market. There will always be short interest moves to discuss, and today my focus is on chip giant Intel (NASDAQ:INTC). Intel's short interest had been rising throughout most of 2013, something I have detailed for quite a while. Recently, short interest has started to turn lower. Today, I'll explain what's going on with Intel's short interest, and look at a different side of Intel.
The latest short interest update:
I've been collecting data on Intel's short interest since April 2012. That's when I really started focusing on this stock more for Seeking Alpha, and it's also about the time when sentiment started to turn on Intel. It became apparent that the PC market was not doing well, and after that quarter (Q2 of 2012) when Intel issued a large guidance warning for 2012. As you can see from the chart below, it was during the middle and latter parts of 2012 when Intel's short interest really started to spike.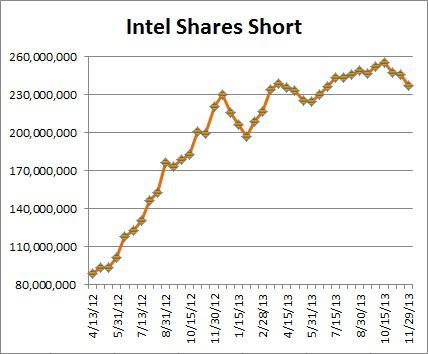 Don't forget, Intel is also a name that's buying back stock and reducing the share count. I'll have more on that angle later. But the numbers speak for themselves. Over the past year, Intel's short interest is up 7.41%. However, since the middle of April 2012, short interest is up more than 167%. You can't find many examples of this kind of increase for a large cap name in today's market, not with the Federal Reserve's QE program boosting markets to new highs.
However, there has been a small shift lately in regards to Intel's short interest. Over the last three updates, going back to the middle of October, we've seen three straight declines. In total, more than 18.4 million shares have been covered. That's a little more than 7.2%, or 1 out of every 14. This is also the first time since the end of June that short interest has been under 240 million shares. While there has been a small shift lower for short interest, I can't really call this a trend until the move is a bit larger. Short interest can easily reverse at the next update and could set another new high.
Days to cover ratio still high:
One number that I would also like to see come down is the days to cover ratio. This ratio is the number of days it would take all short sellers to cover their positions. So if a stock has 30 million shares short, and average daily volume is 10 million, it would take 3 days for all shorts to cover. The following chart is Intel's days to cover ratio over the past year.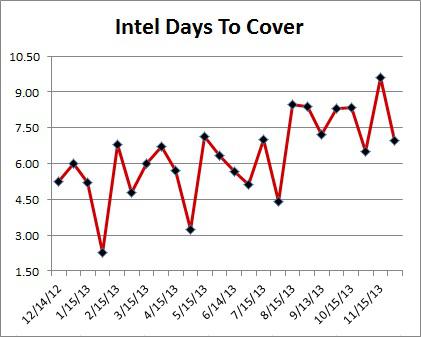 There are two factors in play in regards to this ratio, short interest and volume. In the mid-November update, Intel's days to cover ratio hit a new high of 9.62. That ratio plummeted to 6.98 at the end of November. However, short interest only declined by about 3.5%. The key here was volume. With Intel holding its Investor Day and warning for 2014, volume picked up late in the month. Had Intel's volume been the same as the last short interest update, the days to cover ratio would have been 9.28. That's a lot different from 6.98.
However, it is hard for me to say that Intel's short statistics are high without some sort of comparison. So for the rest of the article, I'll compare Intel against the following names: Apple (NASDAQ:AAPL), Microsoft (NASDAQ:MSFT), Cisco Systems (NASDAQ:CSCO), Google (NASDAQ:GOOG), and Qualcomm (NASDAQ:QCOM). These names are all either large cap technology names or competitors with similar characteristics to Intel. The first comparison will be a days to cover comparison.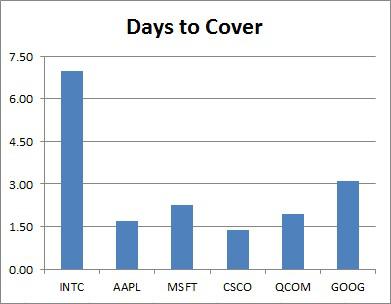 So when I say that Intel's days to cover ratio is high, I'm not kidding. The highest days to cover ratio of the other five names is Google, which stands at 3.10. Intel's ratio is more than double that, and remember, Intel's ratio was well above 9 at the previous short interest update. The average days to cover ratio among the five comparison names is 2.07, less than a third of Intel's 6.98. Intel's days to cover ratio is extremely high for a name of this size.
Percentage of outstanding shares / float:
Another item to consider is the short interest number in relation to a company's outstanding share count or float amount. If a name has a really high percentage of either number, it can mean a big short squeeze is possible. We've seen names like Netflix (NASDAQ:NFLX) and Tesla Motors (NASDAQ:TSLA) have huge short squeezes this year, and they had really high short counts. Now, none of the names I'm going to discuss have really high percentages, and you wouldn't expect names of this size to have like 30% of their float short for instance. But there is a huge difference between Intel and the pack. The following table shows a comparison between the six names I've discussed. The outstanding share count and float numbers are taken from the Key Statistics page on Yahoo! Finance for each. Here's Intel's page, for example. The share numbers on Yahoo are rounded a little, but it doesn't have a huge impact on the overall numbers.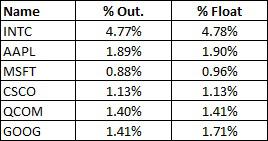 As I mentioned above, Intel's share count has come down in recent quarters. Intel's outstanding share count was 4.973 billion at the end of Q3 2013, as per the 10-Q filing. Three years ago, that share count was over 5.57 billion. So when you have a name getting its share count down, but rising short interest, the percentage of shares short will increase. The key here is that nearly 4.8% of Intel's float is short. No other name is above 2%, and the five name average is just 1.42%. Don't forget, Intel's short interest number was even higher in October, so the numbers above were even higher.
What's impacting short interest?
Sometimes, short interest can fall for both good and bad news. I believe that this is the case with Intel over the past month and a half. I think the first part of the short interest decline, from the middle of October to the middle of November, was due to increased optimism over Intel's transition to mobile and a rebound in 2014. Short interest seemed to come down a bit after Intel's third quarter report, as the stock rose on what I thought was disappointing news. You can see the post-earnings rise in the chart below. Intel went from $22.50 in early October to more than $25 at the Investor Day.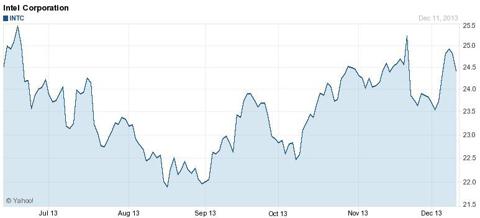 (Source: Yahoo! Finance)
But I think the bad news helped a few shorts to cover towards the end of November. When Intel warned on 2014, shares fell from more than $25 to under $24, as you saw above. With Intel shares at their lowest point in a month, back under $24, I bet a few shorts decided to either take some profits or cut their losses. The next short interest update in a few weeks will be even more interesting. With Intel shares bouncing back up, will short interest rise towards new highs again?
Final thoughts:
Intel's short interest has come down in the past month and a half, but still remains elevated and well above early 2012 levels. Intel has a very high days to cover ratio and high percentage of float/outstanding shares short when compared to other large cap tech names. I don't think short interest in this name is going to drop anytime soon, just because the company continues to give disappointing forecasts. As I stated in my most recent article, I would look to short Intel in the $25.25 to $25.75 range. My short case for Intel apparently isn't the only one out there, as the struggling chip giant is the most shorted name among several large cap technology companies.
Disclosure: I have no positions in any stocks mentioned, and no plans to initiate any positions within the next 72 hours. I wrote this article myself, and it expresses my own opinions. I am not receiving compensation for it (other than from Seeking Alpha). I have no business relationship with any company whose stock is mentioned in this article.
Additional disclosure: Investors are always reminded that before making any investment, you should do your own proper due diligence on any name directly or indirectly mentioned in this article. Investors should also consider seeking advice from a broker or financial adviser before making any investment decisions. Any material in this article should be considered general information, and not relied on as a formal investment recommendation.