Groupon Inc. (NASDAQ:GRPN) is an e-commerce company based in Chicago, Illinois. It essentially operates as an intermediary between merchants and consumers. Groupon benefits merchants by making their businesses more marketable while the consumers get added flexibility in terms of cost and quality. By leveraging the company's global relationships and scale, Groupon offers deals on the best things to eat, see, do, and buy in 48 countries. The company distributes its deals through three channels; email, mobile platforms and groupon.com. It uses emails to distribute deals to subscribers based on their location and personal preferences. The company's website offer deals under the headings of Local, Goods, Getaways, Reserve, Freebies and Gift Shop.
Local section offers deals from local merchant partners across multiple categories, including food and drink, events and activities, beauty and spa, fitness, health, home and auto, shopping, and education. Goods Section offer customers to find deals across multiple product lines including electronics, sports etc.
Getaways section features offers from travel partners, including hotels, airfare and package deals covering both domestic and international travel.
Reservation section enables the customers to get reservations in high-end restaurants. This service covers many restaurants across US states.
Freebies section brings to customers attention coupons, prom codes and giveaways offered by different brands.
Gift shop section offers gift ideas and deal under number of classifications.
There are around 65000 active deals being offered with 65 million local merchant worldwide. In the trailing twelve months, Groupon generated around 60%, 27% and 13% of its revenue from North America, EMEA and the rest of the world respectively.
Market Performance
The shares of Groupon are listed on NASDAQ and are currently trading at around $9. The valuation appreciated by 76% in the year to date.
Trends

Revenue in billions

2011

2012

2013(NYSE:E)

2014(E)

Revenue

1.61

2.33

2.52

2.9

EPS

-0.55

-.10

.09

.25
The increase in valuations can mainly be attributed to the year-on-year improvement in revenue and EPS. EPS has been negative in the past few years but is expected to recover in the future, hence the growth in valuations. The valuation touched $12 in the third quarter, but since then it has fallen to around $9. This could be because of the Wall Street estimates falling from $0.5 to $0.1 in just three months. The anticipated decline in gross billing may also be a cause for the performance in the last couple of months.
Future Prospects And Catalysts
Mobile E-Commerce
The use of smartphones and tablets is booming. People use phones more often than personal computers. Hence the shift towards mobile commerce could be a ticket to growth for Groupon. However, there are certain things that come in to play and simply entry into the mobile market cannot be taken as a guarantee for success. Factors like competitors position, quality of deals and ease of use (apps) can play a significant role in the future of the company in mobile commerce. According to a Groupon official, mobile customers spend 50% more than desktop customers. The company reported that over 40% of its transactions occurred through a mobile device in September 2013 and Groupon app's downloads have exceeded 60 million.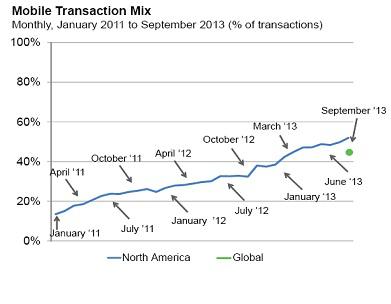 Groupon's app is ranked #44, while eBay is ranked #40; eBay's market cap is around $67 billion. Being so close to the popularity level of such a large company, it is evident that Groupon has a strong opportunity to grow in mobile e-commerce. Moreover, the app also includes features that enable the saving of credit card info and mailing addresses, streamlining the payments for future transactions. This minor detail could yet prove to be the difference because consumers are inclined to favor easy and less repetitive processes. It is safe to assume that Groupon has positive future prospects in the mobile e-commerce industry.
The Pull Strategy
The company is shifting its strategic course from an email/push to a search/pull approach. Instead of pushing emails to potential customer's inboxes, the company is now focusing on monitoring the search patterns of the website and app users and securing deals with merchants based on the search analytics result. During the current quarter, 75% of merchant contracts signed in North America opted to feature in the pull marketplace with a monthly recurring deal. The pull strategy has helped Groupon to manage its costs effectively by reducing marketing expenses over the years. Marketing expense, as a percentage of sales, has declined from a peak of 93% in 2010 to 9.12% in the second quarter of 2013. So with the pull strategy the company is managing to reduce overall costs. The reduction in costs will impact the EPS of the company and an improving trend will be seen in future partially due to cost reductions and partially because of more successful deals as a result of focused deal offerings thanks to the Pull strategy. All in all this strategy will assist EPS growth of the company.
The Acquisitive Strategy
Groupon has been involved in several acquisitions in the recent past in order to capitalize on the growth factor that mobile e-commerce has to offer. It recently concluded transactions to acquire Ticket Monster, Blink Booking and SideTour.
Ticket Monster is one of the leading e-commerce websites in Korea. Email purchases account for less than 10% of Ticket Monster's total sales indicating a healthy direct website customer proportion and, in effect, the popularity of website. No substantial marketing expense (push email) is required and this business model is compatible with the pull strategy of Groupon. Ticket Monster has an annualized run rate of $800 million in billing which translates to around $100 million in added revenue for Groupon. This is an increase of around 4% on the current revenue of the company. Groupon will pay around $260 million for the acquisition of Ticket Monster. $100 million will be paid in cash and the rest offered as class "A" common stock. The acquisition of Ticket Monster is expected to grow the earnings and revenues of Groupon.
Blink, a European destination for great deals on same-day hotel bookings, was acquired by Groupon to assist their growth in mobile e-commerce. Blink covers over 3000 hotels in 200 European cities. The app, now known as Blink by Groupon, has been downloaded around 650,000+ times across Europe. This acquisition will also complement and contribute to the future growth of Groupon.
The SideTour acquisition was also completed by Groupon in the current year. SideTour is a marketplace that helps people discover, book and host great local activities. Basically the company is providing a platform for event/tour organizers and their clients. People post "experiences," i.e. description of events they will organize with a price tag. This is a startup business, yet it has great future growth prospects. It's free to have your experience included on SideTour. Hosts set the prices of their experiences, and SideTour takes a 30% fee on completed transactions. The point to note here is that the company takes a fee without being involved in organizing and planning the event. It saves time and cost; as long as the company controls the quality of the experiences posted and ensures their successful execution. Groupon has the opportunity to capitalize on the innovative and cost-effective business model of SideTour.
Weaknesses and Threats
The competition in the social buying industry has been intensifying for some time now. Amazon (NASDAQ:AMZN) and eBay (NASDAQ:EBAY) have already set foot in this industry; eBay with its lifestyle deals and Amazon with LivingSocial. These two companies have had a long experience with internet customers and are familiar with the dynamics of the internet market. They will be a real threat to the future of Groupon.
The new Gmail inbox classification has dented the viewing of email push advertisements and hence, the deal offerings of Groupon. Groupon needs to attract customers directly to its website and app to avoid losing revenue because of this development.
The US government is inclined towards reducing its economic stimulus. Interest rates are expected to rise as the US government tries to reduce the supply of money. Bond yields will increase as a result of shifting capital from equities to the debt market. Incidentally, the companies with low noncurrent assets on the balance sheet will find it difficult to recover in these circumstances. Groupon, being an e-commerce stock, has less tangible noncurrent assets making it susceptible to be hit adversely by these current developments.
Liquidity And Cash Position
The company has a cash balance of around $1.1 billion. Even if we consider the cash payment of $100 million for Ticket Monster, the company would have around $1 billion in cash. The current ratio of the company is above 1, demonstrating no liquidity problems. Groupon is not paying dividends. Therefore, the cash can be used to capitalize on new opportunities as they arise. Groupon also has zero gearing in its capital structure making it a company with minimal financial risk and increased debt capacity. The positive outlook of the balance sheet means that the company has some space for experimentation.
Valuation:
| | | |
| --- | --- | --- |
| | Revenue growth | OP margin% |
| Facebook | 31.52 | 33.5 |
| LinkedIn | 54.06 | 4.56 |
| eBay | 14.63 | 20.9 |
| Amazon | 35.94 | 0.91 |
| | | |
| Average growth | 27.23 | 14.9675 |
| Groupon | 26.1 | 1.94 |
The above mentioned table shows the future growth and current operating margins of the company as compared to the industry average. The table indicates Groupon growth is slightly below the industry average but its operating margin is very low as compared to other companies. So, for valuation purposes the industry P/E cannot be used until a suitable discount is applied. The table below tells the forward PE story of the industry along with Groupon.
| | |
| --- | --- |
| | Forward PE |
| Facebook | 44.8 |
| Baidu | 4.49 |
| LinkedIn | 106.75 |
| eBay | 16.54 |
| | |
| Average PE | 43.145 |
| Groupon | 40 |
A multiplier of 30 is selected because of below average growth in revenues and operating margins. A discount of 30% is applied to the average PE in order to reflect the below average performance of Groupon.
Price targets using 30x multiplier

PT in USD

EPS

PE

Price Target

High

0.37

30

11.1

Mean

0.25

30

7.5

Low

0.13

30

3.9
The mean price target shows that Groupon is overvalued. Despite its future growth prospects, with these earnings going forward, the valuation is set to depreciate. Earnings situation of the company needs to improve if it is to stabilize its market performance.
Conclusion
Groupon is shifting towards the booming mobile e-commerce by acquiring and developing its own apps. The company is also diversifying into different e-commerce segments to capitalize on this growth. The "pull strategy" is helping Groupon to reduce costs and secure deals more efficiently. All these facts point towards future growth of the company and it is expected to grow; if the economic conditions remain unchanged. However, the intensified competition, saturation in the market and the recent Fed Taper, i.e. reduction in stimulus, could hit the company because of its asset structure. With people investing in bonds and limited supply of money in the economy, the purchases of deals and coupons will surely suffer. This will drive down the revenues of Groupon. Moreover, the company is already overvalued as the price target indicates. The investor is paying disproportionately as compared to the growth of the industry. The combination of these factors make Groupon a very good Short Sell target. In case of a broader market sell-off companies like Groupon will be the worst affected which further strengthens the short sell thesis.
Disclosure: I have no positions in any stocks mentioned, and no plans to initiate any positions within the next 72 hours. I wrote this article myself, and it expresses my own opinions. I am not receiving compensation for it (other than from Seeking Alpha). I have no business relationship with any company whose stock is mentioned in this article.
Additional disclosure: Equity Flux is a team of analysts. This article was written by our Technology analyst. We did not receive compensation for this article (other than from Seeking Alpha), and we have no business relationship with any company whose stock is mentioned in this article.