On December 4, 2013, BRE Properties (NYSE:BRE) was solicited by Essex Property Trust (NYSE:ESS) in a $5 billion takeover acquisition. This follows the $2.2 billion acquisition of Colonial Properties by Mid-America Apartment Communities (NYSE:MAA) that closed October 2013.
Also, SNL Financial expressed in their most recent quarterly Net Asset Value report that U.S. REITs are undervalued by 6.6%, with multi-family REITs leading the sector with a 14.81 discount to NAV.

What investors must keep in mind is that ESS is bidding for BRE because the deal makes sense for ESS growth. Essex and BRE are both west-coast apartment operators and as such, top-down cost synergies will apply in a merged entity.
In addition to lowering costs in general, REITs may also merge or acquire one another to increase diversification. Acquiring a landlord with property in alternate states will reduce risk in a concentrated portfolio.
Multi-Family Residential REITs Market Outlook
REIT analyst Jeffrey Langbaum of Bloomberg Industries associates economic growth and demographic trends as catalysts for increased demand in apartment rentals. In a November 14, 2013 article With REITs It's... Segment, Segment, Segment on Bloomberg Businessweek, Langbaum stated,
"Underemployment should improve over time. So all those twenty-somethings living with Mom and Dad will be more prone to rent."
Residential and hotel REITs offer the shortest term leases and fastest turnover in the sector. As such, these operators benefit with higher occupancy rates in line with the increase in demand associated with economic expansion.
As such residential REIT operators are able to quickly raise prices in line with demand whereas retail, office and industrial landlords are not. In this regard, efficient multi-family operators in growing markets should benefit from higher same property NOI growth versus most other REIT segments.
Two New Residential REIT Consolidation Targets
Camden Property Trust (NYSE:CPT) is a $5.06 billion multi-family landlord based in Houston, Texas. The company did find hardship during the financial crisis, which resulted in a lower dividend and share price. According to SNL Financial, the company owns 180 communities wholly or within joint ventures. These properties hold 62,634 units throughout eight markets: Arizona, Southern California, Colorado, Florida, Georgia, Nevada, North Carolina and Texas.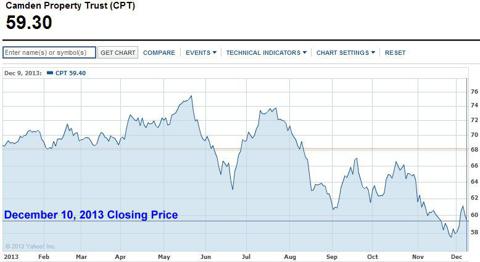 Camden is focused in owning higher quality properties and has recently raised capital for acquisitions through debt as well as less-desirable property dispositions. Currently CPT offers 2013 FFO guidance of $4.05 to $4.09 per share. Using the midpoint, CPT trades at 14.57 times 2013 FFO while yielding 4.25%.
Camden has raised their dividend by the first quarter of each year for the last three years. The dividend has improved from $0.45 per quarter in 2010 to $0.63 per quarter in 2013, which is an 11.87% compound annual growth rate. If CPT stays true to this growth rate and keeps an even-cent distribution, the 2014 quarterly distribution would be $0.70 per share, or 4.72% on current pricing.
Mentioned earlier, Mid-America Apartment Communities Inc. just completed the acquisition of Colonial Properties in October. This increased the size of the REIT from about $2.8 billion in June to $4.7 billion today. Currently MAA sits near its 52-week low, close to a level that has been tested several times in over the last six months.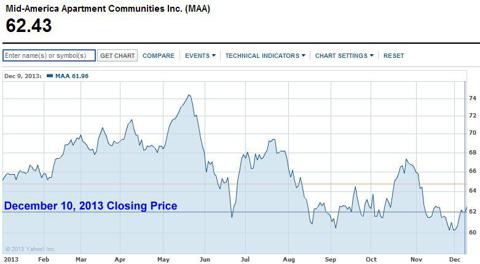 MAA has a solid history of stable dividends, which have not been interrupted or lowered since inception in 1997. The compound annual dividend growth rate since 2010 is 4.16%, however the stock yields 4.45% and is also due for a dividend raise.
MAA is based in Memphis, Tennessee and holds 285 communities with 84,772 units throughout 12 states.
Both CPT and MAA found support at already-depressed levels last week, which can be attributed to the BRE bid. Both stocks gave back some of the gain, however remain elevated versus the iShares U.S. REIT Index ETF (NYSEARCA:IYR) for December.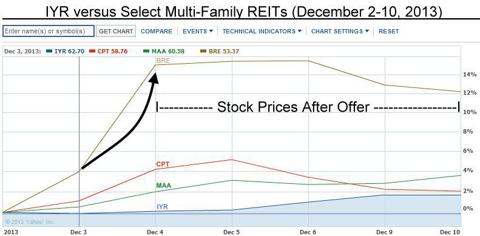 With a growing economy, an expanding 25-35 year old rental market, depressed 2013 stock prices, the ability to quickly raise rents and a theme of trending consolidation, these residential landlords may outperform the sector in 2014.
A Merger Opportunity Between Camden And Mid-America
Both Camden and Mid-America overlap each other in Texas and Florida, where both companies have concentrated holdings. In total both companies overlap in six states, while MAA has a unique Southern foothold to CPT and CPT has a presence in California and Colorado that is unique to MAA.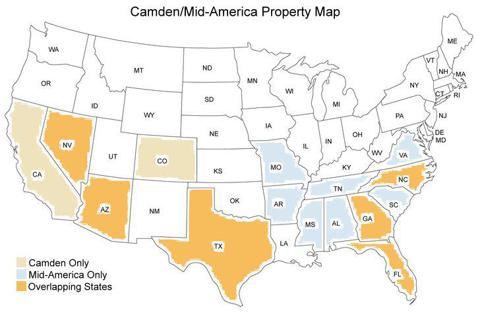 In short, the combined property map would create massive synergies, increase diversification and create a $10 billion company by market capitalization. Using statistics from earlier this year, one would note that the merger would create the largest residential REIT by units, as well as the third largest REIT by enterprise value.
Mid-America has had two months to digest Colonial Properties, which closed on October 1, 2013. In the chart below, "New MAA" (in orange) represents MAA after the Colonial Properties integration. Camden is highlighted in light orange to present size relative to MAA.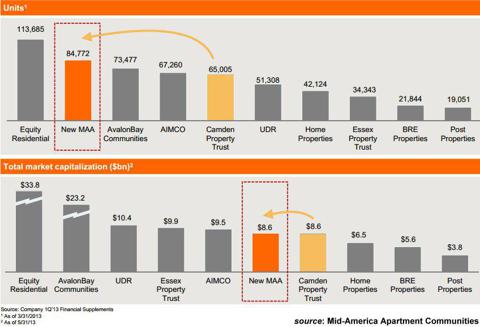 In a merger between MAA and CPT, the new enterprise would likely command premium pricing due to market size. The company would be the leading residential REIT in units and own a property portfolio that stretches through most of the southern half of the country.
A company of such size would also receive more analyst coverage, a higher level of institutional ownership and inclusion in larger investment funds. While investments should not be made solely on acquisition potential, the consolidation of these two residential landlords appears to warrant further research.
Disclosure: I have no positions in any stocks mentioned, and no plans to initiate any positions within the next 72 hours. I wrote this article myself, and it expresses my own opinions. I am not receiving compensation for it (other than from Seeking Alpha). I have no business relationship with any company whose stock is mentioned in this article.