E. I. du Pont de Nemours (NYSE:DD), or DuPont, has faced serial losses in its performance chemicals and performance material segment. The company expects to sell-off its performance chemicals business and recently agreed to sell part of its performance material business to Kuraray. In an agreement with Kuraray to sell its 'glass laminating solutions/vinyl' business, DuPont will receive $543 million. This agreement is expected to close in the first half of next year.
The performance material segment accounted for 21.49% of the company's net sales in the third quarter of fiscal year 2013. Glass laminating solutions/vinyl contributed more than $500 million to the company's net sales last year. DuPont's glass laminating solutions/vinyl business accounted for 7.75% of the performance material segment's revenue last year. Due to the sluggish performance of this business, the performance material segment's revenue declined, as depicted in the table below. In almost all the quarters the revenue of performance materials segment has declined year over year.
| | | | | | | | | |
| --- | --- | --- | --- | --- | --- | --- | --- | --- |
| Quarter | First Quarter | First Quarter | Second Quarter | Second Quarter | Third Quarter | Third Quarter | Nine months ending September 30 | Nine months ending September 30 |
| Fiscal Year | 2012 | 2013 | 2012 | 2013 | 2012 | 2013 | 2012 | 2013 |
| Revenue (in $ million) | 1,600 | 1,559 | 1,699 | 1,670 | 1,614 | 1,663 | 4,913 | 4,892 |
| Change (%, year over year) | | -2.56 | | -1.7 | | 3.03 | | -0.42 |
Other players betting upon sell-off
Rockwood Holdings (NYSE:ROC) and Dow Chemical (NYSE:DOW), are also selling off their businesses. Rockwood sold its clay based additives business to focus on its core business of lithium. Clay based additives is a part of Rockwood's performance additives segment. Rockwood sold its clay based business to Germany's Atlanta Group for a purchase price of $635 million.
On December 2, Rockwood entered into a joint venture with Chengdu Tianqi Industry Group to acquire ownership interest of 49% in Talison Lithium. Chengdu Tianqi is a China based company, and its subsidiaries are engaged in the production and distribution of lithium produced from Talison Lithium, which is a leading global producer of lithium. This acquisition is expected to strengthen Rockwood's global dominance.
Another competitor of DuPont, Dow Chemical expects to sell a bulk of its chlorine business, which is a part of the company's plan to sell off its commodity chemicals assets for a total amount of approximately $5 billion. Dow Chemical's chemical business is a part of its feedstocks and energy segment. Under the sell-off, the company expects to sell off its assets like chlorinated organics, which are used in electronics and refrigerants.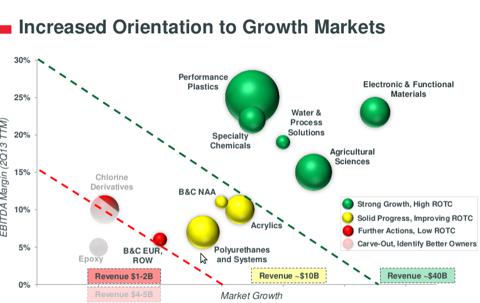 This sell off will allow the company to focus on its electronics, packaging, and agriculture segments, which are Dow Chemical's, more consistent earnings growth segments compared to its chlorine business, as per the figure above. In the third quarter of fiscal year 2013, the feedstocks and energy segment's sales declined 7.65%, year over year to $2.32 billion, which is expected to offset next year, as discussed above. The company is expected to raise around $3 billion - $4 billion from these commodity chemicals assets sales in the next 18 months - 24 months.
Growth in North America
DuPont remains committed to its agricultural segment. The growth of its agriculture segment is due to the strong growth in its agriculture operations in North America. The company registered growth in the region from strong product line of its Pioneer business and decision services provided to farmers.
Pioneer is DuPont's seed business, under which it produces AQUAmax corn hybrids and T Series soybeans. DuPont's AQUAmax corn hybrids are in the third year of their sales and have strong demand, which is expected to exceed 10 million acres next year. This year, its corn hybrid seeds have been planted on 7 million acres of land.
Another Pioneer's product, T Series soybeans, was launched for this year's growing season and delivered strong yield results. Looking at the growth prospects of T Series soybeans for 2014, the company expects to launch 53 advanced varieties of T Series. These new varieties are expected to comprise about 33.33% of North America's soybean volume in 2014. The company's Pioneer business sales in North America grew 11% through the first three quarters of this fiscal year, which I believe will increase further next year from DuPont's operations in the region.
Conclusion
DuPont expects to grow fundamentally with its sell-off of a loss making business, thereby focusing on its agriculture segment. Based on valuation, the company's stock is currently undervalued. Its price to book ratio is 4.15, lower than the industry's ratio of 10.7. DuPont's trailing twelve month price to earnings ratio is 21.37, higher than its forward price to earnings ratio of 14.23. DuPont's return on equity is 39.10%, higher than the industry's figure of 20.3%. Considering the growth aspects of the company, I expect DuPont to grow in the long run and suggest investors include it in their portfolio.
Disclosure: I have no positions in any stocks mentioned, and no plans to initiate any positions within the next 72 hours. I wrote this article myself, and it expresses my own opinions. I am not receiving compensation for it (other than from Seeking Alpha). I have no business relationship with any company whose stock is mentioned in this article.