On Wednesday, December 11, Wells Fargo (NYSE:WFC) was the latest financial institution to join the preferred stock parade (I wrote about others here, here and here), getting in on the capital raising action before rates rise further.

Wells Fargo & Company is a bank holding company. It has three operating segments: Community Banking, Wholesale Banking and Wealth, and Brokerage and Retirement. It provides retail, commercial and corporate banking services through banking stores and offices, the Internet and other distribution channels to individuals, businesses and institutions in all 50 states, the District of Columbia and in other countries. The Company provides other financial services through subsidiaries engaged in various businesses, principally wholesale banking, mortgage banking, consumer finance, equipment leasing, agricultural finance, commercial finance, securities brokerage and investment banking, insurance agency and brokerage services, computer and data processing services, trust services, investment advisory services, mortgage-backed securities servicing and venture capital investment.
Details of the offering (from the term-sheet and prospectus) are:
| | |
| --- | --- |
| Issuer | Wells Fargo & Company |
| Issue | 6.625% fixed to floating perpetual preferred |
| Series | Series R |
| Rate | 6.625% until march 15, 2024 then 3mLIBOR +3.69% |
| Deal Size | 30mm shares - $750,000,000 |
| Optional Redemption Date | March 15, 2024 |
| Ticker | WFCPrR |
As with most bank preferreds, the Series R have a regulatory capital call if there is more than an insubstantial risk that the bank will not be entitled to treat the full liquidation preference amount of all shares of Series R Preferred Stock then outstanding as Tier 1 capital (or its equivalent) for purposes of the capital adequacy guidelines or regulations of the appropriate federal banking agency, as then in effect and applicable, for as long as any share of Series R Preferred Stock is outstanding. This is standard language and, therefore, a risk incumbent with bank preferred stock.
Wells Fargo is widely considered to be one of the most conservative banks and "less risky" than their mega-peers. Why? Consider (from WFC's Goldman Sachs U.S. Financial Services Conference presentation: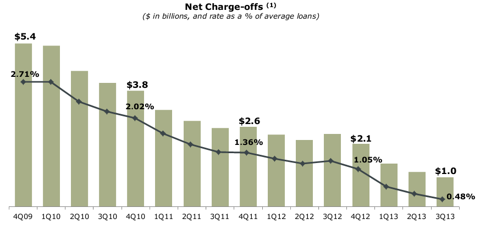 Click to enlarge
(Click to enlarge)
A strong loan portfolio with troubled loans well under control. As well, the diversified revenue sources: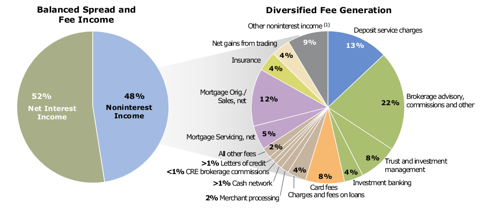 Click to enlarge
(Click to enlarge)
Wells Fargo operates as more of a traditional bank than many of its peers. Their business approach has yielded strong and steady returns: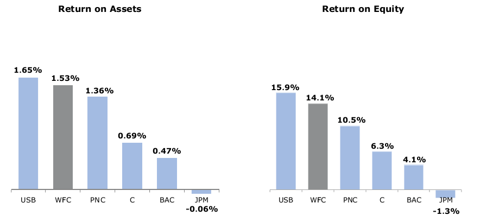 Click to enlarge
(Click to enlarge)
With this overview in mind, here is a financial comparison of Wells Fargo versus the following peers:

Click to enlarge
(Click to enlarge)
Due to their conservative business platform, their metrics reflect confidence in both their balance sheet and ability to control risk (I might be inclined to ask if this is truly warranted, but I am a contrarian and value seeker by nature).
With this in mind, let's address the new preferred's value.
First, a look at how it compares to other Wells Fargo preferreds:

Click to enlarge
(Click to enlarge)
As the above table shows, the new preferred is priced in line with Wells Fargo's existing preferreds (those that trade close to par and are more liquid - liquidity and price on smaller lots being the detractor from the Series L). But it is not enough to present value versus their own issues, there must be value versus their peers. For this, the peer group will be:
Goldman Sachs (NYSE:GS),
Citigroup,
Bank of America,
JPMorgan,
Morgan Stanley (NYSE:MS), and
Fifth Third (NASDAQ:FITB).

Click to enlarge
(Click to enlarge)
As the above table shows, Wells Fargo is priced through (lower yield) their peers given their reputation and business platform. Ultimately, however, an investor must decide whether they prefer higher yield or a safer business platform.
Bottom Line: The new Wells Fargo Series R preferred is priced in line with existing Wells Fargo preferreds, but I believe there are better values to be had elsewhere. The Citigroup Series C is an issue that is compelling, in my opinion.
Disclosure: I have no positions in any stocks mentioned, and no plans to initiate any positions within the next 72 hours. I wrote this article myself, and it expresses my own opinions. I am not receiving compensation for it (other than from Seeking Alpha). I have no business relationship with any company whose stock is mentioned in this article. This article is for informational purposes only, it is not a recommendation to buy or sell any security and is strictly the opinion of Rubicon Associates LLC. Every investor is strongly encouraged to do their own research prior to investing.