Overview:
(click to enlarge)(source)

Targeting growth in China can be a very difficult, though rewarding task. Being one of the largest economies in the world, China is a treasure chest of opportunity - in the right areas. One such area is the need for viable food. Sino Agro (OTCQB:SIAF) offers food services in China and will benefit greatly from the growing macroeconomic trends in China that favor the company's operations and a specific company analysis that demonstrates how the company will profit from this growth.
The Macroeconomic Trends In China:
Investors have been wary of investing in Chinese stock as of late, although this could just be an overblown fear. The population in China is now slowing and it is expected to reach 1.45 billion in 2028, with a world population of 9.6 billion by 2050. These are not just numbers on a page, as they translate into hungry mouths to feed in China.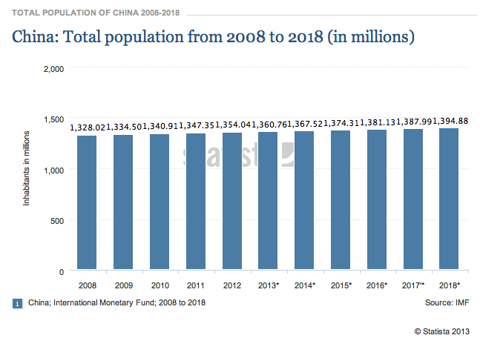 As the total population of China increases, a company dedicated at serving this market could be the beneficiary of a growing business, and in turn, profits.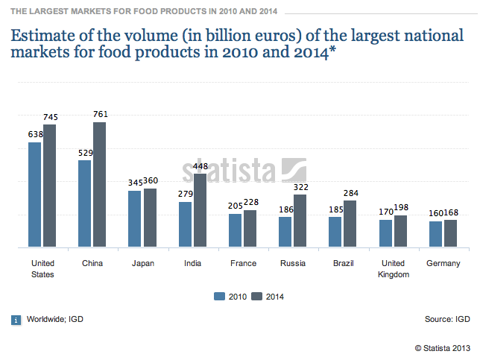 A growing population and an organic need for food is not the only catalyst that could drive food providers in the country higher - the decrease in the poverty level is another key impetus. As more and more Chinese citizens are lifted out of poverty, their disposable income increases. In addition to other needs, this newfound income can be spent on food to feed themselves and their families.
Nailing this point home, China has lifted 500 million people out of poverty from 1981 to 2008. This has resulted in moving the poverty rate from 84% to 13% within the same period. This level was based upon the number of people living on $1.25 or less per day in 2005.
Doing business in China is difficult due to regulatory concerns. As such, it is my opinion that Sino Agro Food is well positioned as a company to profit from the rise in these macroeconomic trends. Due to its already established nature of currently conducting business in China, there are no regulatory concerns to overcome to conduct business in China. As such, Sino Agro Food is well positioned to profit on the basis of the macroeconomic growth factors including but not limited to: population growth, the increase in required food volume and the increase in disposable income as more Chinese citizens come out of poverty.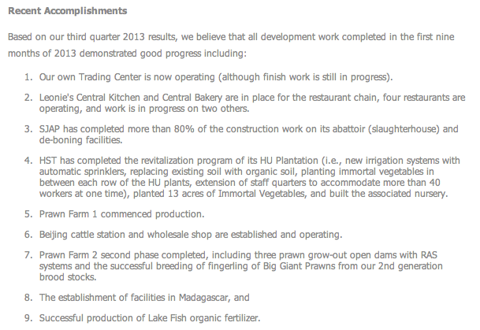 As can be seen in the above outline, Sino Agro continues to expand its Chinese operations in line with the company's current lines of business that directly correlate with the macroeconomic growth in food demand in China. The company's operations include Aquaculture, Livestock Farming, Plantation Farming, Farm Services, and Marketing & Trading. On a business level, the company is and will be the advocate of a growing move to be a vertically integrated company - to the increase of business profits. This in turn creates a multiple effect on the company's profits and drives its competitive position.
Specific Business Opportunity:
Investing in the macroeconomic need for food growth in a major economy of the world is one concept, although having a foundationally strong business to profit from the growth is another factor. Sino Agro Food's is a company that is inherently undervalued. Being undervalued is a more attractive investment opportunity in an industry than a company whose gains have outpaced business performance, deeming it overvalued.
P/E (NYSE:TTM): 0.61x
P/S : 0.26x
P/B: 0.20x
P/Cash Flow: 0.68
Interestingly, Sino Agro's shares are trading at just one-fifth their book value, and has a P/E ratio lower than 90% of other companies in the Food Processing Industry. These metrics deem the company as severely undervalued moving forward, creating an attractive investment opportunity for the long-term investor.
EV/EBITDA : 0.63x
EV/Revenue : 0.23x
Some investors are advocated of EV/EBITDA ratio instead of the P/E ratio as the former is capital structure-neutral and can be compared to other companies with different levels of debt. The lower the EV/EBITDA the more attractive the investment. The latter EV/Revenue of 0.23x is particularly attractive as it constitutes the cost of buying the company with the cash generated by the company, 0.23x being a low and attractive valuation.
ROA : 34.94%
ROE : 37.35%
ROIC : 42.76%
Management has been more than effective in conducting Sino Agro's operations. These return values place the company in the top tier of the industry in terms of performance. More specifically, Sino Agro's return on equity positions it as being able to reinvest its earnings more efficiently than 91% of its peers in the food processing industry. These above average returns deem the company as an attractive investment opportunity.
Quick Ratio: 6.04x
Current Ratio: 6.80x
Debt/Equity: 0.03x
Debt/Assets: 0.02x
Having a strong financial structure is key to staying liquid, and staying afloat as a business. Sino Agro is not overleveraged and is extremely liquid - as demonstrated by the above average quick and current ratio values. This culminates to Sino Agro being less aggressive with using debt to finance growth than 93% of its peers, on a debt/equity basis.
Gross Margin: 43.11%
Operating Margin: 40.53%
EBITDA Margin: 40.96%
Net Profit Margin: 40.37%
Sino Agro is not a slump at running its operations efficiently, due to its vertical integrated nature that makes the company more competitive. SIAF's gross margin is greater than 87% of its peers and its operating margin is greater than 100% of its peers. The latter is particularly interesting as it demonstrates that the company is able to control its costs better than 100% of its peers.
EPS Growth : 79.0
Sales Growth : 148.0
Sino Agro is increasing shareholder value as its EPS growth rate is higher than 80% of its peers. Sino Agro's dividend yield of 2.49% adds to its excellent investment nature, as increased value as the company continues to increase growth and shareholder value.
Insiders have been taking advantage of the company's low fundamental valuation as an attractive investment opportunity as well, with a company director purchasing 100,000 shares in late August of this year. Sino Agro's fundamentals cement the company as a low valuation company with excellent margins, growth and liquidity that translate into a very attractive investment opportunity.
Management's Execution:

Recently, Sino Agro reported financial results for the nine-month period ending September 30, 2013. Sino Agro has increased revenue, gross profit, comprehensive income and shareholders' equity on a year-over-year basis considerably. This reflects the impressive margins and growth discussed earlier, and also demonstrates management's execution.
Dragon Head Enterprise Status:
It can be hard to distinguish the merits of Chinese companies, but Sino Agro stands out from the rest. On October 28, 2013 Sino Agro's majority controlled subsidiary SJAP (Qinghai Sanjiang A Power Agriculture Co., Ltd.) nomination to apply the merit credentials in China to become a certified China Dragon head Enterprise was approved by government authorities. This designation is a major achievement for the company and marks the subsidiary's move from a pure producer of whole livestock to a producer to a producer, processor and marketer of valued added beef products. This demonstrates a portion of the company's vertical integration, and the company is expecting a multiplier effect to its earnings that will begin to accrue across all financial measures. This multiplier can be a financial catalyst for the company in the coming quarters, starting in the first quarter of 2014.
Another Catalyst:
On October 2, 2013 Sino Agro submitted an application to NASDAQ seeking listing on the exchange. As of November 18, 2013 this application remains pending. Uplisting Sino Agro food from the OTCBB can spell increased investment as the company meets the criteria and trades on a major exchange. This can be a significant catalyst for the company in the near future.
Short Term Potential: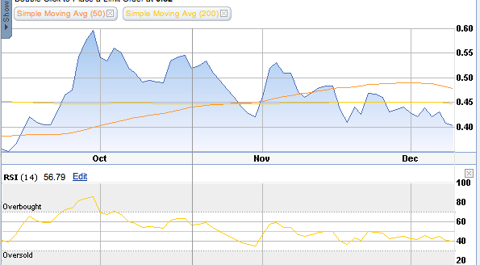 Sino Agro's shares plunged 5% in early morning trading on Tuesday, December 10. Due to the lack of news or any material events, this trading action can provide investors or traders with a viable entry point. With an RSI in the oversold territory of 39.86 and the bullish "golden cross" trading event (50 DMA crossing above 200 DMA), the current share price can offer an excellent entry opportunity for short-term gains. With a beta of 1.7 and the general market only marginally off, the 5% dive was unwarranted, should recover moving forward and offer an attractive entry point.
Back To The Fundamentals: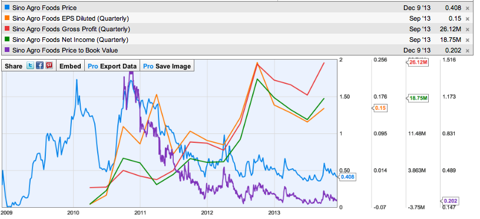 Sino Agro's fundamental structure, as discussed earlier, is quite impressive. Although there is a large disconnect between the company's performance and the PPS not reflecting this performance that has created a very compelling investment opportunity.
Sino Agro's PPS and book P/B ratio have decreased as EPS, gross profit and net income have all increased. This disconnect has grown and in my opinion has reached close to a maximum value as the PPS will start to increase to reflect this disconnect. Regardless, with a PPS not reflecting successful business operations, this creates a very compelling investment opportunity ahead of this readjustment in Sino Agro's PPS.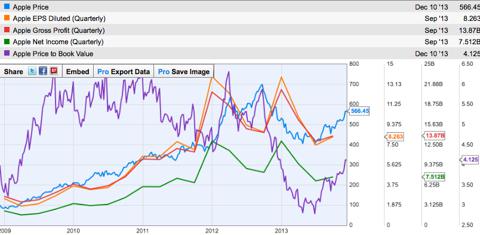 For example Apple's (NASDAQ:AAPL) price per share has followed ahead of its slight increases in diluted quarterly EPS, gross profit and net income - a path I believe Sino Agro will also follow. Apple is of course facing many other trends and factors and this comparison should not limit the previously discussed concept. That concept being Sino Agro's PPS has not kept up with its business performance and a readjustment in share price is due in good time, a potential revaluation catalyst.
Coverage Catalyst
The company also has no analyst coverage as of researching this article. Uplisting to the NASDAQ can help Sino Agro become noticed and lead to analyst coverage of the company that could also be a future catalyst for share appreciation.
Risks:
One risk for the company is that it is a Chinese company in itself. Although this fear has been refuted by some, and in particular I agree that the risks have fallen post 2011. Another risk is that the company's current financials are unaudited with regard to its current balance sheet. This is partially muted by last year's financials being audited, so the company needs to get its recent financials audited to be up listed and for investor sentiment. I have no reason to believe the company misstated its financials as it seems they audit afterwards (such as in 2012 for what I can see), although an audited financial statement would hold more ground.
Other Chinese Companies:
There are several other Chinese companies that are worth mentioning as it is a growing sector. NQ Mobile (NYSE:NQ) is a hot stock, as shares were up over 400% as of October 18, and have come down to being up almost 200% for the past actual year - as of the writing of this article. NQ has been targeted for a huge array of lawsuits lately.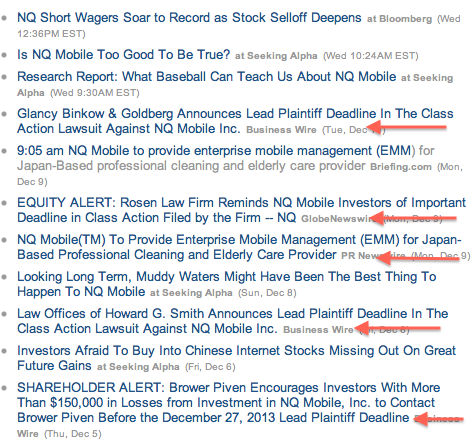 Moreover, NQ's financials have been discussed, by an intelligent SA contributor, as being illegitimate - with wrong financial metrics and having several conflicts of interest. Muddy Waters has also called the company a massive fraud and questions the company's entire financial standing. As such I would stay away from questionable Chinese companies such as NQ mobile.
Qihoo (NYSE:QIHU) is another Chinese company that is particularly interesting. It is not the target of being called a massive fraud for one thing. Analysts at Citi, Goldman, Macquarie, Maxim and Jeffries have all raised their targets for Qihoo following the company's positive Q3 report. Price targets range from $87 at Citi to $79 at Goldman. SA contributor Doug Young believes that the company's recent reorganization is well timed and could align Qihoo to become more efficient as it enters a new period of higher growth.
Sina (NASDAQ:SINA) is another online media and (MVAS) mobile value-added services provider in China. Shares are up over 60% to date and Alibaba has invested $586 million in the company for an 18% stake. This stake is in Sina's microblogging service Weibo. Sina has extremely high fundamentals and is not generally attractive moving forward if the company can not meet investor expectations.
The Bottom Line:
Sino Agro is a food processing company that does business in a major economy, while only having a small market capitalization of $52 million provides room for growth. The company will be a direct beneficiary of several macroeconomic trends in China that favor the company's food-related operations such as increased population growth and a decrease in the poverty level that will spell increased disposable income for better food.
Sino Agro has impressive margins, growth rates, a solid dividend, liquidity and a low valuation that all culminate to a foundationally rock solid structure. The company is looking to up-list to the NASDAQ that could provide a positive catalyst moving forward. This can also lead to analyst coverage that could result in share price appreciation.
Judging the merits of a Chinese company can be difficult, although Sino Agro's subsidiary Dragon Head status compound's its transformation and vertical integration nature that will provide a financial multiple moving forward that could also be another catalyst for the company.
Investors should keep in mind that Sino Agro is a Chinese company and poses risks, also recently unaudited financials will have to be audited before up listing to the NASDAQ.
On a short-term and technical analysis basis, the drop in SIAF's share price provides for an attractive entry point. On a longer trend look, the company's PPS has not kept up with its impressive performance with regard to net income, EPS and gross profit. This disconnect can provide another catalyst as shares can be readjusted in the future to the upside.
Sino Agro is a company hungry, even starving for growth - I express my opinion that investors do their own due diligence and weigh the risks of investing in Sino Agro in a long term bullish position.
Disclosure: I have no positions in any stocks mentioned, and no plans to initiate any positions within the next 72 hours. I wrote this article myself, and it expresses my own opinions. I am not receiving compensation for it (other than from Seeking Alpha). I have no business relationship with any company whose stock is mentioned in this article.
Additional disclosure: Always do your own research and contact a financial professional before executing any trades. This article is informational and in my own personal opinion. Always be aware of the risks of Chinese companies and micro cap stocks.