On October 10, an investment consortium led by Chinese state-owned aerospace company AVIC Group announced that it offered €6.45 per share in order to acquire the 80% of KHD Humboldt Wedag International AG (OTCPK:KHDHF) that it did not already own. This deal represented a 34.9% premium on the average closing price of KHD's shares over the three-month period prior to announcement of the offer on October 10, 2013. KHD's Management and Supervisory Boards recommended that shareholders accept AVIC's offer on December 5. Terra Nova Royalty (now known as MFC Industrial) began spinning off KHD in April 2010 and KHD's share performance sagged from its April 2010 IPO until AVIC announced its takeover. At least KHD investors were able to salvage their investment in the company and break even.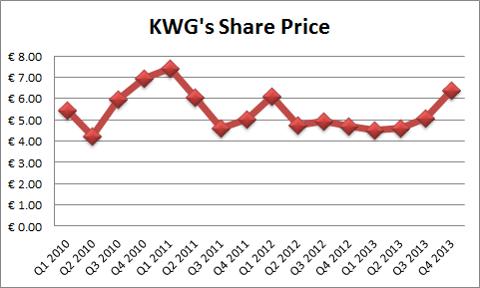 Source: Morningstar Direct
On November 8, KHD released its YTD 2013 financial performance and it reported a profit of €3.6M, or €0.07 EPS for the period. We saw that KHD had a significant level of excess cash on its balance sheet and we have been expecting the company to use this cash to unlock shareholder value. Instead, AVIC will use this cash to defray its costs to acquire KHD. At least the market price of KHD is now trading at a premium to its book value and to its cash holdings. Another reason why we believe that AVIC shares our attraction to the company is because of KHD's presence in fast growing emerging markets, which explains why AVIC formed a strategic partnership with KHD, and took a 20% ownership stake in KHD in 2011.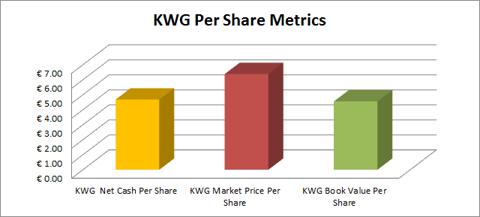 Source: KHD Q3 2013 Interim Report
Business Operations Highlights
KHD's results continue to be influenced by weakness in global macroeconomic conditions. One takeaway that we were able to determine was that its Q4 2012 revenue was slightly higher (72bp) than its Q4 2011 revenue. However, its Q1 2013 revenue resumed its steadily downward trend (-6.8% decline year-over-year). We were surprised that its order intake drastically declined in the first nine months of 2013 yet its revenue grew by 26%. At least KHD is executing on its major projects and reducing its backlog. It would have been nice if KHD has been able to achieve simultaneous growth in revenues and order intake.
Cost of goods sold increased by 38% year-over-year and more than offset the €26M revenue increase year-over-year. This resulted in a gross profit margin of 13.5%, which was 7.4% less than the 20.9% achieved in YTD 2012. This was due to low margin orders in the order backlog that KHD won under fierce market conditions and high margin pressure. In addition, the execution of a major project in Malaysia had an adverse impact on gross profit margin. Finally, several difficulties in project execution, including the termination of a contract at KHD's CSC Americas, had an adverse impact on gross profit margin.
Sales expenses declined by 32% to €7M (YTD 2012: €10.3M). General and administrative expenses were 7.8% lower than the previous year's comparable level at €11.9M (YTD 2012: €12.9M). Other expenses declined from €5.2M in YTD 2012 to €4.5M in YTD 2013. Research and Development expenses were included in the "other expenses category" and account for more than half of this amount. Current R&D projects include areas such as the use of alternative fuels and are progressing on schedule.
KHD's YTD 2013 EBIT amounted to €4.1M, which was higher the previous year's level (€3.5M). KHD's net finance income consists mainly of interest income from the investment of cash and cash equivalents and was €3M versus €1.8M. Lower interest income was a result of decreased cash combined with unfavorable market interest rates but was more than offset by €2.1M in a one-time contingent purchase consideration agreed in 2009 and received in Q3 2013 as part of the sale of the workshop in Cologne.
In FY2012, KHD took in €410M worth of new orders. Although its YTD 2013 order intake of €82.8M pales in comparison to its YTD 2012 order intake of €282.9M, at least KHD was able to generate revenue growth in Q3 2013 and YTD 2013. Furthermore, it generated incremental order intake growth year-over-year in Q3 2013 versus Q3 2012. We could see that slower growth in emerging markets and the Eurozone recession negatively impacted the cement industry's investment activity in YTD 2013. Although KHD's backlog has declined from its Q4 2012 high of €491M, it still maintains a backlog of $392.3M and that represents about 7 quarters worth of projected revenue. We expect gross profit and EBIT margin will remain under pressure and not achieve the levels seen in the 2011 financial year. KHD expects the cancellation of a major order by the end of 2013. This will adversely affect the order backlog as well as operational performance in 2014.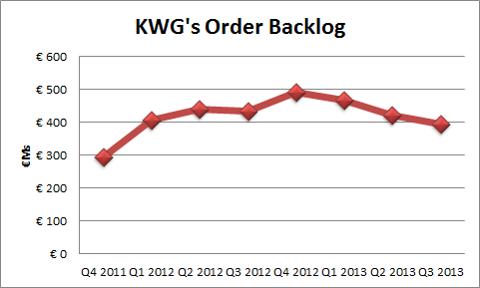 Source: KHD's Last 7 Earnings Reports
Operations Management and Outlook
According to KHD's management, competition for new projects has been intense and management has responded by improving its cost competitiveness. KHD's management also implemented strict policy with regard to scope and expected profitability for tendering new opportunities. In the medium-term, margin quality of its order-book should return to a more satisfactory level in line with KHD's growth strategy. KHD has been focused on growing its spares and services business and will begin reporting it as a separate business reporting segment in Q1 2014. KHD also announced that Holcim's Russian operations placed an order with KHD's Russian division to construct a production line in the Volsk cement factory. The scope of the contract, with an order value of over €77 million, comprises engineering and the delivery of equipment. The project is scheduled to run until the end of 2016.
Corporate Highlights
KHD also signed a licensing agreement with Weir Minerals in which Weir received direct control over planning, production, and sales of high-pressure grinding rolls (HPGR) for minerals processing applications by using KHD technology in return for payment of license fees. The license agreement replaces the existing partnership model, where Weir Minerals acted as an agent of KHD on a commission basis. KHD's Supervisory Board also appointed Ralph Quellmalz as CFO in April. Prior to his appointment as KHD's CFO, Quellmalz was KWG's Global Head of Finance. In June, KHD's Supervisory Board Chairwoman K Eliza Suk Ching Yuen resigned her position and KHD elected Hubert Keusch as Chairman to replace her.
Financial Management Highlights
We liked the liquidity of KHD's balance sheet (and so did AVIC). 55.7% of KHD's balance sheet assets are cash and cash equivalents and only 4% are illiquid "long-term assets" such as PP&E, good will and intangible assets. The remaining assets are in short-term liquid current assets, which are offset against current liabilities. Free cash flows for YTD 2013 were negative €44.8M versus €31 M in YTD 2012. We like that the company spent €3.2M in capital investment expenditures in FY 2012 and YTD 2013 combined due to its asset light business service oriented business model and KWG even reduced its CapEx by €2M in YTD 2013 versus YTD 2012.
We noticed that KHD announced earlier in the year it was paying a €3M (€0.06/share) dividend in 2013 based on a portion of its FY 2012 profits. We were a bit displeased that this was less than the €5.9M dividend in 2012 based on a portion of its FY 2011 profits. KHD's shareholders shared our displeasure and successfully voted for a €0.09/share dividend at its Annual General Meeting.
Conclusion
In conclusion, we will conclude our coverage of KHD due to its impending merger with AVIC. Part of the reason why it was trading at a discount is because the company has maintained a significant level of low-yielding cash relative to its net equity position. We also have noticed that a number of investors have been fleeing anything European, even German companies in specialty niche precision engineering fields that one would not expect to have much competition in. KHD is one of the world's leading industrial cement plant engineering firms and we liked that it provides services that are hard to duplicate. We believe that the separation of KHD from MFC Industrial, as well as the strategic partnership with AVIC enabled KHD's shareholders to salvage value from their investment in the company. With China accounting for 59% of global cement consumption in YTD 2013; it is no wonder why the Chinese government owned AVIC Group offered to buy out KHD.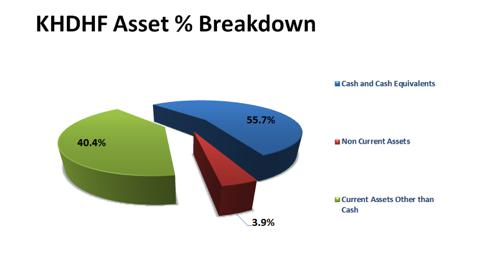 Source: KHD Q3 2013 Interim Report
Disclosure: I have no positions in any stocks mentioned, and no plans to initiate any positions within the next 72 hours. I wrote this article myself, and it expresses my own opinions. I am not receiving compensation for it (other than from Seeking Alpha). I have no business relationship with any company whose stock is mentioned in this article.