The reason why monetary policy is expected to lift the economy out of a recession is simple. Demand for investment and durable goods is historically very sensitive to interest rates. Thus, a sharp drop in rates entices demand and drives up spending. During this recovery, however, there have not been the typical gains in spending that are normally associated with declines in rates.
What makes the lack of investment and spending growth frustrating, especially to monetarists, is that the Fed is doing everything it can to drive interest rates lower. According to research by Wu and Xia (2013), quantitative easing measures have effectively lowered the fed funds rate to -1.9%. At current inflation rates, the real shadow fed funds rate is nearly -4%.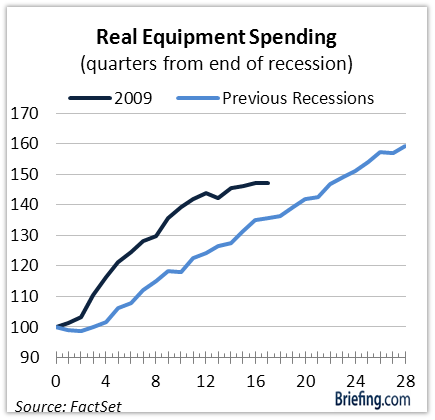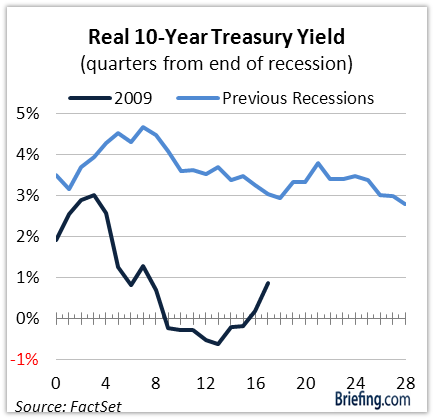 In a recent Bloomberg article, "Fed Stimulus Blunted as Software Replaces Hard Assets," Torres and Kolet discuss that some normal investment growth in equipment was delayed as businesses opted to upgrade software instead of replacing hardware. Some of these software upgrades allowed businesses to increase production and efficiency without the need to hire more workers or investment in new equipment.
Monetary Policy and Consumption
A shift to software purchases may explain why business capital growth has stalled after impressive gains at the beginning of the recovery. However, that would not explain the lackluster growth in real durable goods consumption.
Comparably low interest rates have not caused real durable goods consumption growth to keep pace with the average gains found after the last three recessions. Furthermore, unlike equipment investment, consumers are not able to upgrade individual components of their durables to extend the good's lifespan. As far as we know, the smart technology revolution has not caught on with dishwashers or refrigerators.
Kansas City Fed economists Zandweghe and Braxton (2013) posited that the weakness in consumption growth may be attributed to a shift in interest rate elasticities. Consumers, who had been very cognizant of fluctuations in interest rates in previous recessions, are not nearly as tempted to buy things when interest rates decline today.
After controlling for shifts in income and credit conditions, Zandweghe and Braxton found that a 1 percentage point decline in the real interest rate on credit cards increased spending on consumer durables 18.7%, on average, following the previous recessions. That relationship completely went away during the current recovery.
Changes in interest rates had no statistical effect on influencing demand over the last few years.
The economic ramifications of these results are huge.
All of the quantitative easing that has taken place has had absolutely no statistical effect on consumer demand. Monetary policy has not been an effective tool in accelerating economic growth, which may be a blessing in disguise.
The lack of interest rate sensitivity means a tapering decision, which we consider to be on par with minor monetary tightening, would not derail consumption growth. Trends will likely continue, unabated, in the event interest rates increase in the near term.
Economically, the lack of interest rate sensitivity has weakened the recovery. If the elasticity remained as it did during the previous recessions, Zandweghe and Braxton show that economic growth would have been nearly 0.5 percentage points greater from Q1 2012 through Q2 2013. According to Okun's law, that would have translated into a 0.12 percentage point drop in the unemployment rate.
A Coming Surge in Consumer Durables Demand
If monetary policy cannot influence consumer demand, then consumers will wait until their current durables stock either breaks down or becomes obsolete. Thankfully, from an economic standpoint, that may be happening sooner rather than later.
Every year, the BEA calculates the stocks or levels of fixed assets, including consumer durables. The latest tables show the average age at year-end of those goods.
In 2012 (the most current data available), the average age of consumer durable goods reached its highest point since 1946. Unlike previous recessions -- and in-line with the Zandweghe and Braxton results -- consumers have not begun to replace their aging durable goods stock even though the recession ended four years ago.
Using the average age at year-end and the expected service life, as determined by the BEA, we were able to determine which consumer durables sectors are nearing the end of their life span. These sectors would likely be the first to experience a breakout in consumption spending.
According to the data, the entire consumer stock of household appliances has only 50% of its usable life remaining. These goods will begin breaking down and will need to be replaced.
Over the next few years, companies like Whirlpool (NYSE:WHR), Sears (NASDAQ:SHLD), General Electric (NYSE:GE), and Electrolux (OTCPK:ELUXY) should benefit from increased revenues in their appliances division. Retailers such as Best Buy (NYSE:BBY), Wal-Mart (NYSE:WMT), hhgregg (NYSE:HGG), The Home Depot (NYSE:HD), and Lowe's (NYSE:LOW) will likely see increased foot traffic and higher demand.
On the other hand, furniture and luggage sales are unlikely to see much growth from consumers replacing their deteriorated stock. The remaining usable service life for these goods is over 60%. That is high even when compared to their previous replacement cycles. That could be bad news for La-Z Boy (NYSE:LZB) and Samsonite (OTCPK:SMSEY).
Conclusion
Monetary policy has failed as a means of influencing consumer demand. Consumer demand has not been sensitive to changes in interest rates during the current recovery. As such, when the Fed begins to taper, we do not expect consumer demand to weaken.
That is good news for many consumer durable sectors.
Because consumers did not replace their stock of durable goods when interest rates fell, the average age of consumer durables has reached multi-decade highs. As the goods continue to age, consumers will need to replace their durables stock out of necessity.
Looking over the different sectors, it seems likely that consumers will need to replace their home appliances before other goods. The remaining service life of these goods has fallen sharply and is below the remaining service life of all other sectors.
Disclosure: I have no positions in any stocks mentioned, and no plans to initiate any positions within the next 72 hours. I wrote this article myself, and it expresses my own opinions. I am not receiving compensation for it. I have no business relationship with any company whose stock is mentioned in this article.