The purpose of this article would be to try and put this year's brutal sell off in context of where Annaly Capital Management (NYSE:NLY) has been on various metrics. Clearly sentiment on mortgage REITS (and anything interest rate sensitive for that matter) continues to remain poor and even 1 quarter of book value stability for the likes of American Capital Agency Corp (NASDAQ:AGNC) has done nothing to quell the negative sentiment.
Very often, one of the things that can shift sentiment would be value creation and in itself is very subjective as perception of value differs across people and asset classes. So how much value, if any, has then been created in the recent sell off?
Long Term History
I am actually more familiar with AGNC but NLY has a longer history and as such NLY was the choice of instrument for this analysis. Since we are dealing with long term history, all data points will be on a quarterly basis with the exception of the most recent point with the first data point being as of 31-Dec-1997.
Book Value
Chart 1 gives the history of book value vs market price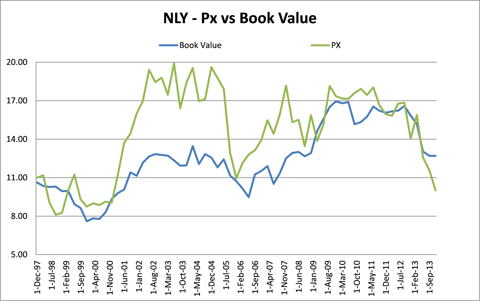 Chart 2 is the corresponding Premium or Discount to book value. Somewhat worth mentioning is that there is a lag as to when the book value is known as generally we need to wait for the company announcement/filing.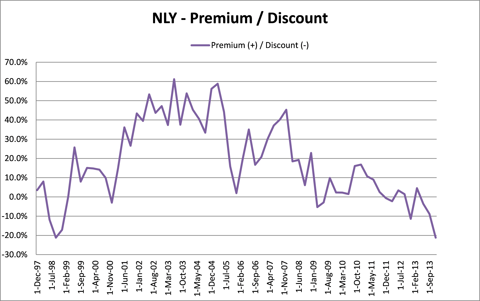 Clearly the current discount of 20% is as much as it has ever been.
Dividend Yield
I define Dividend yield as the sum of the past 4 quarter dividends over the last price. Clearly somewhat backward looking but when doing analysis on such a long term history, it's very difficult to use some form of forward dividend yield. As it is, although there is agreement that dividends will be cut there is still a debate by how much.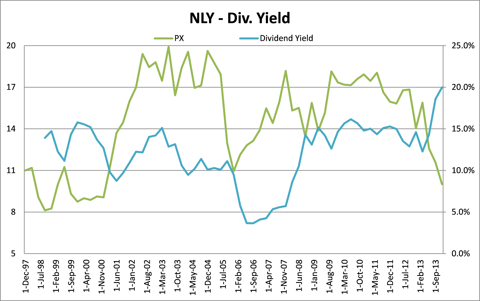 Chart 3 shows that the Dividend yield is exceptionally high at the moment as the concensus is that the dividend will have to be cut and the most recent quarter sell off has of course lowered the denominator. Since 2009, the dividend yield has been in the range of 13%-15% and maybe this has become market's expectation. But somewhat counterintuitive is the fact that this expectation has increased since 1997 whilst interest rates have been moving lower.
Interest Rates
Higher rates has been the reason for the selloff which has impacted book value of all the Mreits as most of the Mreits were caught off guard by the violent move higher in interest rates which started in May 2013. Since most Mreits use leverage and at the time were net long net duration, the impact on book value was magnified. With the interest rate environment now in flux, both NLY and AGNC have reduced both leverage and net duration risk. As I have highlighted in a previous article, once net duration is lowered, the spread between MBS and treasuries become the more important driver of book value.
Chart 4 shows how book value has behaved with changes in 30yr interest rates given by the yield on 30yr Treasuries.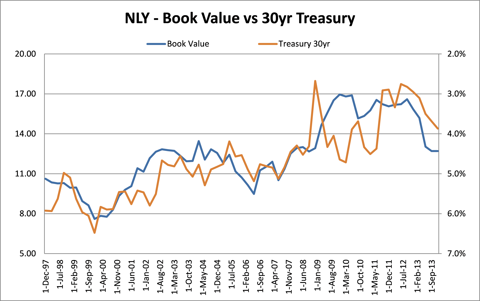 There is a strong relationship here and the reason being is that NLY has tended to carry a portfolio which is net long duration. With NLY moving to a lower leverage and lower net duration risk, one should expect the direction of the relationship to remain but with lower magnitude. Another way of putting it, as 30yr yields move higher, we should still expect a drop in book value but the magnitude of the drop should be smaller.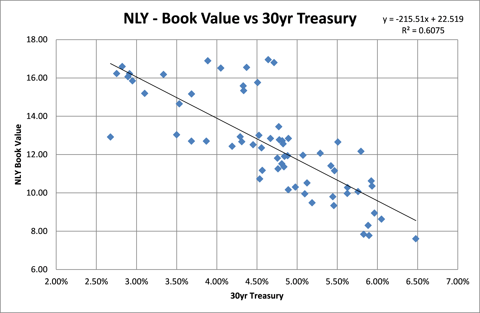 Chart 5 is the same information as Chart 4 but in a scatter plot format. One way of interpreting this is to look at the best fit line and estimate what the price of NLY should be for any given level of 30yr Treasury. The quality of the inference would depend on the quality of the fit which is decent if it was not for some outliers.
Using the above fit, for the given level of 30yr Treasury of 4.0%, the above fitted line would tend to infer that the book value of NLY should have been closer to 12.0 - 14.0. Or given the current price of 10.0 in NLY, it seems that NLY is already pricing in a range of 5.0% - 5.75% in 30yr Treasury.
Clearly all the metrics above indicate that NLY is cheap. However I am not long NLY at the moment and looking for some sign that the interest rate sentiment has changed before delving into the stock. Oddly enough it may well be that it could be soon after the actual taper.
However, I believe there may be a "safer" alternative to NLY. Consider the NLY preferred NLY.prD. This is a cumulative preferred stock with a 7.5% coupon trading around 88cts to the dollar ($22 vs $25 par) which is currently yielding 8.61%.
The main arguments that make this "safer" is:
(1) The coupon is fixed - no uncertain dividend which has plagued all the mreits lately.
(2) Preferred ranks senior to common stock and with a book value discount of 20%, there is a lot of margin of safety to worry about return of principal.
(3) AGNC preferred "only" yields 8% at the moment (It may very well be that it is AGNC preferred that is expensive at the moment).
Chart 6 is the chart of another NLY preferred NLY.prA as it has a longer history and I wanted to gauge the magnitude of the selloff in the 2008-2009 crisis (although such a comparison would make most stocks nowadays look expensive). NLY.prA has a higher coupon 7.875% than NLY.prD so should trade marginally higher.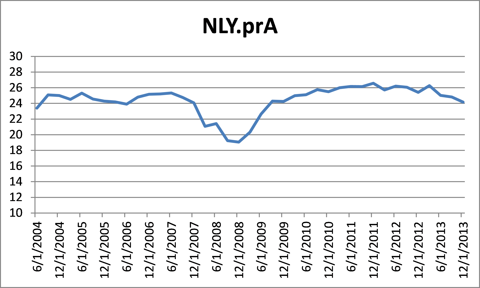 Conclusion
I do not know when sentiment will change on interest rate sensitive stocks but to me it is quite clear that we are now in the "value" zone. Due to my trading style, for the common stock I would rather wait for some "sign" that sentiment has changed and that dividend has stabilized.
But for now I have started accumulating NLY.prD as the fixed coupon and big margin of safety on the principal warrants a decent exposure.
Disclosure: I have no positions in any stocks mentioned, and no plans to initiate any positions within the next 72 hours. I wrote this article myself, and it expresses my own opinions. I am not receiving compensation for it (other than from Seeking Alpha). I have no business relationship with any company whose stock is mentioned in this article.
Additional disclosure: I am long NLY.prD