In a recent article on Intel (NASDAQ:INTC), I applied a valuation method that drew some comment and questioning from readers. The approach was to capitalize capex, R&D and the dividend at 15%, 15% and 5% respectively, and use the sum as a target price.
In order to determine if the approach is likely to provide a basis for good investment decisions, I did some backtesting at Portfolio123, and developed very encouraging results. This article presents my findings.
The Screen
Member of S&P 500 (NYSEARCA:SPY)
Valuation based on Per Share Capex, R&D and Dividend capitalized at 15%, 15% and 5% respectively > Share Price
Yield > 1%
Stocks that passed the screen were sorted by 5 yr Average ROI% and the top 20 names selected. The portfolio was rebalanced every 3 months.
A Fifteen Year Backtest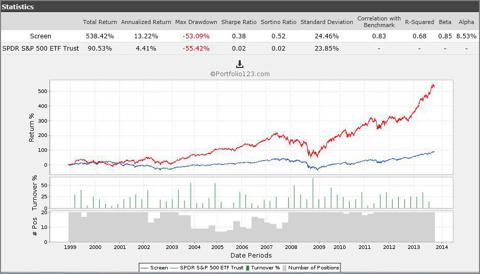 Click to enlarge
(Click to enlarge)
I was surprised at how well this worked. Results were outstanding for 5 and 10 year periods as well.

Click to enlarge
(Click to enlarge)
The rationale is that if the market doesn't see value in money spent on R&D and Capex, ROI provides evidence as to how effective the company's capital deployment has been in the past.
Current Output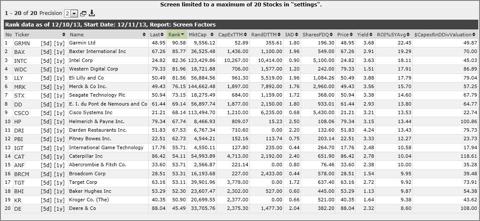 Click to enlarge
(Click to enlarge)
I'm long 8 of these names, and I've published articles on an equal number of them.
Interpreting Results
Stocks that traded for less than the valuation developed by the formula appreciated in price very rapidly, compared to the overall market. Rebalancing at 3 month intervals performed better than annual intervals, suggesting that undervaluation as measured by this formula is reduced relatively quickly by the market.
Capex, R&D and dividends are not the only ways to create or return shareholder value. Advertising, acquisitions, spin-offs and buybacks also come to mind. Some companies hold excess cash that should be considered when doing valuations.
Looking at the 15 year backtest above, there was a 5 year period from 2003 to 2008 where it wasn't possible to find 20 stocks that would pass the screen. I'm not sure why. Perhaps financial engineering, acquisitions and the like were more important during that period. I'm not comfortable with a screen that doesn't produce an adequate number of prospects.
I would use more conventional methods to develop a final target price. However, any stock that appears undervalued by this method merits careful consideration as a value candidate.
Thoughts on Individual Names
I have long positions in Intel, Baxter (NYSE:BAX), DuPont (NYSE:DD), Cisco (NASDAQ:CSCO), Helmerich and Payne (NYSE:HP), Darden (NYSE:DRI), Deere (NYSE:DE) and Caterpillar (NYSE:CAT).
I did an article on Baxter in July, establishing a target price of $83 and noting a favorable risk/reward profile when comparing to the S&P 500 index. At the time, I commented favorably on the extent to which capex exceeded depreciation, and the due proportion of cash deployed into R&D.
I looked at Darden back in September, counseling patience on the grounds that although the shares were fairly valued at $46, a DCF valuation suggested an intrinsic value of $70. The recent involvement of Barrington Capital, an activist investor, has pushed shares upward while the market awaits the outcome. My article contained a discussion of potential value liberation, focusing on the real estate.
More recently, I looked at Deere and saw undervaluation. Based on my preferred PE5 method, the stock would be fairly valued at $103. The company has done considerable capex in BRIC countries and is well-positioned for a cyclical recovery in demand for agricultural equipment, should it occur.
Food for Thought
In a speech at the 2013 SIFMA Conference, Larry Fink stated that he's bullish on America, but more importantly that he's concerned about the lack of capex, which he blames on political dysfunction combined with short-term thinking by CEOs whose average tenure is now 5 years. Dividends and buybacks are being over-valued, in his view.
To some extent, the findings presented in this article disprove Mr. Fink's thesis, in that it has been relatively easy for the past 5 years to select companies that were investing in capex and R&D on a basis that was likely to prove profitable. From 2003 through 2008 it was difficult to do so. As of today, I think it's still a promising place to look for value.
Refinements are possible. I experimented with valuing capex only to the extent it exceeded depreciation, as well as adding consideration of excess cash on the balance sheet. Advertising is difficult to work in, but very important to the creation of brand equity. Buybacks are debatable, since they are sometimes done at prices in excess of intrinsic value.
Disclosure: I am long DE, CAT, HP, INTC, CSCO, DRI, DD, BAX. I wrote this article myself, and it expresses my own opinions. I am not receiving compensation for it (other than from Seeking Alpha). I have no business relationship with any company whose stock is mentioned in this article.