The journey towards Hewlett-Packard's (NYSE:HPQ) turnaround is finally showing some positive signs, especially in the enterprise group segment. Enterprise group is the second biggest segment of HP with 25.1% share in total revenue in fiscal year 2013. The revenue from enterprise group increased 2% year over year in the fourth quarter of fiscal year 2013, thus making it the only segment to generate year-over-year revenue growth in this quarter. In enterprise group, HP's server business is expected to provide most of the momentum for the segment's revenue growth. HP is the top vendor in the global server market, with a revenue market share of 27.6% in the third quarter of the current calendar year. During the fourth quarter of fiscal year 2013, HP reported 10% year-over-year revenue growth in the Industry Standard Server due to strong sales in its hyperscale offering.
HP is currently reorganizing its product offering and transforming to the "New style of IT," which includes prioritizing the growth areas in each segment. In enterprise group, HP is trying to focus on converged infrastructure and cloud elements, which I believe will boost its enterprise group business. Converged infrastructure is a business that bundles networking, servers, and storage offerings.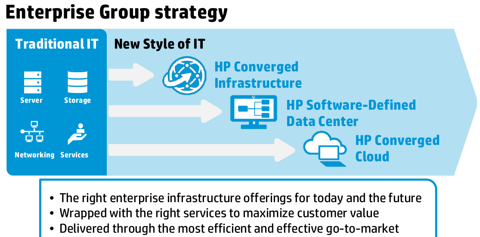 Source: Company Presentation
Converged infrastructure is key to HP's enterprise group growth, and I believe that due to fall in its biggest PC segment, its non-PC business, especially enterprise group, will remain key to HP's turnaround. Recently, the company expanded its "Moonshot" range of servers. In a recent conference in Spain, the company launched its first AMD Opetron and ARM based hardware for its Moonshot high density server platform. This launch will broaden its converged systems portfolio and will fulfill the broader need of data centers. HP's Moonshot range of servers are aimed at hyperscale tasks for carrying out big workloads, use of ARM based hardware, and solve high power consumption issues prevalent with these types of servers.
This launch comes after HP reported an important partnership with the world's largest provider of customer relationship management software, Salesforce.com (NYSE:CRM), last month. HP will provide infrastructure support to Salesforce.com for creating an HP/Salesforce Superpod. This is a cloud managed by Salesforce's data centers and will run on HP's Converged Infrastructure. Partnership with the world's most innovative company can be an important step towards HP's "New style of IT." Both the companies will jointly develop and market this new cloud service, and it is an important opportunity for HP to capitalize on growth in the cloud infrastructure. HP's relationship with Salesforce.com is not new, as HP is one of the largest clients of Salesforce, and this deal makes the relationship stronger.
Salesforce has a strong client base for its cloud computing, and this new Superpod will be available for an additional fee to its existing clients. This strong client base is one of the reasons for the company's strong top line growth of 36% year over year in the third quarter of fiscal year 2014. As per its management announcement, Salesforce.com is the first enterprise cloud computing company to deliver $1 billion quarterly revenue. I believe HP's leading position in the server market and its transition into the New of Style of IT will boost the company's revenue. In addition to this, its partnership with Salesforce will prove to be important for its converged infrastructure.
Problem diagnosis and rebuilding over; now it is time to reap benefits
Announcement of fourth quarter results marked the end of the first two years in HP's five-year turnaround plan. After a disastrous last year, due to the write down of acquired UK software maker Autonomy, HP's initiatives are finally reflecting a positive impact. The company reported GAAP net profit of $1.4 billion compared to a loss of $6.9 billion in the fourth quarter of fiscal year 2012. HP noted that it has ended its fiscal year 2013 on a high note, and therefore it's on track to reach its goal of becoming an industry leading company in key areas by fiscal year 2016.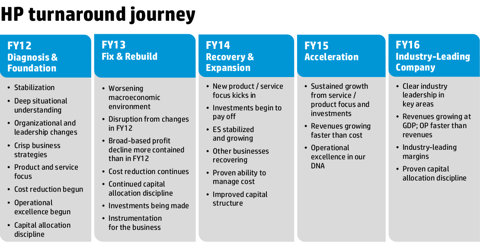 Source: Company Presentation
The company is currently executing a massive job reduction plan, and as of fiscal year 2013, HP has reduced 24,600 posts since the beginning of the restructuring plan. HP is on track to remove 29,000 jobs by the end of 2014, thus generating incremental labor savings of $1.1 billion in 2014, on top of $2 billion delivered in 2013. The company has been utilizing most of its free cash flow for shareholder returns. Entering into fiscal year 2014, HP expects to invest a part of its free cash flow in expansion of its product line.
The most recent example with respect to this is HP's plan to enter the 3D printing industry. This is among the fastest growing markets due to the rise in industry wide application, and with HP's strong R&D base, I believe the company can deliver in this market. HP's entry will increase competition in the 3D printing industry, as leaders like Stratasys (NASDAQ:SSYS) and 3D Systems (NYSE:DDD) currently dominate the market. The 3D printing market is at a nascent stage, but with rise in usage of this technology by different industry verticals, 3D printer manufacturers like Stratasys and 3D Systems have been capitalizing on this market opportunity.
HP hasn't made any clear announcement regarding what type of technology it is building for its 3D printers or what customer segment it will be targeting. Therefore, it is too early to comment on whether Stratasys or 3D Systems will be more affected by HP's market entry. Stratasys specializes in Fused Deposition Modeling technology for 3D printing, while 3D Systems is more inclined towards Selective Laser Sintering, Stereolithography, and Direct Metal Sintering. I believe HP, with the launch of its first 3D printers in 2014, will make the market more competitive and will affect the market share of both Stratasys and 3D Systems.
Lean balance sheet, better shareholder return
After Autonomy's write down last year, HP has been carrying a high debt burden on its balance sheet, which has adversely impacted the company's bottom line. This situation has improved gradually with reduction of its debt level. During the fourth quarter of fiscal year 2013, HP reduced its operating net debt by $1.3 billion, thus marking the seventh consecutive quarter for debt reduction of more than $1 billion. The company plans to bring the operating net debt to zero by first half of fiscal year 2014. The low debt level will reduce the company's expenses, thus boosting its free cash flow. HP has a history of strong shareholder returns, and during the fourth quarter of fiscal year 2013, the company returned $479 million through share repurchase and distributed $284 million in the form of dividends.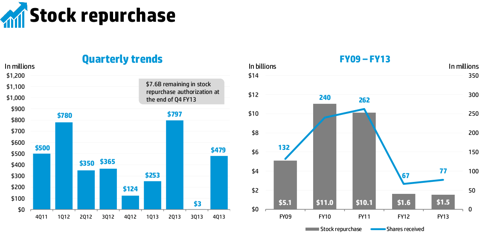 Source: Company Presentation
From the above chart, HP had $7.6 billion remaining in stock repurchase authorization at the end of fiscal year 2013. Therefore, HP's investors will see more returns from the company as it reduces its expenses.
Conclusion:
HP's turnaround initiatives are on track to deliver better than targeted results. The company ended its fiscal year 2013 on a positive note, with bottom line results beating the market expectation. I believe the next year is crucial for HP, as the company plans to build its product line with the possible launch of its own 3D printers. Also, HP might again enter the acquisition arena for building its product line and building possible synergies. I recommend buying this stock as the company regains its luster in the IT world.
Disclosure: I have no positions in any stocks mentioned, and no plans to initiate any positions within the next 72 hours. I wrote this article myself, and it expresses my own opinions. I am not receiving compensation for it (other than from Seeking Alpha). I have no business relationship with any company whose stock is mentioned in this article.