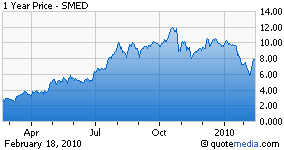 Sharps Compliance (NASDAQ:SMED) is a provider of medical waste disposal solutions. The flagship product is the Sharps Disposal by Mail System. This product is simply a sealed, link and puncture resistant container that allows medical waste to be mailed to a disposal center via the U.S. Postal Service or UPS. The waste is tracked electronically, allowing documentation of proper disposal.
Another important product for Sharps is their Medical Waste Management System, or MWMS. This is a comprehensive system designed to meet the waste disposal needs of the "alternate site market", which simply refers to settings outside of the hospital. In general, MWMS is a package of services, including the Disposal by Mail System, and also inventory, training, data management, and other services that provide for a complete solution for entities such as emergency preparedness services.
The company sells to a wide variety of customers. The largest customer segment (36%) are home healthcare providers. Government makes up about 30% of sales, mostly for emergency services. Other customers include doctor's offices, retail stores that administer flu shots, veterinarians, hotels, etc.
Sharps is not the typical Magic Formula stock. The elevated earnings yield (22%) and return on capital (298%) figures are due to the completion of a front-loaded contract with an undisclosed U.S. Government agency to deploy MWMS. Of the total contract value of $40 million, Sharps realized nearly $29 million in revenue over the most recent four quarters. Compare this to the company's total 2008 revenues of about $13 million, and it's clear that we are looking at the one-time, non-recurring revenue issue that occasionally pops up in MFI. The remainder of the contract will work off over the next 4 years, providing anywhere from $1.6 to about $3 million in annual maintenance sales for Sharps.
It is instructive to take a look at the past four quarters while backing out this big $29 million windfall, while still allowing for the incremental contract value going forward. If we do this, Sharps earned just over $17 million in sales, vs. a reported $44 million. In the most recent quarter, non-contract sales would have grown an impressive 45%. Figuring out a good operating margin is more difficult. Clearly there is a lot of leverage in the cost structure, as Sharps has posted 50%+ operating margins with those big contract sales. However, in the previous 5 years the company had difficulty even pulling a profit, with the average operating margin a paltry 5%. If we use a generous 9% operating margin in this pro-forma evaluation, we come out with an earnings yield under 2% and an MFI return on capital just over 20% - not impressive numbers. Against expected 2011 results, the stock has about a 4.5% earnings yield. Not the typical MFI value stock here.
That said, Sharps is still worth a look for MFI investors. Sales are growing impressively under the one-time noise, and management believes they have over $20 million in pipeline deals with pharmaceutical makers alone. The government contract win led to both a supply schedule contract with the General Services Administration (GSA) of the U.S. Government, as well as a Distribution and Pricing Agreement (DAPA) with the Defense Department. These agreements effectively "grease the wheels" for more government work, a significant opportunity. Almost immediately after these were announced, Sharps launched a pilot program with the Veteran's Association (VA) to collect their medical waste in the Mid-Atlantic region. The regulatory environment is on Sharps' side as well, with many states enacting or planning to enact tough laws governing the disposal of medical waste (which is often just put in the trash today). Growth potential is very strong, possibly explosive, and we've already seen how higher sales levels lead to much higher profit margins due to the firm's fixed cost structure.
Two other positives are the firm's financial health and executive team. The company has a market capitalization of just over $110 million, but has almost $22 million in cash on the balance sheet and no debt. The management team is led by founder Burton Kunik, and insiders own an impressive 60% of the outstanding shares. MagicDiligence loves to see this in small-cap firms. It is a sign of dedication and focus, and aligns the priorities of management with those of its shareholders.
Let's talk about the risks here. First, as mentioned, is the valuation. This is not really a cheap stock against forward-looking estimates. Sharps will have to continue to grow at a brisk pace, which I believe they can do.
Competition is a larger concern. Stericycle (NASDAQ:SRCL), by far the largest medical waste disposal firm in the country, also has a mail-in program. Several smaller companies offer alternative solutions that allow on-site disposal. There are few barriers to entry. All that is required to get a business like this up and running is a method of disposal (Sharps has their own incinerator) and some easily developed containers. Last, the common small-cap risk of customer concentration is a problem here as well. Just 4 customers account for about half of sales. Losing one of them would be material to results.
All-in-all, Sharps is an interesting company that presents growth-oriented investors an attractive entry point anywhere under $7. It is not there yet, but the volatility of the shares could present an opportunity in the near future.
Disclosure: Steve owns no position in any stocks discussed in this article.