Intra-day, top-to-bottom, the S&P 500 lost roughly -9.2%. On a closing basis, it fell a little bit less… -8.2%.
Does this mean that the correction is over? Are we not going to dip below the official 10% correction level here in the U.S. – a close below S&P 1035?
With the third week in February showing a decided bullish bias, albeit on low volume, a number of financial professionals are speaking out:
1. Bob Dickey, an analyst at RBC Wealth Management, expressed that …" the early signs of a correction low are there."
2. Sam Stovall, chief investment strategist at S&P, suggested, "It appears to us as if this pullback has run its course."
3. Robert Smyth, chief investment strategist at Riverfront Investment Group, thinks you should forget the correction altogether. "This is a correction in an ongoing cyclical bull," he stated emphatically.
4. Jim Paulsen of Wells Capital Management sees the S&P 500 ending the year at 1350.
5. Todd Salamone of Schaeffer's Investment Research believes that the market may have priced in negatives and is "now less vulnerable to negative headlines."
6. Bob Doll, chief equity strategist at BlackRock, said, "In the near term, the sharpest part of the correction is mostly over…"
7. Earlier in the week I wrote that I believe that stock assets around the world most likely ended their corrective phase. It happened in conjunction with iShares All Country Asia excl Japan (NASDAQ:AAXJ) and PowerShares Golden Dragon Halter China (NASDAQ:PGJ) climbing back above their 200-day moving averages."
Obviously, bulls and bears will battle this one out for a bit longer. Until and unless we close above the S&P 1150 level set back on 1/19/10, the matter will not be settled.
That said, I am optimistic. And here's why:
The vast majority of major U.S. stock benchmarks had fallen below short-term, 50-Day trendlines. Yet quite a few of them are now climbing back above the 50-day as I type. The PowerShares Nasdaq 100 (QQQQ), SPDR S&P Midcap 400 (NYSEARCA:MDY) and iShares Russell 2000 (NYSEARCA:IWM) have all done so.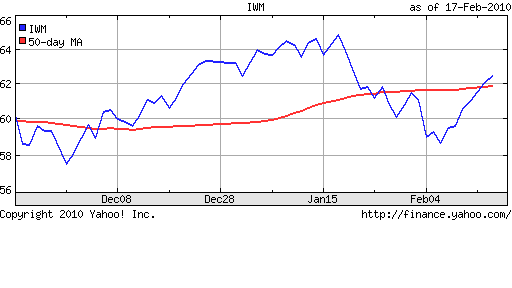 The lone holdout may be the S&P 500 SPDR Trust (NYSEARCA:SPY)… needing to eclipse 1105. If you continue to get markets rallying, even in the face of rising jobless claims and increasing wholesale inflation, one might expect eventual follow-through from the grand-daddy, SPY.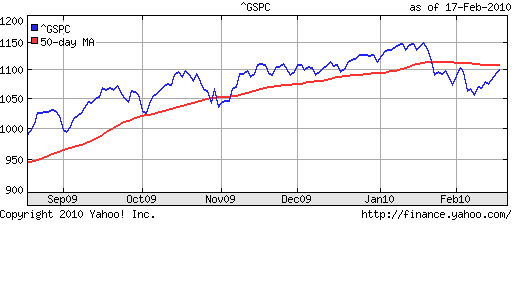 Disclosure Statement: Gary Gordon, MS, CFP is the president of Pacific Park Financial, Inc., a Registered Investment Adviser with the SEC. The company and/or its clients may hold positions in the ETFs, mutual funds and/or index funds mentioned above. The company does not receive compensation from any of the fund providers covered in this feature. Moreover, the commentary does not constitute individualized investment advice. The opinions offered herein are not personalized recommendations to buy, sell or hold securities.