Natural Resource Partners L.P. (NYSE:NRP) reported fourth quarter net income attributed to limited partners of 39 cents per unit, well above the Zacks Consensus Estimate of 26 cents and third quarter net income of 36 cents.

The increase was mainly due to higher revenues. However, quarterly net income declined from 56 cents posted in the year-ago period. For the full year 2009, the partnership reported earnings of $1.17 per unit, below the Zacks Consensus Estimate of $1.32 and year-ago earnings of $1.95 per unit.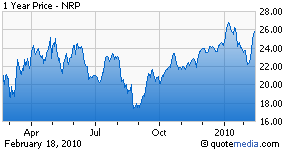 Total revenues in the quarter declined 13% year over year and increased 3% sequentially to $65.9 million. In 2009, total revenues totaled $256.1 million, down 12% year over year. The decline in revenues was primarily due to lower coal royalty revenues.

Coal production decreased 25% over last year to 11.3 million tons in the quarter and declined 23% to 60.6 millions in 2009. Coal royalty revenues in the quarter and in 2009 declined 18% and 13%, respectively, to $48.3 million and $196.6 million. Average coal royalty revenue per ton this quarter and for the year increased 10% and 12% year over year, respectively, to $4.28 and $4.20.

Natural Resource Partners reported distributable cash flow (DCF) of $63.8 million in the quarter, down 4% from last year and up more than double from the third quarter 2009, predominantly due to improvements in working capital and an increase in revenues. For the full year, the company reported DCF of $178.4 million, down 16% year over year.

Total operating expenses were $22.4 million in the quarter, up $1.8 million from last year. Total operating expenses increased 8% in 2009 to $102.1 million from the $94.7 million reported in 2008 mainly due to increased general and administrative expenses.

In 2009, the company made 6 acquisitions that totaled approximately $292 million, consisting of $192 million in cash and 4,560,000 units. These acquisitions further diversified the company's asset base and included additional metallurgical coal in Central Appalachia, thermal coal and infrastructure in Northern Appalachia, aggregates in Texas and Arizona and a significant amount of thermal coal and infrastructure in the Illinois Basin.

Three of the company's projects are under development, and will provide future growth in production in 2011 and 2012, when the company anticipates coal markets to be much stronger.

At year's end, the company's balance sheet remained strong with sufficient liquidity to fund its acquisition commitments and maintain its quarterly distribution to unitholders throughout 2010. As of December 31, 2009, the company had $82.6 million in cash and $229 million of credit capacity.