Nu Skin (NYSE:NUS) has been one of the best performers this year, with its share price rising more than 250% year-to-date. The impressive year-to-date performance is a consequence of accelerating earnings and revenue growth, as well as very strong guidance. However, despite the significant appreciation, shares of Nu Skin still offer an attractive value and growth proposition, as the stock is trading at a discount to growth, and a better choice than its peers Herbalife (NYSE:HLF) and USANA (NYSE:USNA).
Impressive growth
Nu Skin has delivered impressive earnings and revenue growth since 2010. The company's revenue is set to rise to $3.2 billion this year, a significant increase over 2010's $1.5 billion, while earnings per share is expected at $5.84, up from $2.11 in 2010. Earnings growth surpassed revenue growth in the last couple of years on improved profit margins.

Source: Nu Skin annual reports, Yahoo! Finance analyst estimates
Earnings and revenue growth accelerated significantly in Q3 2013, after a very successful launch of ageLOC TR90 weight management system. The company launched the product in September, starting in Greater China and South Asia/Pacific, and generated approximately $205 million in limited time offer sales in the quarter. Management expects this momentum to continue in the fourth quarter, as the rest of the regions participate in the global limited time offer. As a result, earnings and revenue increased 98% and 78% respectively in Q3, despite the currency headwinds, which negatively impacted revenue by 3%. Nu Skin's operating margin improved to 18.1% in Q3 from 15.7% in the same quarter of 2012, while gross margin was 84.9%, up 140 basis points from Q3 2012.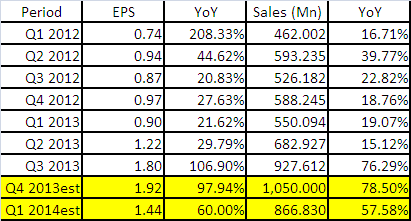 Source: Nu Skin quarterly reports, Yahoo! Finance analyst estimates
Bullish guidance
Nu Skin provided Q4 guidance above expectations, and strong FY 2014 guidance. Management anticipates strong growth in the company's sales leaders and consumer base, as well as healthy trends in all of its regions. The company will also maximize the demand for ageLOC TR90 weight management system with limited-time offers in 2014. As a result, analyst estimates rose significantly over the last 90 days, and they now expect FY 2013 EPS at $5.84, up from $5.15 90 days ago, and $7.50 in 2014, a significant increase from $5.85 analysts were expecting 90 days ago. Consensus estimates for 2014 are on top of Nu Skin's range of $7.25 to $7.50.
Strong execution and guidance propelled the stock more than 100% higher since early July, when the company significantly raised Q2 guidance, and then provided bullish expectations for Q3 and Q4, as well as FY 2014. However, the valuation is still attractive, and the growth prospects seem compelling.
Value & growth proposition
Nu Skin has been the best performer in its Personal Products industry group, with shares up 240% year-to-date. Nu Skin's peers, Herbalife and USANA have also delivered healthy gains in 2013. USANA is up 124% Herbalife is up 114%.
NUS data by YCharts
Despite the significant share price appreciation, Nu Skin, Herbalife and USANA are still trading at low multiples and a discount to growth. Nu Skin is trading at a significant trailing and forward premium, based on the price to earnings and price to sales ratio (shown in the table below). However, based on the growth levels, Nu Skin is a better investment than Herbalife and USANA. Nu Skin's earnings and revenue growth are two to three times higher than Herbalife's and USANA's. Expectations are also in Nu Skin's favor, since analyst consensus estimates have grown considerably in the last 90 days, while USANA's consensus estimates declined. Herbalife's estimates are mixed, but positive overall, but the company is fighting with hedge fund manager Bill Ackman, with his $1 billion short position. Although Ackman seems to be losing the battle, and none of the allegations have been proven, the fight is causing the stock to be more volatile than Nu Skin, and Herbalife's growth is quite lower, making Nu Skin a better and more stable investment.

Click to enlarge
(Click to enlarge)
Source: Yahoo! Finance
Conclusion
Nu Skin presents a great value and growth investment proposition. I also believe that Nu Skin is a better investment than Herbalife and USANA despite the higher trailing and forward valuation, because of its strong growth which outpaces its peers by two to three times. However, the price is extended at the moment and vulnerable to a pullback, and I expect a more favorable entry in the next couple of weeks as the stock digests its recent gains.
Disclosure: I have no positions in any stocks mentioned, and no plans to initiate any positions within the next 72 hours. I wrote this article myself, and it expresses my own opinions. I am not receiving compensation for it (other than from Seeking Alpha). I have no business relationship with any company whose stock is mentioned in this article.