Overview
BlackBerry's (NASDAQ:BBRY) valuation is too hard to ignore. After writing extensively on the company and watching the price per share dip below $6, my undecided choice whether to buy or stay on the sidelines is driving me crazy. In the end, I have personally have decided not to buy BlackBerry due to several factors that will be outlined below.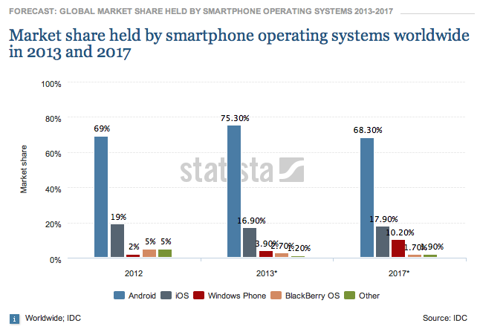 Click to enlarge
Valuation Is So Attractive:
As I have previously discussed, I put a net value on BlackBerry's shares at $14.51. This was a total of the company's cash, patents and business. As being on the sidelines, I was betting that Prem Watsa through FairFax was going to buy the company - already a holder of 10% of the company's shares. This value can be dwindling as time goes forward, also the company does not have a P/E ratio due to a negative TTM EPS value.

Click to enlarge
At my rough estimate of $7.5 billion or $14.51 per share, Fairfax would have to purchase 90% of the company's shares. This would cost $6.75 billion minus BlackBerry's 2.8 billion in cash resulting in a retroactive price around $4 billion. If sold for the current market cap price of $4.5 billion to Fairfax, minus cash, it would cost around $1.25 billion. This accounts for buying 90% of the company's shares and excludes restructuring costs and the cost to wind down the handset division. (The handset division wind down has been excluded since if FairFax bought the company they would likely continue its operations. Also, they would own BB and would control their cash. Moreover, it is cash they would not have to obtain for BB)
BlackBerry may be the perfect value trap - a company with extremely attractive fundamentals, although a murky future.
Reasoning:
The main reason I could not purchase shares of BlackBerry is due to a main concept that is more gray than black and white. The concept is that BlackBerry's technology, mainly BBM, is a gamble and it will not be purchased by Apple (NASDAQ:AAPL). The gray area with regard to BBM is that the company does in fact offer a unique and extremely secure technology that the government utilizes, while it has been extremely successful on a user basis with the number of downloads across the spectrum of app stores. Although on the other hand, BBM faces intense competition from other downloadable messaging apps such as Whatsapp and proprietary versions such as iMessage.
Click to enlarge
BBM applies to several key aspects with regard to BlackBerry that I feel are a gamble moving forward. For starters, the application is a key aspect of its corporate services. Although other companies such as Apple are building out their IT and security capabilities.
Click to enlarge
The problem for BlackBerry is that the company is set to move in the direction of being a corporate enterprise service provider, and any erosion or intense competition in this area can negatively impact the company's new (future) sole business model. Apple, to name one, is a company that BlackBerry will be up against.
Click to enlarge
Instead of BlackBerry facing Apple and others on a mobile phone level, now it will be facing them on a corporate enterprise level. BlackBerry has always provided solutions for this area, successfully too. I have several reasons for being skeptical on BlackBerry's future.
BlackBerry is going up against IT industry giants such as Apple with its enterprise services. More specifically, BlackBerry is facing enterprise competition from IBM, SAP, Citrix and newer companies such as Good Technology and Airwatch.
BBM has not been monetized, faces competition from free apps such as Whatsapp and proprietary apps that are also secure such as iMessage
BlackBerry's mobile phone plans have not yet proved successful on an operational level as of late.
Cash burn can erode the company's attractive cash level that is used in PPS valuations.
The company's patents may be worth less than previously suggested ($2 - $3 billion) as companies have innovated around BBM - such as iMessage being very secure. BlackBerry's patents are still worth a lot though, and have very good uses such as for government security.
CEO John Chen has no plans to exit its dwindling cell phone business
Many analysts have downgraded the stock to a sell including: Citi and Macquarie.
A breakup of Blackberry would diminish the company's cash holdings.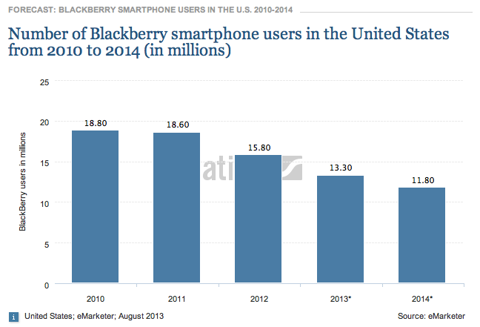 Click to enlarge
This is not to state that BlackBerry does not have a future, it is just a murky one. BlackBerry has had several positive events happen that have bolstered the company's standing.
Significant C-Suite shakeup could be seen as BlackBerry restructuring for a new future. The company's CMO, CFO, COO and a director have all left.
BBM has been extremely popular, and has 80 million monthly active users across BlackBerry, Android and iPhone.
BBM will come pre-installed on cheaper Android phones, and the company has a deal with Samsung to promote BB in Africa.
BBM channels are differentiated from the competition in that the social network where celebrities and companies can engage with other BBM users.
BlackBerry's stake in Rockstar could yield gains if the lawsuits are successful.
BlackBerry's QNX tablets are projected to be highly successful moving forward.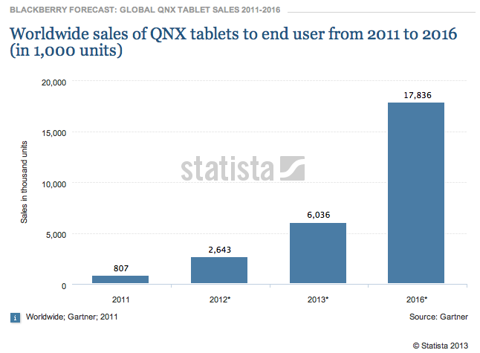 Click to enlarge
Conclusion/Analysis:
The overwhelming factor that kept me from buying BlackBerry is time. The technology world is not going to just freeze and let Blackberry rebuild, get ahead with mobile phones, expand its enterprise services and monetize BBM. Time for BlackBerry means technology moves forward, a fact that also leads to cash burn and market saturation lost.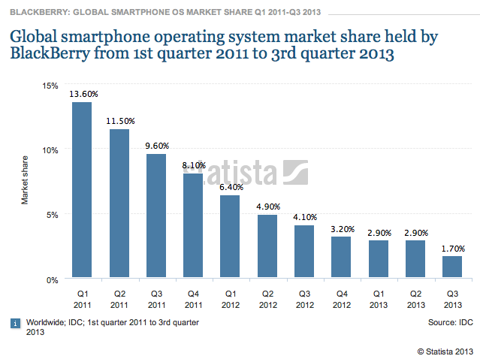 Click to enlarge
BlackBerry has its positives, such as the intense adoption of BBM and some management changes - although I would not put my hard earned money into an investment that is based upon the future of the possibility of a successful and lucrative monetization of BBM. Too many negative factors are affecting the company and they are losing market share in the phones business that the CEO does not want to exit. BlackBerry may be moving more towards a an enterprise business from phones, although it is keeping its anchor of a phone business alive while facing industry giants and stiff competition at the enterprise level while hoping BBM is monetized successfully. The investment opportunity is just not there. I have sat on the sidelines throughout all of my articles on BlackBerry (as stated) and I am not going to initiate a long position here either.
Remember as an investor, the company's performance should warrant the investment. There are many other opportunities in the technology market that warrant a view. For a view on a small semiconductor company with large upside opportunity, check out my article on Kulick & Soffa Industries (NASDAQ:KLIC). For a cyclical technology play that also offers large upside potential, also check out my article on NetSol Technologies (NASDAQ:NTWK).
Invest in a company's future, do not invest simply to defend the company's past.
Disclosure: I have no positions in any stocks mentioned, and no plans to initiate any positions within the next 72 hours. I wrote this article myself, and it expresses my own opinions. I am not receiving compensation for it (other than from Seeking Alpha). I have no business relationship with any company whose stock is mentioned in this article.
Additional disclosure: Always do your own research and contact a financial professional before executing any trades. This article is informational and in my own personal opinion.