Looking for a way to play the growth of the Chinese middle class? Look no further than the core aspiration and spending driver of consumers everywhere: the home.
SouFun Holdings Limited (NYSE:SFUN) is the leading real estate Internet portal in China. They also operate home furnishing and improvement websites for Chinese consumers and generate advertising revenue primarily from online real estate companies.
Through SouFun's Websites, it provides marketing, e-commerce, listing, and other value-added services for China's real estate and home-related sectors. The company maintains about 100 offices to focus on local market needs and its database contains real estate related content covering more than 320 cities in China.
With this multi-prong strategy, the company has built a large and active community of users who are attracted to its comprehensive content for the home buyer, seller, investor, and property developer.
Zacks #1 Up 200%+
In November of 2012, SFUN rose to the top of the Zacks Rank. And since then, it has consistently been a #1 Strong Buy or #2 Buy. Take a look at the stock performance in the past six months when the stock really took off from $25 in the spring and rode its 20-day moving average up above $75.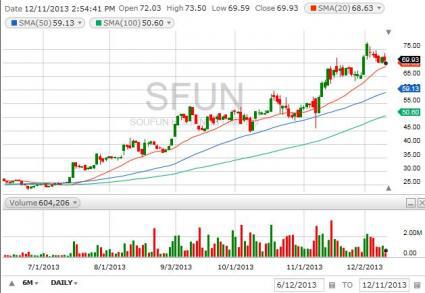 Earnings Growth the Driver
In early November, SouFun reported operating net earnings of $1.13 per share, 31% above the Zacks Consensus Estimate and 66% ahead of the year-ago earnings. The outperformance was driven by a sturdy top line that improved 45% year over year. The revenue increase, in turn, was fueled by increase in listing services and SouFun membership e-commerce services.
The company's investments in technology and products continue to benefit its results. While e-commerce membership services and listing services grew 94.2% and 128% respectively in the quarter, its mobile platform, including WAP and APP, witnessed solid traffic growth.
This marked the 13th straight quarter of improvement as well as results surpassing guidance since SouFun went public. Additionally, it marked the second consecutive quarter of positive earnings surprises.
On the back of solid progress, SouFun raised its top-line expectation for 2013. It now expects to generate revenues in the range of $605-$615 million, up from $538–$548 million guided earlier. The new guidance represents a year-over-year improvement of 40.6% to 42.9%. The Zacks Consensus Estimate of $542 million lies much below the company guidance.
To see how the analysts have responded to the this growth story, here's the Zacks proprietary Price & Consensus chart which plots annual EPS estimates against the stock price...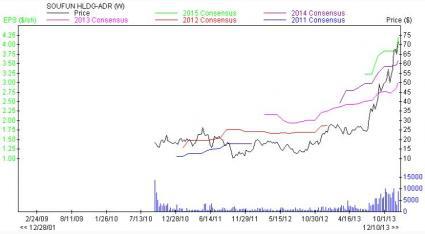 Expansion Time
Last week, SouFun announced that its financial services platform "SouFun Financial Services Channel" will be up and running on the 16th of this month. From the company press release...
"SouFun Financial Services Channel" will focus on bringing third party financial products and services to SouFun's rapidly increasing home buying members, SouFun certified agents across major cities of China, and developers and home improvement products and services providers. SouFun is also working with qualified financial institutions to launch joint financial products specifically catered to SouFun's members and clients nationwide. In the longer run, SouFun will develop its own financial products pending on China's regulations to support its full-service eco-system of "everything home online."
"SouFun has accumulated over 15 million registered home buying members, over 500,000 certified active agents who are helping property buyers and sellers, plus more than 10,000 developer and home improvement clients. SouFun has been increasingly approached by them for dedicated financial products and services including home mortgage, home insurance, escrow equivalent service, bridge loan, consumption loan, and home equity loan," said Vincent Mo, Executive Chairman of SouFun. "By providing financial products and services to our members and clients, SouFun will on one hand increase the network effect and synergy among its existing marketing, e-commerce, and listing services, and on the other hand add new financial services clients."
One analyst even raised estimates after this announcement, pushing the average EPS growth rate for this year and next to over 35%. Obviously they see the natural potential for SouFun to use its current community of home-related users to become financial product customers.
Last month, I wrote about China's BitAuto (NYSE:BITA) as Bull of the Day and described their multi-prong strategy to build a commanding online presence in the Chinese new and used car industry, for all players from dealers to consumers. Whether or not SouFun is the "Zillow of China," it seems they are the predominant real estate player who is building growth momentum that investors call home.
Kevin Cook is a Senior Stock Strategist for Zacks.