Months ago, there were talks about Advanced Micro Devices, Inc. (NYSE:AMD) going bankrupt. The speculation was not without basis. After all, it was only a year ago when the semiconductor company lost more than $1 billion. Despite the terrible year, AMD has managed to survive. With the new CEO and a fresh strategy, the rumors slowly died down. Although there are still a number of analysts and investors who remain skeptical about AMD and its "overvalued" stock, the future of the company looks bright.
New Strategy is Working
AMD is cutting costs to improve the company's financial position. Currently, it banks on its new technology on server development to increase revenue. While it is true that the long term trend for the stock has been down before the end of October this year, a counter trend rally is in progress. Based on price change, moving averages, new highs and lows, and percentage change, the down trend could change and move into a much more attractive range for its investors.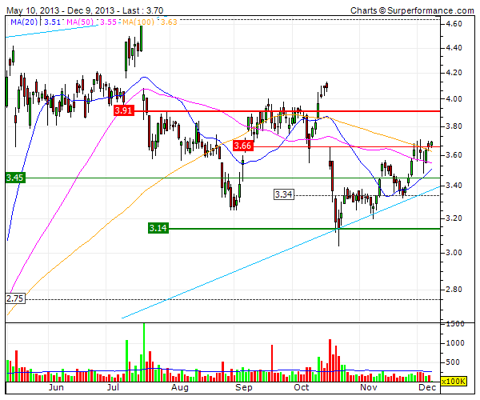 The average recommendation of analysts and firms is to hold the stock. John Byrne, the Senior Vice President of the company sold over 70,000 of his AMD shares last month. PC sales are still on a decline. However, these do not seem to faze AMD as its strategy continues to help the company on its way up particularly the disappointing PC sales. Even though the PC market was not at its best and may not be able to recover anytime soon, AMD was able to prove that it could remain profitable. This was evidenced by their $22 million turnover last Q3, which was higher than its Q2 results.
With smartphones and tablets dominating the world of technology, AMD has assured investors and its customers that they are well-prepared. In fact, despite both low market share and low PC sales, the company is expected to earn even higher profits next year.
Moving Forward
The decline in PC sales is what investors and analysts who are bearish about AMD would mostly want to talk about. It is undeniable and there will even be a further10% decrease in sales next year for the PC business. However, if we take a look at the 10% decline in terms of AMD's profits, it can be concluded that this will only be about 1/3 of the company's total sales since this will put AMD at around $2.3 billion next year. If you are still in doubt about AMD stock, think that focusing on simply the PC sales will prove to be a huge mistake. After all, AMD proved its profitability in addition to the company's capacity to cut costs.
As for the company's graphic processing unit division, the last quarter of the fiscal year was when AMD put forth new products that could easily rival its competitors' - just like what happened with NVIDIA (NASDAQ:NVDA). With the top end processors from AMD, NVIDIA was forced to reduce the price of its expensive units. There were a few complaints about AMD's Radeon R9 290x and AMD already issued a statement that performance variability is to be expected with the cards. The company also states that it will actively investigate on the matter and will update the public about the findings.
Nevertheless, the reference cooler of the card seems to have little effect on the unit's feedback, making it one of the top 5 GPUs this year. If anything, this shows that AMD can and will gain higher market share particularly next year. Its competition will still profit, but they may have to drop their prices significantly in order to compete. With these developments, it can be assumed that AMD can break even as the next anticipated product Kaveri APU will be unveiled - although the chip was already leaked on the web.
Meanwhile, in the console arena, AMD is a part all consoles though new Xbox and PS4 are more in demand. CFO Devinder Kumar attended the Credit Suisse conference and stated that there will be about 40 million console sales next year. Half of the sales will be due to the newly released consoles. This will result to AMD receiving royalties from each and every sale except for the PS3.
With the likelihood of the total console profits in 2014 to reach around $500 million, $1 billion in GPU, and around $2.3 billion in PC (both in revenues), there is no question that AMD is on the right track.
Disclosure: I have no positions in any stocks mentioned, and no plans to initiate any positions within the next 72 hours. I wrote this article myself, and it expresses my own opinions. I am not receiving compensation for it (other than from Seeking Alpha). I have no business relationship with any company whose stock is mentioned in this article.