According to CEFconnect.com, of the 595 funds currently tracked by the site, better than 90% of them are trading at a discount to net asset value. Fifty percent of them are trading at a 10% discount or more. I'd be the first to admit that many, perhaps even most, discounts in the CEF universe are justified due to a variety of reasons, including poor management and perpetual underperformance, excessive fees, shareholder unfriendly distribution policies, and other negative attributes.
However, for the shrewd CEF investor able to find quality management & assets and purchase equity and yield for better than 90 cents on the dollar, these discounts present an opportunity in my view.
Why Are The Discounts So High?
The vast majority of CEFs are designed and operated to generate income. Even many CEFs that invest in equities have a focus on producing income through option strategies, or have instituted a managed distribution policy, which may include what most in the business refer to as "destructive" return of capital (ROC). Since May 22nd when the Fed offered an initial inkling towards tapering QE, interest rate sensitive investments such as bonds, preferreds, and REITs, which CEFs tend to own, have taken it on the chin as long bond rates have gained steam.
Because the entire group is perceived as interest rate sensitive, the "May scare" has caused a wholesale sell off of closed-end funds. Many funds that were trading at a premium have since swung to discount, while others that were already trading at discounts have sunk even deeper. While there have been exceptions, this theme has persisted through the CEF space. Below is a chart for Western Asset HY (NYSE:HYI) whose price action is fairly typical of fixed income CEF offerings over the past twelve months.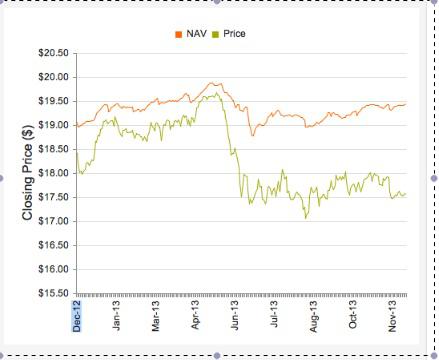 To exacerbate the matter right now, given the broader equity market's sharp move higher this year, investors may be selling CEF shares at a loss to offset other portfolio gains. So even though NAVs of many fixed income CEFs have either flat lined or increased since the rate volatility earlier this year, their market prices have dropped and discounts have widened.
Are The Discounts Rational?
While there is certainly a level of rationality in avoiding rate-sensitive investments that expose capital in a rising rate environment, I continue to remind investors that 1) we are still knee deep in QE and 2) there is no guarantee that short- or long-rates will be higher in the next few years. Yes, it would seem logical to think that the next big move in rates will be higher, but rate movement, maybe not over the short-term, but certainly over the long haul is based on reality, not perception.
If you believe or are inclined to believe that rates embark on a sustained, progressively higher route over the near-to-intermediate term, then from a tactical perspective, you may be wise to steer clear from rate sensitive closed-ends, ETFs, or any investment product with a rate sensitivity tinge. However, my personal feel, as it has been for many years now, is that even if rates progress higher, it will be in a slow and calculated manner, thus I consider the extent of the sell off and depth of some of the discount in closed-ends irrational.
I'm not blind to the possibility that we see more rate hiccups going forward, but given the expanse of the discounts in CEF land, I believe that further rate hikes are already priced into many CEF constituents. If the ten year were to flat line or even surprise everyone with an about face in 2014, fund NAVs would spike and market prices would rally.
The Current Discount "Wall"
While it was noted above that better than 50% of all CEFs currently trade at a discount, there currently seems to be a "basement" at which investors are letting the discount drop to before stepping in to buy. Please take note of the following data that is based on 548 CEFs currently trading at a discount:
| | | |
| --- | --- | --- |
| Discount Percentage* | Number of Funds* | Percentage of Funds Trading At The Discount* |
| 0-5% | 52 | 9.48% |
| 5-10% | 178 | 32.48% |
| 10-15% | 287 | 52.37% |
| 15-20% | 24 | 4.37% |
| 20% + | 7 | 1.27% |
*Data taken from CEFconnect.com - closing data as of 12/9
In the 10-15% discount bracket alone, there are nearly 300 funds. Once we get above 15% however, the numbers drop precipitously. I would opine from this data, that investors currently view the 15% "area" as an opportune time to step in and buy. The lack of funds in excess of a 15% discount clearly shows that there appears to be a threshold of enticement somewhere in the 10-15% range.
In a recent SA article, an author discussed the discount in AllianceBernstein's Income Fund (NYSE:ACG). He suggested that at the then discount of around 15%, the fund presented value primarily because investor activism may force management's hand into open-ending the fund. This, he opined could create an 18% return opportunity over six months.
While I doubt that open-ending will ever take place, for a number of reasons that were discussed in the accompanying comment thread to that article, investor activism could certainly force management to do something to narrow the discount. CEFs have the option to directly buy back shares or float tender offers with varying buyback criteria. However, since CEF managers are paid a flat fee based on fund assets, with no performance impetus, they typically won't act without shareholders getting in their face to do so.
Part of the reason this fund, a rather large one by CEF standards with a market cap of $1.7 billion and net assets of better than $2 billion, trades at such a wide discount in my opinion, is its large position in treasuries and average weighted maturity of 14 years. Since the beginning of the year, ACG has lost 10% of its net asset value. Bond funds with shorter maturities have seen much less NAV erosion, with many trading at much narrower discounts. Although it may not be an ironclad rule, it appears current bond CEF discounts are somewhat symmetric with duration. In other words, the shorter the duration, the smaller the discount and vice versa.
ACG chart - 1 year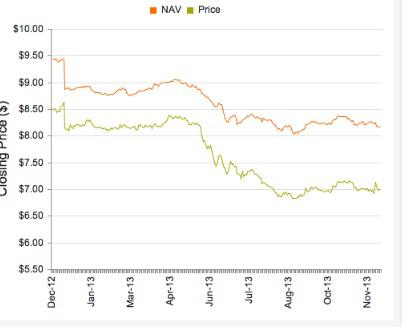 So ACG, I think if nothing else, is a good example of a fund where investors are likely to maintain a roughly 15% discount floor until there is more clarity on the rate picture. Thus, while market risk remains, I doubt that the discount will widen much further without management stepping in to take some action. And this may be true of many other funds and fund complexes that are seeing their CEFs trade at mid teens discounts.
So Where Are The Best Shopping Opportunities?
I would caution investors new to the CEF space that discount and yield alone are not reason enough to take a position in any one fund. There are a host of considerations that one must take into account when researching CEFs including, but limited to:
Composition and risk level of the portfolio
Composition of the distribution
Amount of UNII on the books (undistributed net income)
Fees
Amount of leverage
Managerial track record
Market cap/share liquidity
Unrealized gains the fund carries
The complexity of the CEF should not be underestimated, nor the market's often times irrational manner in which it prices them. Indeed, over the past 18 months, there has been a large swing from premium to discount in many CEFs, creating a more than 20% "stealth loss" for many unsuspecting investors who simply chased yield. Consider the following 3-year graph for Wells Fargo Income Opportunity Fund (NYSEMKT:EAD), a 25% levered CEF investing in junk bonds. Notice the peak of premium last year and this year's pricing valley.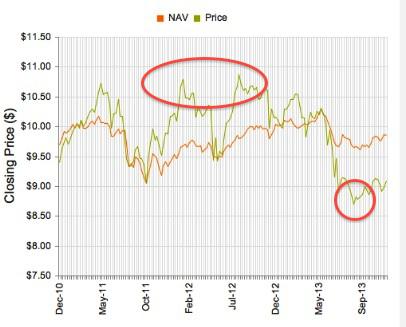 While I wouldn't characterize any specific fund as my best idea, I'm going to list a diversified group of CEFs that on a blended basis provide for a solid end-of-the-year discount shopping list heading into 2014. There is a mix of fixed income, preferreds, and equity from five different money managers to further mitigate risk. I would even opine that barring an economic jolt come the beginning of the year, that some of these funds might rally.
1) Prudential Global Short Duration High Yield (NYSE:GHY) Currently yielding 8.7% and trading at a nearly 9% discount, this fund would be a good idea for the aggressive bond investor concerned about duration risk. With average duration of just 2.4 years (as of 10/31), the fund bears well below time sensitivity risk, but it does possess leverage around 30% as well as the general elevated credit risk associated with junk debt.
2) Western Asset Emerging Markets Debt (NYSE:ESD) Yielding 8.6 percent at market with a 13% discount to NAV, ESD maintains around a 6% leverage position. The fund would serve well as diversification to a primarily domestic credit portfolio. The below pie graph summarizes its holdings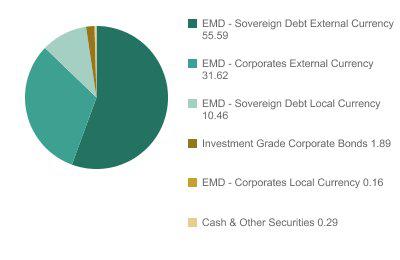 With effective duration around 7 years, it will have much more rate sensitivity than GHY, yet with roughly 75% of the portfolio invested in BBB paper and better, the fund bears much less credit risk than a straight junk bond fund.
3) Alpine Global Premier Property (NYSE:AWP) A "go anywhere" global real estate fund, I continue to like the construction of this portfolio which is skewed 65% towards international REITs and real estate related entities. With a small position in the mREIT space, it maintains a very liberal view towards the space, which I find appealing. The fund currently has small, single digit leverage and sells at a 13% discount with an 8.6% yield at market. The distribution appears to include some destructive ROC, which I don't consider overly bothersome, although I think management should cut the dividend, creating a more zeroed out policy.
4) Neuberger Berman MLP Income Fund (NYSEMKT:NML) This fund IPO'd in 2013 and has lost better than 20% of its market price from earlier year highs, yet its NAV is up slightly since the initial offering. This is another one where I'm going on portfolio construction and current holdings as well as experienced management. The fund, which invests in both general and limited partners, currently trades at an 8.5% discount and 7% yield point, while employing about 25% leverage on the portfolio.
5) Nuveen Preferred and Income Term Fund (NYSE:JPI) One of a number of Nuveen preferred CEFs trading at substantial discount to NAV (others being JPC, JTP, JPS, and JNP), JPI currently trades at a 9.2% yield, with 29% leverage employment, and a discount of roughly 11%. For investors seeking diversified exposure to the preferred market, this one appears like a good choice. Frankly given the overlap in the holdings of many of Nuveen's preferred funds, a merger of one or more of these funds would be a shareholder friendly move, creating scale and reducing overlapping expenses.
Summary
Due to their inherent rate sensitivity, somewhat difficult to comprehend fundamentals, and likely exposure to tax loss selling, many closed-end funds are now trading at exceedingly high discounts to net asset values. Somewhere in the 10-15% discount threshold, however, there appears willingness on the part of buyers to step in to own CEFs, thus I would posit that for many funds, perhaps the hemorrhaging may stop in that area.
Nonetheless, while I think risk tolerant investors can look towards select discounted CEFs for an elevated source of income, there should be cognizance of how much impact a rising rate economy may have on net asset values. While I'm inclined to think that rates won't be off to the races near term, investors should understand the consequences of holding rate sensitive CEFs if they should, and position portfolios accordingly.
Disclosure: I am long AWP, ESD, NML. I wrote this article myself, and it expresses my own opinions. I am not receiving compensation for it (other than from Seeking Alpha). I have no business relationship with any company whose stock is mentioned in this article.
Additional disclosure: The above should not be considered or construed as individualized or specific investment advice. Do your own research and consult a professional, if necessary, before making investment decisions.