Executive compensation has been a sensitive topic for Corporate America as leaders are taking home multi-million dollar bonuses while average salaries remain stagnant. In bull markets, this divide tends to be overlooked as the majority of stakeholders are profiting from the rise in stock prices. However this starts to raise eyebrows when management fails to deliver, yet pockets the same bloated amount.
The financial crisis brought compensation to the agenda of governance experts who proposed rules to implement certain reporting standards. Under SEC rules, companies are required to provide extensive information about the compensation of their CEO and other named executive officers. Companies are not, however, required to disclose the same compensation information for other employees. This is currently being reviewed by the SEC and could be a subject of change that would require public companies to disclose the ratio of the compensation of its chief executive officer (CEO) to the median compensation of its employees.
Earlier this year, Bloomberg released the "Top CEO Pay Ratios" list to show the divide between the salary of the average employee and CEO of each respective company. Atop the list were JC Penney (NYSE:JCP) and Abercrombie & Fitch (NYSE:ANF) two of the most profitable shorts of 2013.
Nuance: the Good, the Bad & the Ugly
Nuance Communications (NASDAQ:NUAN) has the features of a stock that would normally rouse investors. They are the market leader in a voice recognition technology that oozes with potential and also have the backing of one of the most successful investors of our time. Yet, as the overall market has surged to new highs, Nuance has faltered to yearly lows. The company's recent performance has had a drag on share price, raising investor doubts about the future of Nuance in a fast moving technology sector.
Since the above Bloomberg list measured the ratios of top 250 S&P 500 index companies, by definition, Nuance did not qualify. Out of curiosity, I wanted to see how CEO Paul Ricci would rank if Nuance were to be included in this shameful list. Ricci was the 16th highest paid CEO in 2012 taking home $37 million, an unjustifiable figure by any measure. At its peak in early 2012, Nuance was a sub $9 billion company, a market cap that has dropped to half that figure today ($4.5B). To put into perspective, Ricci was paid double that of Intel (NASDAQ:INTC) CEO Otellini who leads a company 30x the size of Nuance.
Nuance doesn't disclose the average worker pay, so the average figures obtained from GlassDoor were used as a reference when calculating the CEO pay ratio.

As seen above, with the assumption of using GlassDoor average salary figure, Nuance would rank in the top 50 according to Bloomberg`s list. Keep in mind; the $93,655 salary figure used for the average Nuance worker is higher than any of the comparable figures that Bloomberg uses in their list. If we were to calculate the pay ratio with the average pay of workers that Bloomberg classifies in the "Computer Systems Design and Related Services" industry, Nuance would climb into the top 40. Ricci's compensation at approximately 400x the average worker is absurd no matter how you cut it.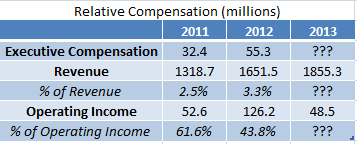 Numbers don't lie
Management's goal is to maximize shareholder value. In 2012, Nuance executive compensation totaled $55.3 million or 44% of total operating income. This absurd figure shows that management has in fact destroyed shareholder value by pocketing nearly half of what could have otherwise been allocated to creating value. If executives had any basis to justify this sort of compensation it would have been through a soaring stock price. However, those leading Nuance have been profiting at the expense of shareholders who have suffered as Nuance price fell to lows not seen since 2009.
As seen above, Ricci's compensation has risen 8 fold in the last five years from under $5million to the most recent $37 million. Even during the company's decline since 2012, the CEO has enjoyed colossal earnings at the expense of shareholders.
2013 compensation figures are expected to be released within the month as the proxy statement is filed. Operating income for fiscal year 2013 fell to a disappointing $48.5 million along with stock based compensation for all employees which would indicate that the same trend should be expected with executive costs.
For Nuance to be considered a legitimate turnaround candidate, compensation is an issue that must be dealt with in either significant pay cuts or forceful resignations. With share price slumping, there should be absolutely no reason for any sort of extended perks. In a November 8k filing, the Nuance Compensation Committee approved enhancements to the existing severance of key directors. At the very least, this move suggests that changes are coming, but not before shareholders are robbed one last time. With unjustified benefits at the center of attention, the 2014 Annual Meeting of Stockholders will be an event to keep an eye on for possible developments.
Shareholder Activism Necessary
The voice recognition market is expected to grow at an annual rate of 22%, offering Nuance an opportunity to continue being the frontrunner in the breakthrough technology. The company has already established itself as a leader in the mobile sector through licensing their voice recognition technology to giants Apple and Samsung. Though voice recognition is still considered to be in its infancy, Nuance has diversified its offerings to be applied in industries across the spectrum such as health care, automotive and education to name a few. Concentrating on the future growth of its industry, Nuance is transitioning from a perpetual-license model to a subscription revenue model. Short term results have been impacted due to weaker revenue that is instead being stretched out over time so the company can enjoy the benefits of recurring revenue streams. By and large the technology is not the reason behind Nuance's slump; rather executive self-indulgence has destroyed company value.
Carl Icahn`s near 20% stake and two seats on the board presents investors with a glimpse of hope that much needed change is coming. Carl Icahn will have the essential tools to implement changes. On April 29th, the board approved a $500 million repurchasing program, of which about $315 million remain available for repurchase. The company sports a cash balance of over $800 million. Combine this with the fact that shares are trading at deflated levels and one can surely expect that Icahn will pressure for aggressive buybacks.
Nuance's aggressive acquisition strategy in years past requires cost cutting as integration and acquisition costs have eaten away at profits. Since 2011, the company has splurged nearly $2 billion (see below) in acquisition that have added unnecessary costs weighing Nuance bottom line. An activist investor like Icahn is expected to push for leaner operations that aim to maximize bottom line growth. Therefore avoidable costs from acquisitions and a surplus headcount are in line for reductions. Below is the breakdown of acquisitions and the amount Nuance spend each fiscal year.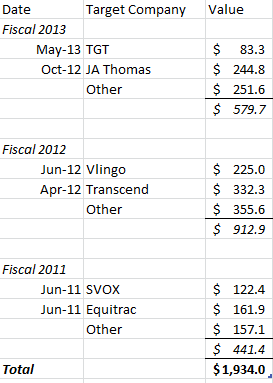 Hopeful investors see the potential value in Nuance's voice recognition technology; however they need assistance realizing it. This is where an activist like Carl Icahn can add value. Nuance shortcomings can be reversed with a management that seeks the best for its shareholders. Though the company faces tough obstacles in 2014, Icahn's increasing stake improves the prospect of Nuance once again returning to its previous highs. In the meantime, shareholders should view this as an opportunity to pickup discounted shares while the turnaround is under construction.
Disclosure: I have no positions in any stocks mentioned, and no plans to initiate any positions within the next 72 hours. I wrote this article myself, and it expresses my own opinions. I am not receiving compensation for it (other than from Seeking Alpha). I have no business relationship with any company whose stock is mentioned in this article.