Investors in Enterprise Products Partners (NYSE:EPD) have enjoyed a great run in 2014 with units rallying 22% on top of a solid and growing 4.5% distribution. Over the past five years, units have more than tripled making this company one of the top performers in the pipeline sector. However after this massive run, is it time for investors to take some money off the table or does EPD have more room to run?

With a market capitalization of $57 billion and enterprise value of $75 billion, Enterprise Products is among the largest pipeline companies in the world. However, the company is different than many of the well-known MLPs like Kinder Morgan Energy Partners (NYSE:KMP). Most MLPs have separate general partners who take a sizable fee for running the partnership known as an IDR (incentive distribution rights). EPD's GP, which is owned through several private affiliates, does not collect an IDR meaning that EPD is being run for its limited partners. IDR fees can consume in excess of 20% of cash flow, which gives EPD a significant edge over MLPs with that structure.
Basically while many MLPs have two mouths to feed, EPD is only feeding one. Given that, it might seem underwhelming that the company only sports a 4.5% distribution when other firms have similar or higher yields with KMP at 6.8%, Plains All American (NYSE:PAA) at 4.9%, and Markwest (NYSE:MWE) at 5.25%. Management's capital allocation strategy at EPD is the cause of some controversy. Many investors enjoy MLPs because they distribute all of their excess cash back to investors. Some like PAA keep a 10% buffer to protect against underperformance and offset a fraction of growth capital programs. EPD keeps a very conservative distribution that it tends to cover by an additional 50%.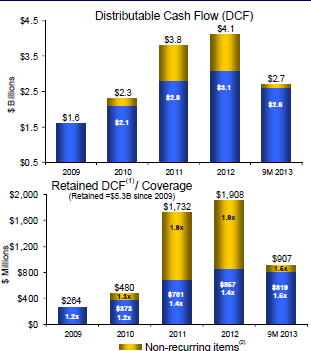 As you can see, the company retains significant portions of cash every year as underlying cash flow generation grows at a faster pace than distribution. EPD now has a 1.6x coverage ratio excluding one-time items, meaning it could pay a $1.10 quarterly distribution vs. the $0.69 it has just paid. Why does EPD keep so much excess cash?
Management argues that this strategy is actually in the long-term interest of investors as the company uses retained cash to invest in growth projects. Without this excess cash, the company would have to borrow more on the debt market, increasing interest expense, or issue more equity, slowing the pace of future distribution growth. Right now, the company has a significant portfolio of growth projects with $7.5 billion in outlays. As these projects come online over the next three years, EPD's distributable cash will grow by 20-24%, providing significant upside to the payout.
In fact while EPD pays out far less than it could, it has shown strong distribution growth of 6.2% in the last quarter (quarterly data available here). With growth projects coming online and EPD's geographic focus on regions with tremendous production potential for over three decades, EPD will be able to easily grow its distribution in the 5-7% range for the foreseeable future without cutting the coverage ratio. Thanks to prudent capital management, EPD maintains an extremely strong balance sheet with debt only accounting for 23.3% of enterprise value.
The pros and cons of EPD's distribution policy seem clear. Investors receive less now, but the distribution is rock solid and could grow faster thanks to less debt and fewer new units issued. On the whole, should investors be happy with this policy? To me, EPD has a case for maintaining a higher coverage ratio than peers. As I mentioned above, the company does not have to pay IDRs, which saves it upwards of 20% of cash flow. EPD could very easily argue that rather than pay out that 20% to unitholders, it reinvests that 20% in growth projects, which will be accretive in the long run.
As a consequence, I believe it is reasonable for EPD to keep a distribution coverage ratio of 1.2-1.3x like it had in 2009 and 2010. Over the past three years though, management has not increased its distribution as quickly as it should have, and the coverage ratio in the 1.5x-16.x time is too high for an MLP. EPD should start increasing its distribution by more than 5-7% and closer to 12-15% to lower the coverage ratio over the next 12-18 months.
MLPs trade in a large part off their distribution, and with a decent but not great 4.5% yield, faster distribution growth will be needed to power units much higher. A distribution in the $0.90 range could send shares up another 15% with ease. The current distribution is too low and undermines the purpose of being an MLP (returning virtually all cash to shareholders). With a lack of IDR payments, EPD is in a great competitive position and has the capacity to give investors higher distributions without threatening the coverage ratio. Unfortunately, EPD is being conservative beyond the 20% savings. At current prices, I think EPD is fairly valued and would rather invest in a more unitholder friendly MLP. EPD is a great company with tremendous potential, but management is conservative to a fault.
Disclosure: I am long KMP. I wrote this article myself, and it expresses my own opinions. I am not receiving compensation for it (other than from Seeking Alpha). I have no business relationship with any company whose stock is mentioned in this article.