On Dec. 3, 2013, shares of OncoMed Pharmaceuticals (NASDAQ:OMED) -- a drug developer that first offered its shares to the public in July 2013 -- almost doubled after signing a $177.25 million agreement with Celgene Corp. (NASDAQ:CELG). Before the agreement announcement, OMED was valued below $400 million and had $148.7 million in cash and cash equivalents. On Dec. 3, OMED shares soared to a value of more than $800 million before it pulled back slightly. OncoMed has five products in Phase I trials, with its most advanced product being demcizumab, a Phase Ib product to treat lung cancer. Below I present data on the similarities between BIND Therapeutics (NASDAQ:BIND) and OMED, and argue that BIND Therapeutics is successfully positioning itself to become the next promising, young pharmaceutical company.
Let me first present some background on BIND. BIND Therapeutics, which was founded in May 2006 and went public in September 2013, is a clinical-stage nanomedicine platform company developing polymeric nanopracticles. According to BIND, these nanopracticles -- i.e., Accurins -- represent the next stage in the evolution of targeted therapies and nanomedicine. Accurins are designed to target specific cells or tissues at three levels: tissue, cellular and molecular. They combine this triple targeting with a prolonged circulation time to concentrate the therapeutic payload at the targeted disease site, where it is then released in a controlled and timely manner. The goal is to enhance the treatment's effectiveness while limiting the impact on healthy tissue.
According to BIND, Accurins have the potential to significantly increase the net clinical benefit of the therapeutic payload and result in improved efficacy and safety, which are not currently achievable through other therapeutic approaches. A major and important potential attribute of Accurins technology is taking a known FDA-approved drug and supplementing with Accurins, thus resulting in an improved drug. BIND's advanced and innovative product, Accurins, can be combined with a standard FDA-approved drug therapy, thus leading to new drug patents. There is an enormous potential to expand and improve existing approved drugs with Accurins in current and future markets.
I find BIND's pipeline to hold great promise for the near future. In general, the pipeline has two types of programs: 1) proprietary and 2) collaboration (see figure below). BIND's current development focus is mainly in oncology, with its leading drug candidate, BIND-014, in Phase II clinical trials for non-small-cell lung cancer (NSCLC) and metastatic castrate-resistant prostate cancer (mCRPC). To date in 2013, BIND had announced collaborations with Amgen (NASDAQ:AMGN), Pfizer (NYSE:PFE), and AstraZeneca (NYSE:AZN) (reviewed in details later) to develop an Accurin with therapeutic payloads from their product pipelines (see figure below).
For more details and specifics on BIND Programs and its pipeline, please visit the BIND Therapeutics website.
Click to enlarge image.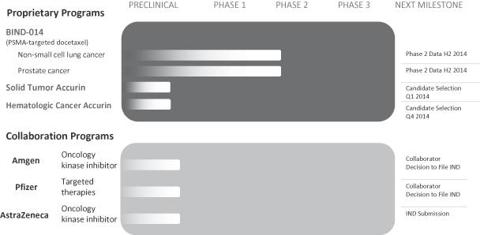 Collaboration Agreements
BIND is collaborating with leading pharmaceutical partners (Amgen, Pfizer, and AstraZeneca) to develop Accurins in line with each of their prospective products. The company stands to receive up to a total of $1 billion in upfront and milestone payments, including $450 million in pre-commercial payments of which approximately $11 million are pre-IND, approximately $190 million are clinical development, and approximately $250 million are regulatory milestones. BIND expects that at least one of these collaborations will advance into the clinical Phase I by the end of 2014. Below are the specifics for each of the collaborations and their potential.
Amgen
In January 2013, BIND and Amgen established the first major partnership focused on developing a novel and targeted kinase inhibitor nanomedicine. Kinase inhibitor Accurins have the potential to more effectively treat cancer with optimized therapeutic properties by simultaneously targeting the tumor environment, specific tumor cells, and specific molecular pathways within the cells. BIND granted Amgen with an option to obtain an exclusive worldwide license to develop, manufacture, and commercialize an Accurin that incorporates a specified Amgen kinase inhibitor for all uses except for some vaccine applications. Amgen may exercise its option during a period of approximately 12 months, meaning that Amgen has until January 2014 to exercise the option, after which BIND is then granted the option to secure an exclusive license from Amgen for the Kinase inhibitor Accurins.
BIND has already received $5 million upfront when it inked its deal, and if Amgen exercises its option, BIND will also receive contingent payments of $111.5 million for development of two indications, plus additional contingent payments totaling up to $188 million in additional commercial milestone payments. In addition, BIND will receive tiered royalties in the mid-single-digit to the low-double-digit percentages of aggregate worldwide net sales of licensed products. Furthermore, Amgen will reimburse BIND for all external expenses related to the agreement after such exercise and will be obligated to pay certain development costs during the research period. Importantly, Amgen possesses substantial resources and capabilities for contributing to the development and commercialization of the collaboration bi-product. Partnering with such a large biopharmaceutical like Amgen can contribute greatly to BIND's cash flow and increase its shares' value.
Pfizer
In March 2013, BIND and Pfizer entered into a global collaborative agreement to develop and commercialize Accurins utilizing select small-molecule targeted therapies. The collaboration aims to employ BIND's Medicinal Nanoengineering platform to impart tissue and cellular targeting capabilities to molecularly targeted drugs. BIND granted Pfizer a 30-month option to exclusively license Accurins for all potential indications other than vaccines and brain cancer. Under the agreement, Pfizer is required to pay for all of BIND development costs. Bind received an upfront payment of $4.0 million and may potentially receive contingent payments totaling up to $89.5 million in clinical and regulatory milestones, plus additional contingent payments totaling up to $110 million in specified commercial milestone payments. BIND will also receive royalties in the low-single-digit to the high-single-digit percentages of aggregate worldwide net sales of any licensed product. This would also represent a substantial cash influx into BIND.
AstraZeneca
In April 2013, BIND and AstraZeneca entered into a strategic collaboration to develop and commercialize an Accurin, a targeted and programmable cancer nanomedicine from BIND's Medicinal Nanoengineering platform, based on a molecularly targeted kinase inhibitor developed and owned by AstraZeneca. The collaboration is based on emerging data suggesting that nanomedicine like Accurins selectively accumulate in diseased tissues and cells, leading to higher drug concentrations at the site of the tumor and reduced exposure to healthy tissues.
Under the agreement, AstraZeneca is required to pay for all of BIND development costs. BIND was paid $4 million upfront and has the potential to receive contingent future payments totaling up to $193 million upon achievement by AstraZeneca of specified clinical, regulatory and commercial events, as well as tiered royalties in the low-single-digit to the low-double-digit percentages of aggregate worldwide net sales of licensed product.
Future Collaborations
In addition to the above three collaborations in existence, BIND is evaluating additional potential collaborations with the intention to add one or two more partners committed to creating vital, targeted nanomedicine.
BIND's Financial Position
BIND Therapeutics completed its IPO on Sept. 25, 2013. The company sold 4.7 million shares for $15 per share resulting in gross proceeds of $70.5 million before underwriting discounts and commissions. All shares were sold by the company, with no shares offered by selling shareholders. Revenue for the three months ending on Sept. 30, 2013, was $4.6 million compared to $66,000 for the third quarter of 2012. The year-over-year increase in revenue was primarily due to revenue associated with the Amgen, Pfizer, and AstraZeneca collaborations that were established in 2013. Net loss for the three months ended Sept. 30, 2013, was $7.4 million, and cash, cash equivalents and marketable securities totaled $80.7 million on Sept. 30, 2013. According to this financial data, BIND has enough cash to fund operations through 2015, even without any additional contributed amount from Amgen, Pfizer or AstraZeneca, which is always a great advantage and a strong financial position for a developmental biotechnology company.
Summary and Conclusion
Current indicators, including fundamentals, demonstrate that BIND could potentially become the next OMED, as both companies went public just few months ago. Furthermore, both companies have leading drug candidate's development currently in Phase II trials with a primary focus on a family of cancer drugs, which is a hot area within the wider pharmaceutical industry, and both have joined collaborations with world-renowned leading pharmaceutical companies. As a reminder, with the announcement of her deal with Celgene OMED, shares soared to more than 100%. As this article points out, the similarities to OMED are clear if Amgen and/or Pfizer should decide to exercise their option with BIND. Time is closing in as Amgen has until January 2014 to make its move and decide. If Amgen exercises its option, BIND will receive of $111.5 million payments contingent on its milestones in accord of regulatory progression.
An important point to note is that all three above mentioned pharmaceuticals Amgen, Pfizer and AstraZeneca, will pay for the development costs, not including the milestone payments that will allow BIND to function without needing to raise further capital. Taken together and given that BIND is already in Phase II in two ongoing trials that already indicate the potential of Accurin to increase the effect and targeting of drugs, BIND seems to be a highly interesting investment in the short term. BIND's current price target of $20 represents a price that does not include the potential of exercising the Amgen or Pfizer options. With a market capitalization of under $200 million and with Amgen, Pfizer and or AstraZeneca deciding to exercise their options, the likelihood of BIND doubling its value and reaching the price target of $30 by the end of 2014 is highly plausible.
Disclosure: I am long BIND. I wrote this article myself, and it expresses my own opinions. I am not receiving compensation for it. I have no business relationship with any company whose stock is mentioned in this article.