During the 3rd quarter '13 earnings release, Plum Creek Timber (NYSE:PCL) announced it would be conducting a public offering to fund the acquisition of additional land and form a partnership with MeadWestvaco Corporation (MWV). The terms of the deal included the following:
501,000 acres of industrial timberlands in Alabama, Georgia, South Carolina, Virginia, and West Virginia for $869 million;
An investment in joint ventures consisting of 109,000 acres of high-value rural lands and development-quality lands near Charleston, S.C., for $152 million;
Subsurface rights, mineral rights and wind power assets associated with the timberlands for $65 million.
While dilution normally results in a sell off, it can also be a great buying opportunity, especially if the offering is to help expand the business and make it more profitable, which is what PCL is doing. As Tom Kametz wrote after the earnings, this acquisition opens the company up to the potential rebound that will come in the southern timber market. The company seems to have found support around the $44 price, and if it holds, looks like it will be a great price for investors to get in at.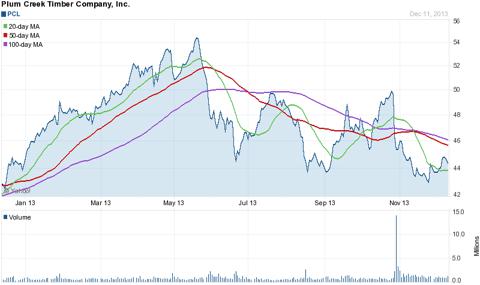 Click to enlarge
New housing starts
Housing starts are one of the factors that will positively influence timber prices, and help to increase profitability to PCL. In the previous conference call, the CEO suggested the level of demand needed to get timber values to the needed levels was around 1.5 million housing starts:
It's clear to us that demand on U.S. forests will grow significantly. We believe that the U.S. South will benefit disproportionately in this environment. Indeed, at normalized demand levels of about 1.5 million housing starts, the U.S. South are likely to be called on to produce record levels of lumber and other wood products to help satisfy this demand. This leads directly to growing sawlog demand in the southern region. That, in turn, translates into significant growth in U.S. log prices, and timberland values overall.
While we are waiting on the November numbers to come out in December, the October numbers continue to suggest that a recovery in the housing market is continuing to build.
Privately-owned housing units authorized by building permits in October were at a seasonally adjusted annual rate of 1,034,000. This is 6.2 percent (±0.8%) above the September rate of 974,000 and is 13.9 percent (±1.1%) above the October 2012 estimate of 908,000.

Single-family authorizations in October were at a rate of 620,000; this is 0.8 percent (±0.9%)* above the September figure of 6 15,000. Authorizations of units in buildings with five units or more were at a rate of 387,000 in October
Prior to the recession hitting in 2007, timber prices sat just under $40, and have since fallen to a low of $24 per ton for saw timber. Although the recovery to pre-recession levels will probably not occur in 2014, PCL noted that when they do recover, it will add $100 million to cash flow.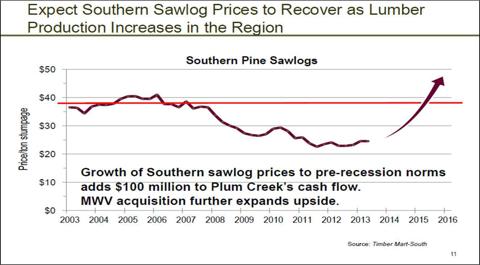 Click to enlarge
Conclusion
As the housing starts continue to increase, and the economy continues to improve, expect to see timber prices also improve. PCL has been able to expose itself to this recovery through its recent acquisition and partnership with MWV. While the recovery will probably not be complete in 2014, investors should use these levels of support as an opportunity to get in or acquire more shares.
Disclosure: I have no positions in any stocks mentioned, and no plans to initiate any positions within the next 72 hours. I wrote this article myself, and it expresses my own opinions. I am not receiving compensation for it (other than from Seeking Alpha). I have no business relationship with any company whose stock is mentioned in this article.