Amazon.com (NASDAQ:AMZN) serves consumers through its retail websites and focus on selection, price and convenience. On October 24, 2013, the company reported third quarter earnings of -$0.09 per share, which was in-line with the consensus of analysts' estimates. In the past year the company's stock is up 50.9%, and is beating the S&P 500 (NYSEARCA:SPY), which has gained 25.67% in the same time frame. With all this in mind, I'd like to take a moment to evaluate the stock on a fundamental, financial and technical basis to see if it's worth buying more shares of the company right now for the services sector of my growth portfolio.
Fundamentals
The company currently trades at a trailing 12-month P/E ratio of 1364.96, which is expensively priced, but I mainly like to purchase a stock based on where the company is going in the future as opposed to what it has done in the past. On that note, the 1-year forward-looking P/E ratio of 142.87 is currently expensively priced for the future in terms of the right here, right now. The 1-year PEG ratio (5.14), which measures the ratio of the price you're currently paying for the trailing 12-month earnings on the stock while dividing it by the earnings growth of the company for a specified amount of time (I like looking at a 1-year horizon), tells me that the company is expensively priced based on a 1-year EPS growth rate of 265.44%. The company has great near-term future earnings growth potential with a projected EPS growth rate of 265.44%. In addition, the company has great long-term future earnings growth potential with a projected EPS growth rate of 35.94%.
Financials
On a financial basis, the things I look for are the dividend payouts, return on assets, equity and investment. The company does not pay a dividend while sporting return on assets, equity and investment values of 0.4%, 1.5% and 2.1%, respectively, which are all respectable values.
Technicals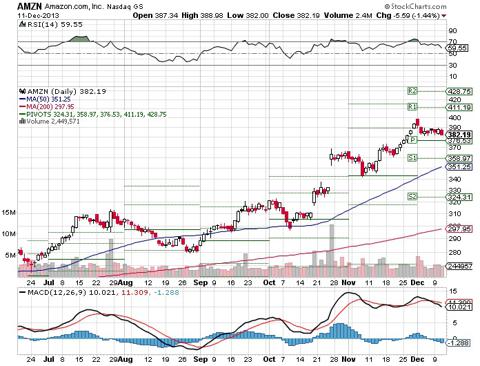 Looking first at the relative strength index chart (RSI) at the top, I see the stock dropping from overbought territory with a value of 59.55 and downward trajectory, which is a bearish pattern. To confirm that, I will look at the moving average convergence-divergence (MACD) chart next and see that the black line just crossed below the red line with the divergence bars decreasing in height, indicating bearish momentum. As for the stock price itself ($382.19), I'm looking at $411.19 to act as resistance and $358.97 to act as support for a risk/reward ratio, which plays out to be -6.07% to 7.59%.
Recent News
AmazonFresh was launched in San Francisco. This new service will offer same day and grocery delivery service for a fee of $299/yer. The program has been launched in Seattle and Los Angeles (June 2013) with great success already.
The company grew sales by 44.3% year-over-year on Cyber Monday according to ChannelAdvisor. This number should bode well for next quarter's earnings report.
During Jeff Bezos' interview on 60 Minutes he stated that Amazon will try to deliver its products by drones. There stands to be lots of pushback from the FAA regarding this topic, but if successful Amazon will be able to deliver even more items on the same day as you order. I believe this opportunity will end up cannibalizing AmazonFresh in the major metropolitan areas such as Los Angeles where ground traffic is horrible.
Conclusion
Amazon is expensively valued based on future earnings and on growth prospects. The technical situation of how the stock is currently trading is telling me we might be seeing some downward pressure for now. The stock is expensively valued on future earnings, expensively valued on future growth, has bearish technicals, and does not pay a dividend; it's for these reasons I'm not going to be buying right now in the midst of the market turbulence that is taking place. Right now I'm down on my position (-2.09%) and I will continue to hold onto the shares I have.
Disclaimer: This article is meant to serve as a journal for myself as to the rationale of why I bought/sold this stock when I look back on it in the future. These are only my personal opinions and you should do your own homework. Only you are responsible for what you trade and happy investing!
Disclosure: I am long AMZN, SPY. I wrote this article myself, and it expresses my own opinions. I am not receiving compensation for it (other than from Seeking Alpha). I have no business relationship with any company whose stock is mentioned in this article.