Micron (NASDAQ: MU) makes chips and processors for a global consumer base of manufacturers and retailers. Micron's main deliverables are DRAM storage devices, NAND flash memory products and NOR Flash memory devices. Micron sells to laptops, PCs, industrial facilities, vehicles and mobile devices such as smartphones and tablets.
News and Developments
In the last three months, supply constraints have forced DRAM prices up 30 percent. The supply crunch happened as a result of a damaging fire in a Chinese chip fabrication facility. Until the facility returns to production in Feb-March 2014, Micron will likely benefit from its DRAM products undergoing a significant price boost.
Micron recently rolled out a new 45nm Serial NOR Flash memory storage device ranging from 512 Mb to 2Gb storage capacity for use in consumer products, networks and databases as well as vehicles. Even though this addition to Micron's product line is relatively minor in terms of revenue streams, its successful presentation to the market demonstrates Micron's ability to stay ahead of the competition and secure intellectual property and development capabilities without compromising core competencies or substantially increasing operating expenses.
Product Analysis
In the future, NAND sales are expected to grow to become several times as large as the current DRAM market. Notably, NAND flash memory products do not have a price spike like DRAM. Nevertheless, consistent profit margins point to tight supply control and accurate demand forecasts by Micron operations and upper management. In addition to revenues from NAND and DRAM sales, Micron has benefited from its Elpida acquisition.
NAND and NOR Flash sales decreased by several percentage points since FY 2012, with DRAM now accounting for nearly half of Micron's sales. This increase is likely temporary. Remember the supply crunch that boosted DRAM prices. This supply crunch will certainly dwindle, significantly driving down DRAM prices.
Analyst Opinion
Most analysts are bullish on Micron, especially given Micron's strong quarterly earnings in Q4 2013.
Points of interest for prospective investors include EPS growth, MU stock performance in the recent past and reliable revenue streams, especially from Elpida and the temporary DRAM price jump.
Rambus Strategic Agreement
Rambus and Micron reached a license and patent agreement that will stop both companies spending significant money on wasteful antitrust and patent-rights litigation. The few public details of the deal are that Micron gets to use Rambus patents for some aspects of integrated circuit design and manufacture. In exchange, Micron will pay a maximum of $10M per quarter up through the end of the 7-year agreement.
Weaknesses
Some raw materials that meet Micron standards are provided by a single supplier. This is a weak point that gives the supplier a lot of negotiating power that can squeeze profit margins. Micron faces tough competition from Samsung (OTC:SSNLF), SanDisk (SNDK), Spansion Inc. (CODE) and Toshiba (OTCPK:TOSBF). Additionally, Micron is racing against time to decrease per-gigabyte costs faster than average sales price for Micron memory products. Failure to stay ahead of falling ASP can hurt sales, profits and the company's reputation in the marketplace. Lastly, Micron is in a debt-intensive industry. As such, the company is sensitive to interest rate changes that could substantially impact the company's ability to profitably finance critical operations.
Summary
Micron Technologies had an excellent year. Its stock price increased over 200 percent in 2013. The company managed to rise from being the 10th to 5th most influential technology company in its market sector. Note that the computer and chip industries are competitive and entail substantial risks in terms of sales, research and business strategy. Technology and numerous relevant patents and related intellectual property give Micron a solid footing for future growth in the high-end microchip market. This is especially promising since high-end microchips and storage devices are especially lucrative since they don't have to compete on mass volume, as is the case with chips for low-end, mass consumption. Though the company has its weak points, the management team has been doing many things right. Investors should take advantage of Micron's continued success.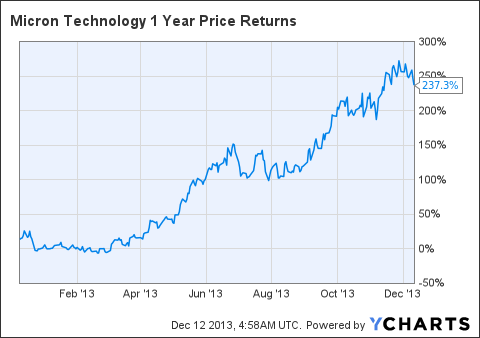 MU 1 Year Price Returns data by YCharts
Disclosure: I have no positions in any stocks mentioned, and no plans to initiate any positions within the next 72 hours. I wrote this article myself, and it expresses my own opinions. I am not receiving compensation for it (other than from Seeking Alpha). I have no business relationship with any company whose stock is mentioned in this article.