Hatteras Financial (NYSE:HTS) is a US mREIT employs a short duration agency MBS strategy. The company invests in agency mortgages and runs a core hybrid ARM strategy in order to deliver value for shareholders.
Like many other mREITs, Hatteras Financial has been thrown under the bus over the last year as investors readjusted their earnings- and distribution expectations in light of increased interest rate volatility. The last five years of ultra-low interest rates have led to an explosion of assets that are being held by mREITs like Hatteras Financial. The company had total investments of $7 billion at the end of 2009. Hatteras' investment base has since tripled to $22.1 billion as of September 30, 2013. Often overlooked is the fact that debt has been increasing just as quickly: Hatteras' debt position stood at $6.3 billion in 2009 and increased to $18.8 billion as of September 30, 2013. Hatteras Financial relies heavily on debt in order to pursue its short duration strategy. Its total debt to equity ratio increased from 6.81 in 2009 to 7.93 in 2013. Its high leverage ratio likely contributed to the extensive decline in share price.
Share performance
Hatteras Financial has lost 35% over the last twelve month and is among the worst performing mREITs in the sector.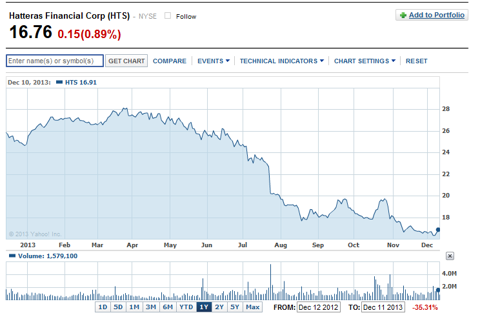 Click to enlarge
Hatteras Financial also lost 37% of its share value over the last two years which is almost as much as ARMOUR Residential (NYSE:ARR) which destroyed 46% of shareholder value (as measured by its decline in share price). Annaly Capital Management (NYSE:NLY) lost 38%, American Capital Agency Corporation (NASDAQ:AGNC) 31% and Capstead Mortgage (NYSE:CMO) 4%.
ARMOUR Residential was particularly punished because of its above-average leverage ratio and book value decline over the last four to five quarters. Over the last twelve month the market has seen deliberate de-leveraging efforts from Annaly and others to address market concerns and in order to accommodate lower expected earnings and distributions. Nonetheless, the market still believes that leverage ratios are too high and Hatteras will ultimately have to bring its leverage down.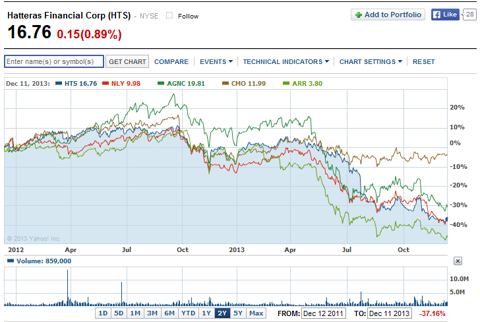 Click to enlarge
The performance comparison chart below depicts Hatteras' relative share performance over a one-, two- and five-year measurement period. Bottom line is that the company is among the worst performing mREITs in the sector.

Click to enlarge
Dismal 2013 performance
Book value per share stood at $28.19 at the end of 2012 and crushed down to $21.31 as of September 30, 2013 (a decline of 24%). Hatteras Financial is now trading at $16.76 reflecting a massive 21% discount from book value and indicating that the market expects further book value losses.
Hatteras reported net income of $0.44 per weighted average share excluding gains and losses and a massive GAAP net loss of $2.72 per weighted average share for the third quarter 2013. Not only has Hatteras' performance visibly deteriorated since 2012, but analysts expect the trend of lower profitability to continue for several more quarters. Uncertainty with respect to future governmental and monetary policies can be named as reasons for lower earnings expectations. Furthermore, Hatteras Financial's net interest margin fell to 0.86% in Q3 2013 compared to 0.93% in Q2 2013 and 1.11% in Q1 2013.

Click to enlarge
Dividends and yields
Like other mREITs Hatteras Financial has consistently reduced its payout to shareholders. The company paid $1.05 per share in the first quarter of 2009 and has gradually cut its dividend: Hatteras Financial now pays a dividend of $0.50 for the fourth quarter of 2013 which represents a 9% sequential dividend cut. Hatteras Financial paid its highest dividend of $1.20 per share in Q4 2009 and Q1 2010. Since then dividends have been cut by a whopping 58% and I expect further dividend cuts in the future.

Click to enlarge
Conclusion
Hatteras Financial currently pays investors an annualized dividend of $2.00 per share which equates to a forward dividend yield of 11.9%. Dividends have marked their High at the end of 2009 and beginning of 2010 and payouts have come down substantially. Investors should also keep in mind that Hatteras Financial only has a short dividend history which dates back only to 2008. Since the company has yet to prove its business model in an environment of higher interest rates and higher rate volatility, Hatteras Financial remains one of the riskier mREITs in the sector. The relatively high leverage ratio of 7.93 total debt to equity does not make me feel better about the risk of its mortgage business. Hatteras also posted weak Q3 results, a massive decline in y-o-y book value and continuously declining net margins which are all reasons to avoid this high-risk, short duration mortgage play. I expect these trends to continue for several more quarters and I hold a price target of $11 for shares of Hatteras Financial.
Disclosure: I am short NLY, AGNC. I wrote this article myself, and it expresses my own opinions. I am not receiving compensation for it (other than from Seeking Alpha). I have no business relationship with any company whose stock is mentioned in this article.