ABB Ltd. (NYSE:ABB) had a solid third quarter. Q3 2013 revenues were up 8% to $10,535 million compared to $9,745 million in Q3 2012. Revenues increased in all geographic areas with particularly strong growth in the Americas and the Middle East/Africa (10% and 17% respectively). Interestingly, ABB's Europe operations managed to deliver 7% revenue growth y-o-y driven by double-digit gains in Germany, Norway, Sweden and Switzerland and weak growth in Southern Europe didn't affect ABB's results much.
ABB's operational EBITDA increased by 10% to $1,638 million in Q3 2013 compared to $1,483 million in Q3 2012. Process Automation and Power Systems delivered the largest y-o-y EBITDA gains with a plus of 24% and 29% respectively. Discrete Automation & Motion continues to be the largest segment as it contributed 29% of overall EBITDA in Q3 2013. ABB's EBITDA margin for the most recent quarter stood at 15.7% which is a slight improvement over last year's 15.3%.
In terms of operating cash flow ABB has achieved much better results than last year. Discrete Automation & Motion and Low Voltage Products delivered cash flow growth of 34% and 30% respectively. Discrete Automation & Motion posted operating cash flows of $526 million in Q3 2013 which compares to $393 million in Q3 2012. The Low Voltage Products segment increased cash flows to $435 million compared to $334 million last year. ABB's group operating cash flow jumped 62% to $1,241 million vs. $768 million in Q3 2012.
Revenue increases and growth in higher-margin product businesses (such as Low Voltage), better cost management and the integration of acquired businesses contributed to impressive Q3 2013 results.
Share performance
Shares of ABB have returned 22% over the last twelve month and they are now trading close to their 52-week High of $26. Shares have gained quite solidly in anticipation of strong Q3 results but have given back part of their gains lately.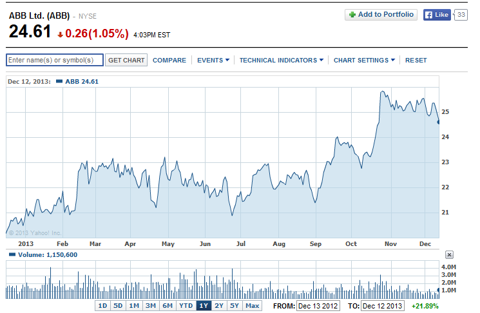 Click to enlarge
Compared to a narrow peer group of industrial conglomerates, ABB is a clear underperformer over a two-year measurement period. ABB has gained 37% during this time while its peers have performed substantially better. Pentair (NYSE:PNR) returned 94% to investors, Honeywell (NYSE:HON) 65%, 3M (NYSE:MMM) 59%, General Electric (NYSE:GE) 62% and United Technologies (NYSE:UTX) 46%.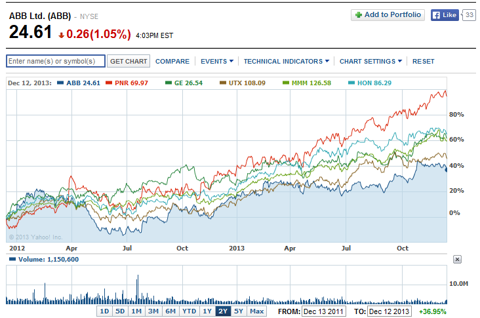 Click to enlarge
Market valuation
ABB is not necessarily cheap from an earnings perspective. The industrial conglomerate trades at 15 times forward earnings which is about a 6% discount from the peer group average of 16.05 forward earnings. It is, however, the cheapest company in the peer group (if only by a slight margin). General Electric trades at 15.19x and Honeywell at 15.53x forward earnings. Pentair, due to its significant share gains over the last two years, is now the most expensive company in the peer group with a P/E of 17.63. The following two charts depict ABB's P/E and P/S ratio in comparison to peers and to the respective peer group average.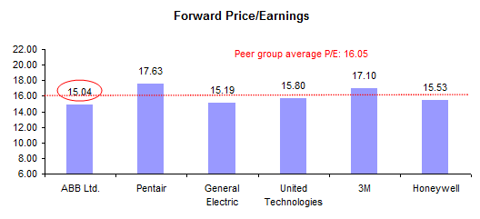 Click to enlarge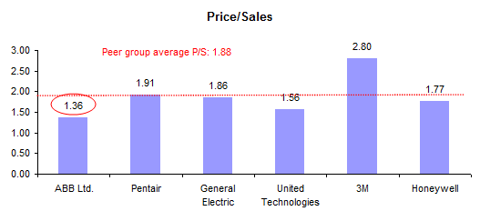 Click to enlarge
ABB has the highest dividend yield if compared against other large-cap, diversified conglomerate structures. Only General Electric manages to be a real competitor in terms of cash flow yield (both achieve a yield approaching 3%):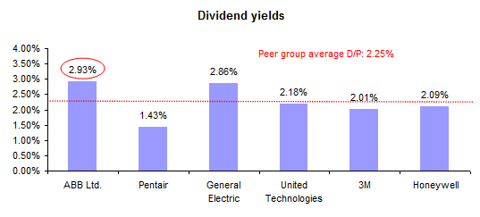 Click to enlarge
A summary table comparing P/E, P/S and D/P ratios as well as discounts/premiums to peer group averages are presented below:

Click to enlarge
Conclusion
Despite a really solid third quarter ABB is not a bargain at $24.61. The company does business in a variety of industrial segments which will profit when the economy does well. As such, ABB exhibits the characteristics of a cyclical investment that reacts sensitively to fluctuations in business activity. Investors who desire conglomerate exposure might very well find that ABB is one of the best deals in the sector amid its comparatively low valuation and high cash flow yield of nearly 3%. A forward earnings multiple of 15, however, rarely indicates undervaluation and I would assert that ABB is about fairly valued. I generally find that the conglomerate sector fetches decent multiples and presents investors only with limited potential for valuation growth (for instance, thesis about United Technologies here and Honeywell here). Other segments in the stock market offer better risk/reward ratios than conglomerates. REITs, which have sold off quite a bit lately, and the oil- and gas sector, which is just as cyclical as the industrial conglomerate sector, offer a better set of bargain opportunities.
Disclosure: I am long GE. I wrote this article myself, and it expresses my own opinions. I am not receiving compensation for it (other than from Seeking Alpha). I have no business relationship with any company whose stock is mentioned in this article.