Shares of Anadarko Petroleum (NYSE:APC) plummeted 10% after hours when it was announced that the company had a lost a critical case at the district court level (details of the court's opinion are here). Shares have already underperformed in 2013 with gains of 12.5% this year, and after this drop, shares are up less than 5%. In this article, I will go over what the courts said and why investors should use the drop to buy Anadarko.

Click to enlarge
This case is related to toxic pollution claims at a unit of Anadarko, Kerr-McGee. In 2005, Kerr-MCGee spun off its chemical business and legacy environmental issues into Tronox, and Anadarko subsequently bought Kerr-McGee's remaining oil and natural gas assets. Eventually, environmental liabilities (with the U.S. government seeking upwards of $25 billion) became too much to handle, forcing Tronox into bankruptcy in 2009. Once in bankruptcy, Tronox sued Anadarko, saying that the spin-off was improper and left Tronox woefully undercapitalized and essentially was an effort to defraud the EPA of the penalty funds to which it was entitled. Anadarko had countered that all actions were wholly legitimate.
The district court has sided against Anadarko. The U.S had been looking to get $15 billion in damages plus $10 billion in interest for a total of $25 billion. Judge Allan Gropper has decided that APC is liable for between $5 and $14 billion, depending on what offsetting claims it can show in the Tronox bankruptcy. Once Anadarko shows its offsetting claims; it appears that Gropper will order the company to pay $10-$14 billion, above the $5 billion many analysts had been looking for. After the last quarter Anadarko had estimated its liability at no more than $1.4 billion, which shows how unprepared the company was for this ruling.
So where do we go from here? It is important to note Anadarko will not be writing a multi-billion dollar check in the coming weeks as the company has vowed to appeal this case. If there is an unfavorable ruling at the appellate level, the case could theoretically go to the Supreme Court if not settled out of court by then. With the company vowing to appeal as it is unlikely to do any worse, any payments are unlikely for the next 18-24 months, giving it ample time to increase liquidity and reserve appropriately.
As of the last quarter (available here), Anadarko reported cash of $3.9 billion, and the company has steadily been cutting its debt position over the past few years to 30% of capitalization. In other words, while writing a check of $10 billion is never a joyful event, this case will not bring a liquidity or solvency event into play. After this ruling, I think investors should assume that Anadarko will be paying at least $5 billion as a result of the Tronox spin-off and bankruptcy with a figure closer to $10 billion very likely. After taxes, this lawsuit will cost Anadarko $7 billion about two years out under my more pessimistic view of the case.
With $7 billion due in about two years, does the current drop make sense? With shares down 10%, the market has eliminated $4 billion in market value. While some present value adjustment should be made, investors are looking at a future loss that is $3 billion more than the ensuing drop, suggesting the Anadarko should in fact fall further to about $69. This view though is rooted in the assumption that the company was fairly valued at $83. Shares are also off 15% from their high in November as investors awaited the results of the trial, suggesting many may already have had a pessimistic view of events.
I believe investors do not fully appreciate the Anadarko growth story. The company is growing revenue by 10% annually on the back of strong production as the company has refocused operations on U.S. onshore properties, which provide significant upside and provide more political certainty than Middle Eastern nations. As you can see below by spending 60% of the capital budget on U.S. onshore projects, APC has a fantastic geographic breakdown of reserves.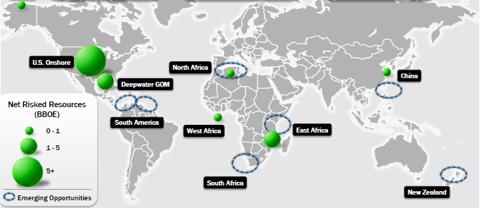 Click to enlarge
Thanks to the company's focus, it has solidly grown production in ways that the majors like ExxonMobil (NYSE:XOM) have been unable to. Since 2007, the company has been growing production by 6% annually and been doing so in preferable regions. Going forward with significant exposure to the Permian Basin and Marcellus shale, Anadarko will continue to grow production by at least 5% annually with further upside if natural gas prices improve as more reserves become economical. With the potential for natural gas exports and use as a fuel in automobiles, I think we could see higher natural gas prices that would be supportive of production growth in the 7-9% range.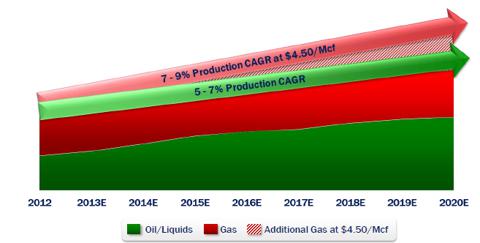 Click to enlarge
With a tremendous and safe portfolio of assets, Anadarko has become one of the world's premier energy companies and should earn about $5.25 in 2014 with a five year EPS growth rate of 10-15% depending on natural gas prices. With extremely low debt and tremendous earnings opportunity, I would be willing to pay 18-20x earnings for fair value of $94.5-105. If you deduct the full $7 billion in likely net legal expenses from Anadarko's fair value, you find the stock is worth $80-$90. If the cases ends up better than I project, APC's value would even higher. With a drop to $75, investors should seriously consider adding APC to their portfolio as the company has fantastic growth prospects and is more than fully pricing in its legal issues.
Disclosure: I have no positions in any stocks mentioned, and no plans to initiate any positions within the next 72 hours. I wrote this article myself, and it expresses my own opinions. I am not receiving compensation for it (other than from Seeking Alpha). I have no business relationship with any company whose stock is mentioned in this article.