Lululemon (NASDAQ:LULU) went from being a Lulu to a lemon pretty quickly. It reported good earnings and then blurted out its guidance that its same-store sales for the Christmas quarter might be flat year-over-year. Flat!
That took the wind out of its sails pretty quickly and the stock tanked, down almost 11%.

Coming on the heels of announcing Laurent Potdevin's appointment as CEO replacing Christine Day and shortly after founder Chip Wilson made it clear that Lululemon products were not for all women.

What made Lululemon a great story was its store efficiency. Sales per square foot ranked up there with Apple and Tiffany and ahead of powerhouses like Coach and Michael Kors.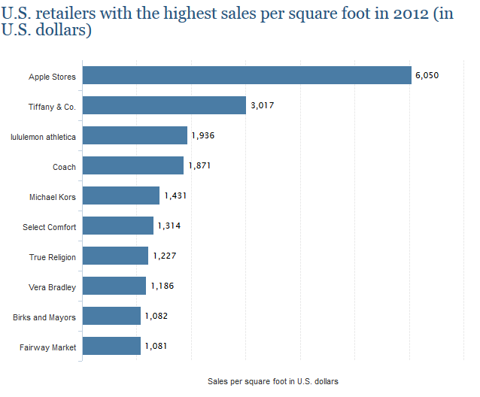 When you combine that with the fact that in 2012 Lululemon same-store sales grew at an amazing 38.6%, you had all the makings of a growth story almost unequalled in retailing.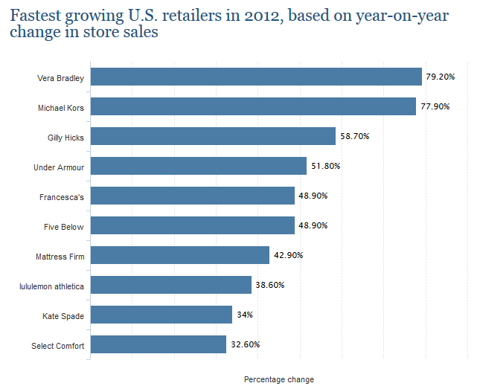 Analysts got out their spreadsheets and put a least squares fit between two data points (a common Wall Street faux pas) to conclude that growth would continue at that blistering pace for some time to come.
Throw in Lululemon's impressive 20% profit margin and the company would soon rival Apple as a growth story.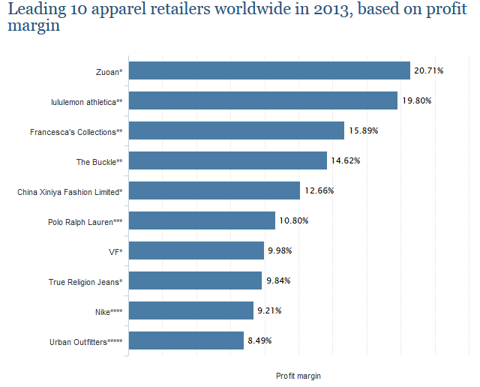 That made it a no-brainer to forecast 20% growth in sales, 25% growth in net income, issue a BUY recommendation at a multiple of about 30 times and be home in time for dinner.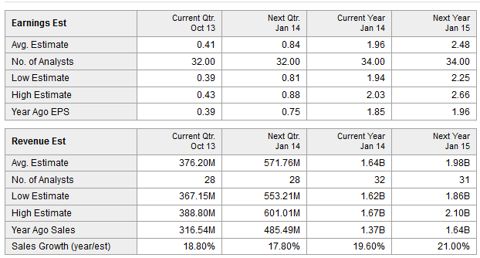 Back in May I wrote an article setting out the thesis that Lululemon shares might be a good short based on increasing competition.
Those chickens are coming home to roost. With a new CEO who is untested in apparel and an ex-founder who cannot see that suggesting some women might be too fat to wear Lululemon pants might offend some people and turn would-be customers to brands that suggest their products make all women look better, the outlook for Lululemon has soured. Memo to Chip Wilson: All women think they are too fat. They want clothes that make them look slimmer. Telling the world that Lululemon pants don't work for all women is telling them Lululemon pants don't work for them!
Competitors aren't making the same mistake. Their outfits look fantastic like this one from Lole Women.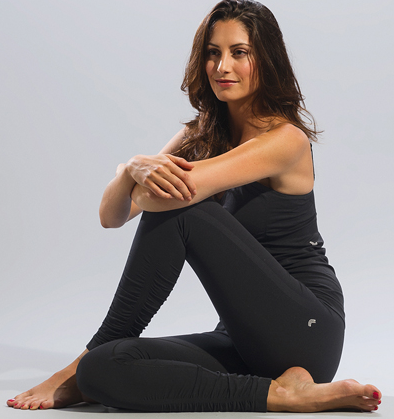 Lululemon was a good short candidate in May based on fundamentals. It is a better short candidate today. It will be quite a while before even a new CEO with incredible marketing skills will turn this lemon around.
I have no position in the stock but will likely short it into any "dead cat" bounce over the next few days.
Disclosure: I have no positions in any stocks mentioned, but may initiate a short position in LULU over the next 72 hours. I wrote this article myself, and it expresses my own opinions. I am not receiving compensation for it (other than from Seeking Alpha). I have no business relationship with any company whose stock is mentioned in this article.