Here's what Warren Buffett's Berkshire Hathaway (NYSE: BRK.B) sold in the most recent quarter, according to Tuesday's filing with the Securities and Exchange Commission:
Each of these sales helped Buffett raise cash for his Burlington Northern (BNI) takeover. And it can be inferred that Buffett sees more potential from Burlington than he does from any of the companies he sold.
So the converse can be said for the each of the five companies that he bought. Buffett -- in a quarter in which he sold stocks to raise cash for his railroad deal -- couldn't resist spending some on Wells Fargo (NYSE: WFC), Walmart (NYSE: WMT), waste management provider Republic Services (NYSE: RSG), information protection company Iron Mountain (NYSE: IRM) and medical device maker Becton Dickinson (NYSE: BDX).
Of these purchases, two things must be said: Buffett would buy Wells Fargo outright if he could, but not even the richest man in the world has enough jack to pull that deal off, though he is the largest shareholder.
Buffett does, however, have the chance -- and the money -- to take over a large part the trash business in this country.
And Buffett has a partner in mind -- his good friend Bill Gates.
I for the life of me cannot understand why no one is making a big deal of this, but if you look at the holdings of the Gates Foundation and of Cascade Investments, Gates' personal hedge fund, it's pretty clear what's going on. Gates made huge investments in Republic Services in 2009 -- in fact, they amounted to the largest insider buy of the year.
Now Buffett is following suit and clearly demonstrating that he thinks the trash business has more upside than railroads or any of the stocks he sold. That is the most compelling element of Buffett's latest filing. The smart money -- that is, yours and mine -- should follow.
Here's the play-by-play of Buffett's $58 billion portfolio:
click to enlarge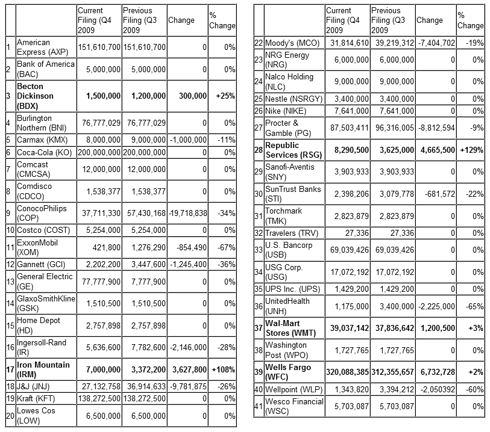 Disclosure: Long BRK.B