Last month I wrote an article on Frontier Communications (NYSE:FTR) with a recommendation that those investors looking for income should consider this telecommunications company. At the time the price was over $4.80, on its way to hitting $5 and the dividend yield was 8.3%. Since then, the price has declined below $4.50, driving the yield back up close to 9%, a level it was also above in the early part of the year.
Frontier is not alone. Other telecom stocks have also seen their prices drop and the yields increase. Since there has been little news to suggest anything negative has occurred in Q4 at Frontier, does the lower price make Frontier more attractive? And, are there strategies that an investor can employ to reduce risk while grabbing that fat dividend?
The Fed
Perhaps the biggest driver of falling share prices and increasing yields is the rising concern over the Federal Reserve Bank "tapering" its bond purchases. Currently the Fed is purchasing $85 billion per month and investors are waiting for news from Chairman Ben Bernanke following next week's meeting. For many, the issue has moved from if the Fed will taper to how soon and by how much. And, more importantly to most investors, how will it affect stocks?
One faction thinks the markets will cheer, as the move would send a signal that the Fed sees the economy ready to move forward without further stimulus. Another remains concerned that the loss of liquidity will lower demand for stocks. One area where most would agree is that when the Fed stops buying up debt, fixed income assets can be expected to experience across the board increases in interest rates.
Typically, rising interest rates puts pressure on stocks, especially those with dividends that are seen as substitutes for fixed income investments. The five traditional telecom sector stocks could all be considered as fixed income substitutes, with dividend yields ranging from 4.4%-12.3%.
Five Dividend Stories
There are five companies in the telecom sector that have the lion's share of traditional telephone service. Each has an above average dividend, but despite that similarity, there are significant differences. As noted in the prior article (with updated dividend yield information):
...AT&T (NYSE:T), CenturyLink (NYSE:CTL), Frontier, Verizon (NYSE:VZ), and Windstream (NASDAQ:WIN) - have a mixed track record. AT&T and Verizon are by far the largest of the group and have dominant wireless businesses in addition to their land lines. AT&T may be the most attractive of the group from a dividend perspective. It has a current yield of 5.3% and has been increasing the annual payout each year for almost 3 decades. While some of those increases have been quite small, the amount has doubled in the past 16 years.

Verizon has the lowest yield at 4.4%, and for quite some time its dividend had not been increased at all. Over the past 7 years, however, its quarterly dividend has increased just over 30%.
Verizon is also in the process of acquiring the 45% interest of its Verizon Wireless partner, Vodafone Group (NASDAQ:VOD), for stock and cash totaling $130 billion. It is anticipated that the transaction will close in Q1 and is expected to be immediately accretive to Verizon's EPS by "approximately 10%." Verizon issued a record $49 billion of debt to help finance the offer.
The other companies included Windstream, which:
has the highest yield of the group, and its $1 dividend, which has been in effect since late 2006, currently yields an eye-popping 12.3%. The yield certainly indicates that the market feels that the dividend is unsustainable.
Recent statements by Windstream management continue to draw focus to the $1 dividend. Earlier this week Windstream President and CEO, Jeff Gardner, stated:
...at the end of the day all those activities are focused on the single thing and that to produce stable, sustainable free cash flow to support our dividend, to allow us to delever and to continue to invest in our business. ...

...And importantly, for 30 quarters, for seven and half years, in 2006, our dividend was a $1 today it remains a $1. So we've done all this transition continued to manage our dividend strategy and really transform the business and manage margins all along the way.
The transition included the company's acquisition of a data center business, expanding that business and its aggressive entry into cloud computing.
The fourth company mentioned in the article was CenturyLink, which:
has a current yield of 6.9% and surprised most investors when it cut its dividend more than 25% last Valentine's Day. That love note to investors sent the shares down by 23%...

Frontier had its own dividend issues, with two dividend cuts since 2010. The first Frontier cut was well publicized and came as a result of the acquisition from Verizon and a dramatic increase in the number of shares outstanding. The second one that occurred in early 2012 was a surprise to this investor as management and the board had repeatedly issued statements about the sustainability of the dividend.
Frontier Turnaround?
Frontier had been plagued by losses of traditional wireline customers while trying to integrate the properties acquired from Verizon in 2010. At the same time, it was converting the disparate computer systems acquired from Verizon into a corporate wide information and billing system, it was also investing heavily to upgrade the network. The completion of the transition and the upgrade allowed the company to start offering company-wide promotions and simplified pricing plans.
The success has been obvious. Frontier has managed to slow the erosion of its revenue, and after upgrading its network, has seen some remarkable results this year. The success is the result of a number of factors, including:
Higher Internet speeds available
Successful gift card promotions
Increased coverage throughout its footprint
Simplified pricing
Delegating local engagement strategies
Selling add-ons and upgrades
The results? In Q1 2013 the company had more broadband net adds than all of 2012, and the high level of net adds continued: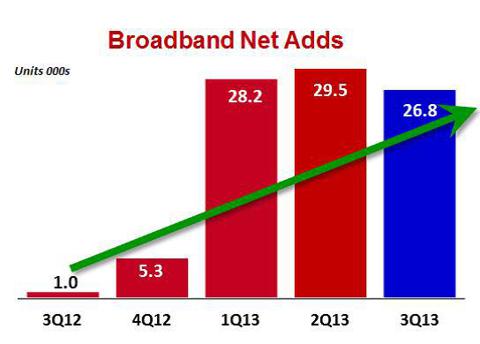 Source: Frontier Communications Q3 Earnings Presentation
During the Q3 conference call, CEO Maggie Wilderotter said:
Frontier's greatest opportunity is to drive broadband penetration and increase our share of that addressable market. We took share once again this quarter from our cable competitors. Our broadband market share on average is between 20% and 25% of total homes past. So we know there is still a lot of runway to get our 40% minimum target share. Broadband share growth and add-on products like Frontier Secure and speed upgrades for both residential and small business sectors are the largest revenue improvement opportunities we have at Frontier for the foreseeable future. Thus far, our Q4 momentum is solid on the broadband front based upon October results.
Similar comments about growth had been made during the Q2 conference call, telegraphing the solid growth posted in Q3. The Q2 comments were followed up with similar statements at a subsequent analyst conference. On September 23rd Wilderotter said:
...these past two sequential quarters have been improvements in revenues for the company and we continue to focus on getting to flat as soon as we can and the trajectory of revenue improvements as continues, the momentum continues. So if we think about our residential broadband revenues just as an example and this happened in the second quarter and we have continued to see that through the first couple of months in the third quarter where our data revenue on a monthly basis are exceeding the loss in voice revenue so we are now net positive on that revenue stream...
When Frontier's financial executives presented at analyst conferences earlier this month, I was looking for similar statements that would confirm a solid Q4. They were not quite as open, although on December 9th with only three weeks remaining in the quarter, CFO John Jureller did state:
Well, perhaps it's too early to call complete victory on residential revenue, but we were excited to be able to deliver not just stable revenue, we actually grew 600,000 quarter-on-quarter in residential revenue. But we think that theme will continue as we move forward into our fourth quarter and into next year.
Earlier in the month, Treasurer Robert Starr discussed a newer, simplified offer for small businesses.
I think our big opportunity is in the small business customer space, we right at the end of the second quarter came out with brand new bundles the simplified offer. We had speeds that go up to 40 Meg for the small business customer and we started to sell that it was very early days there, but we saw some good traction.
There are still issues at Frontier that need to be resolved. The company has not yet demonstrated that it will replicate its residential customer success with business customers, and it needs to compensate for losses in revenue from cell towers in its territories. There are additional growth opportunities as well.
The Connect America Fund [CAF] doles out millions of dollars to telephone companies to provide capital for the buildout of higher speed Internet access to underserved markets. Frontier was initially awarded $72 million of these funds and has applied for more. Using the CAF funds, as well as its own capital investments, has allowed Frontier to expand its offerings to more than 37,000 households in Q3 and it expects to add another 30,000 in Q4.
Frontier also has found significant success with its Secure product set. Not only has it sold it as an add-on to more than a quarter of its current customers, but it is also able to sell it to anyone, regardless of whether they are using Frontier's broadband services. Earlier this week Frontier got into the Christmas spirit, borrowing a line from Santa Claus Is Coming to Town:
He's making a list
And checking it twice;
Gonna find out Who's naughty and nice
Taking on Comcast (NASDAQ:CMCSA), Frontier issued a press release titled "Frontier Communications Reassures Comcast Customers: "We have your back."" The release promotes Frontier's Secure product:
Why focus on Comcast? On December 1st, Comcast cancelled the secure backup and sharing devices their customers relied upon to keep their accounts safe from hacking, viruses, identity theft and more. Naughty, naughty.

On the "nice" side, Frontier offers Frontier Secure, a multifaceted security program...
Now, if only Frontier avoids putting coal in anyone's stocking when Q4 earnings are released...
A Note on Debt
Over the past year, Frontier has also improved its debt profile. Refinancing has at times been somewhat costly, but it has managed to spread out the debt maturities and the company expects to be able to pay off all issues maturing through 2017-2018 with cash on hand and future cash flow.
The amount of debt - $8 billion - is high, as is the leverage at 3.3x. The company has expressed a 2.5x ratio as a long-term goal, although there is no timeframe as to when it would be reached.
Reducing Risk
Earlier I asked if there was a way one could reduce risk while going after Frontier's fat dividend. One way is to buy the stock and simultaneously sell a covered call. With the shares currently trading at $4.45, one can buy the stock and sell a January 2015 $4.50 call for about $0.25-$0.30 - the equivalent of two to three Frontier quarterly dividends. Your net cost is reduced to $4.15-$4.20 per share (excluding commissions).
Even if your shares are assigned (or called away) before you receive a single dividend, you have essentially received at least 75% of your expected annual dividend. You also open yourself up to the very real possibility that you won't receive a single dividend and would need to find another investment alternative to generate dividend income.
I should note that I have employed this strategy with Frontier with mixed success and varying degrees of luck over the past two years. At times the shares were called away and I was able to subsequently re-open the position at favorable terms. On other occasions (when a $4 strike price was used), I lost out on significant capital appreciation and lost the shares.
This past month I expected to see a significant portion of my Frontier shares that had $4.50 January 2014 options to be assigned near the December 5th ex-dividend date. However, as the price dropped rapidly from the $5 level in late November, the incentive to exercise apparently evaporated.
With the shares currently trading at $4.45, I currently prefer the straight long position.
Other Disclosures
I have positions, and am currently re-investing dividends, in all of the stocks discussed in this article with the exception of CenturyLink (which I had owned in the past). The largest holding is Frontier, followed closely by AT&T and current plans are to increase holdings in both AT&T and Verizon.
I have also sold calls against portions of my positions in both Windstream and Frontier.
Summary
Investors have a wide variety of dividend paying telecom stocks to choose from. Whether it is the more aggressive play with Verizon and the potential for capital appreciation tied to its major acquisition and the 4.4% yield or the 5.3% yield of a steadily growing dividend at AT&T on one end of the spectrum, or the 12.3% yield at Windstream, where the market has already priced in a dividend cut on the other end, there are substantially different risks and rewards.
Frontier has made significant progress this year, especially with respect to broadband net adds and residential revenue. Improvements in this area should be expected as the company expands into previously underserved territories and it continues to offer higher speeds and a broader array of add-on products. Even though the market appears to once again be pricing in significant risk, the continued progress by Frontier should enhance the safety of its nearly 9% dividend.
Disclosure: I am long T, CMCSA, FTR, VZ, WIN. I wrote this article myself, and it expresses my own opinions. I am not receiving compensation for it (other than from Seeking Alpha). I have no business relationship with any company whose stock is mentioned in this article.
Additional disclosure: I have covered calls written against portion of FTR and WIN holdings and plan on adding to both VZ and T positions.