Earlier this week I wrote an article on my Top five REIT picks for 2014. All of my "fab five" had "strong sources of differentiation" rooted in their underlying ability to manage risk. In addition, four of the five REITs have demonstrated a durable track record of above-average share price appreciation and growing dividends. As I explained, a REIT's dividend yield is a "darn good proxy for investment risk" and given the track records of these four REITs (referenced) I consider them to all be over achievers in 2014.
The fifth REIT, Gramercy Property Trust (NYSE:GPT) does not pay a dividend. So why did I include the REIT in my Top Five for 2014?
It's interesting. Especially since around six years ago Gramercy - better known as Gramercy Capital Corporation (ticker was GKK) - did pay a dividend. Back them the company acquired loans, mezzanine loans, and preferred equity and in 2007 the company merged with American Financial Realty as a means to be a multifaceted financial powerhouse.
As evidenced by the FAST Graph below, Gramercy started paying a healthy dividend yield in 2007; but in 2009 the marriage between the two began to unravel, primarily due to the combined company's significant leverage as well as the growing distressed loans originated by Gramercy's legacy lending organization. All of the investors [SL Green (NYSE:SLG), was the largest shareholder, followed by Citigroup and Goldman Sachs)] ended up losing money and had it not been for the "hard net lease assets" owned by American Financial, Gramercy would have likely evaporated into thin air (since the toxic paper originated by the CDOs was virtually worthless).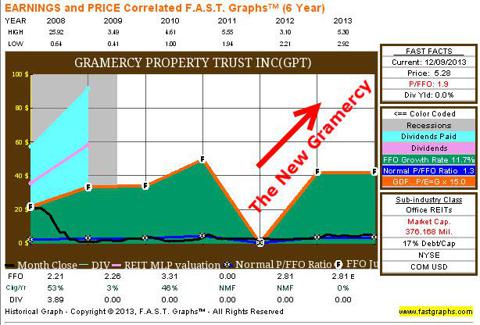 Click to enlarge
(Click to enlarge)
The New Gramercy
I started following Gramercy in 2012. As most of you know, I don't follow or research mortgage REITs, however I was intrigued by the fact that Gramercy was simplifying its investment model to a more predictable net lease platform. I found it interesting that Gramercy had hired former W.P. Carey CEO, Gordon DuGan.
DuGan, a twenty-five year Triple Net Lease veteran, was employed to bring Gramercy a renewed focus and take advantage of market opportunities in the Net Lease sector. DuGan's primary objective was to slim down debt and cut costs. More importantly, Dugan and Gramercy were transforming the risky asset model to a more conservative platform driven by recurring cash flows and sustainable dividends. I summed up Gramercy as follows:
Gramercy looks like it could turn into another high-quality net lease REIT. The company is beginning a new chapter and the business model is sound. The shares are trading at $2.74 and there is NO DIVIDEND BEING PAID NOW. The experienced management team should be able to get this company back on the REIT track and start paying dividends again.
In a later article (July 13, 2013) I was getting warmed up to Gramercy and the management team and I took a more bullish position:
Gramercy is clearly carving out a slice of the Triple Net pie and DuGan and company are embarking on a chance to hit it big, in the big leagues. I intend to include Gramercy in my SALSA portfolio (see my newsletter here) by making room for a 5% allocation.
The Gramercy bet paid off. In 2013 the company was my best performer. While many of my other Triple Net REITs declined in value, Gramercy didn't. In fact, most other Triple Net REITs sold off severely in 2013, yet Mr. Market gave Gramercy a much better valuation. Since my first recommendation in December 2012 Gramercy has returned over 92%.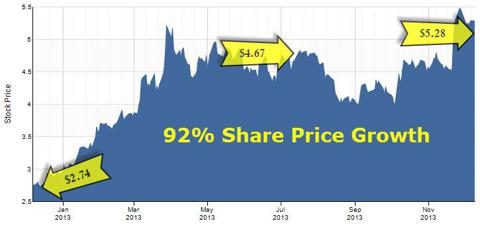 Click to enlarge
(Click to enlarge)
Can Gramercy Sustain?
As evidenced by the snapshot below, Gramercy will finish the year as a profitable REIT. In just over 17 months the company has acquired over $560 million in assets and the latest (Q3-13) earnings - Adjusted Funds from Operations (or AFFO) of $.04 per share - is a strong sign that the company has turned the corner.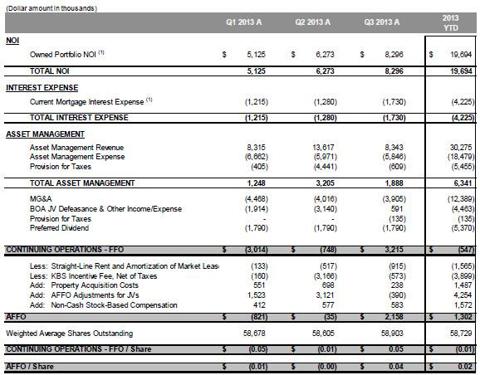 Click to enlarge
(Click to enlarge)
Gramercy disclosed on October 7th that the $100 million of the $130 million acquisition pipeline is set to close year-end with an average cap rate of 8.5%. Year to date the company has a portfolio of 101 properties that consist of Industrial (26 buildings), Office/Banks (72 buildings), and 3 Specialty properties. Around 45% of the properties have investment grade rated tenants and the average portfolio lease term is 12.5 years.
Click to enlarge
(Click to enlarge)
Gramercy has begun to diversify its portfolio. During 2013 the company has rapidly increased its consolidated and joint venture property portfolio and broadened its tenant exposure base. As of October 2013, 83% of Gramercy's tenants are rated.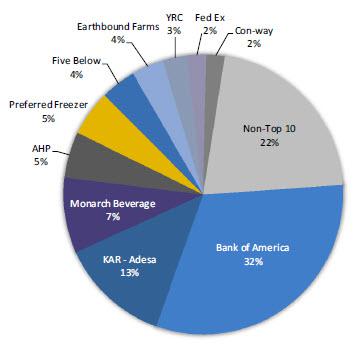 Unlike most of Gramercy's Net Lease peers, the company earns base management fees of around $9 million a year from its JV "KBS" portfolio. The company also earns a 1% (of equity) base management fee on its Bank of America portfolio. These fees are in a TRS (Taxable REIT Subsidiary).
The key question that investors should consider for Gramercy is whether or not the company can grow earnings over time. The first test is for the company to establish a dividend policy and run rate beginning in the first quarter of 2014. The second test is to acquire between $300 million to $400 million a year of properties.
Similar to the other Triple Net REITs, Gramercy's future capital raises will likely be matched with new investments. As with the recent private raise, future capital raises will likely be match-funded with around 50% leverage. I would expect Gramercy to accelerate its growth given the depth of experience that the company has in sourcing properties. However, Gramercy remains a small cap REIT ($377 million market cap) and the market has demonstrated that the company can move the needle higher.

Click to enlarge
(Click to enlarge)
Gramercy is deemed a growth company and Mr. Market has clearly been more attracted to growth vs. stability.

Click to enlarge
(Click to enlarge)
Gramercy's share price is $5.29. The shares have climbed by over 12% in 30 days.
Considering Gramercy's future growth, I modeled the company's AFFO to be $.36 in 2014 and $.46 in 2015. My valuation estimate incorporates a 15x multiple or $5.40 (2014) and $6.90 (2015). In order to achieve these valuations Gramercy will need to acquire around $300 million in 2014 and $300 million in 2015.

As noted above, Gramercy intends to reinstate its dividend in Q1-14 subsequent to going current on the preferred dividend. I have modeled (below) my projected dividends (to be paid) that include the above AFFO estimates and an 85% payout ratio. Note, this model is only for estimate purposes only.

Finally, the $300 million question is will Gramercy grow? I believe the key for the REIT is to be able to grow externally and be able to access adequate debt and equity. One strong indicator of future performance is Gramercy's incentive management program. Several key executives have an outperformance plan that incentives the company to grow its stock price to at least $9 per share by June 30, 2016. The chart below summarizes the value that would be awarded to Dugan if the stock price reaches $5, $7, pr $9 over the periods below:

Finally, one must consider the potential for a takeout. Gramercy's management team has deep roots in the Triple Net sector and the executives have demonstrated a track record for steady growth. I could not be remiss to mention the possibility that American Realty Capital Properties (ARCP) could acquire Gramercy. DuGan has transformed his company into a legitimate REIT with a strong platform for sourcing high quality assets.
In closing, Gramercy has demonstrated it can generate outsized returns. I expect more outperformance in 2014 starting with a dividend. The potential for the investment will be to grow earnings per share over the next few years. Sometimes it pays to fly under the radar and I'm glad I invested in Gramercy because small things do come in big packages.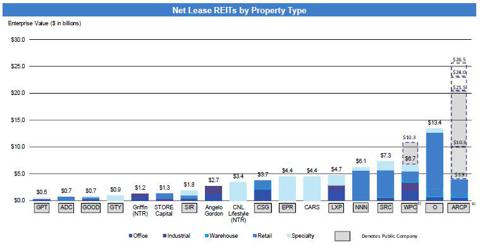 Click to enlarge
(Click to enlarge)
Gramercy was my best performing REIT in 2013 and although I'm bullish that the run will continue, I'm content to start collecting a modest dividend and watching DuGan and his team grow earnings (or Funds from Operations). I think it's reasonable to assume that Gramercy could easily return over 30% in 2014 and that's why I included the REIT in my "fab five" 2014 list. I'm staying on board for the ride...
Note: Next week I plan to write an article on my worst REIT pick of 2013.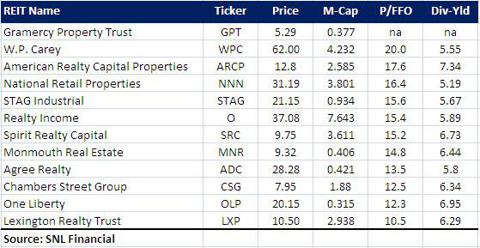 Click to enlarge
(Click to enlarge)
Source: SNL Financial, FAST Graphs, Gramercy Investor Presentation.
Disclaimer: This article is intended to provide information to interested parties. As I have no knowledge of individual investor circumstances, goals, and/or portfolio concentration or diversification, readers are expected to complete their own due diligence before purchasing any stocks mentioned or recommended.
Disclosure: I am long O, ARCP, HTA, VTR, HCN, DLR, GPT, STAG, ROIC, CBL, UMH. I wrote this article myself, and it expresses my own opinions. I am not receiving compensation for it (other than from Seeking Alpha). I have no business relationship with any company whose stock is mentioned in this article.