Luxury home builder Toll Brothers (NYSE:TOL) reported a rise in fourth quarter profits on solid sales, up 36% from a year earlier. The average price of delivered homes jumped from $582,000 last year to $703,000 this year. Toll Brothers' CEO also noted that business has been flat since the summer. Net signed contracts were only up 6% in units, but what I'm more interested in is the jump in Toll's fourth-quarter cancellation rate from 4.6% to 5.5%. This is a 19 percent increase in current-quarter cancellations divided by current-quarter signed contracts. Yes, a small number in absolute terms but the calculation is relevant. I'll explain why. Toll Brothers' policy on customer deposits is very strict. If you walk on a Toll Brothers build-to-order home, in many cases you are walking away from a sizeable chunk of cash!
The reason I'm interested in home builders' cancellation rates is the diminishing return we're seeing on QE. The effects of the Fed's massive effort to levitate equity and real estate markets is reaching a point of diminishing returns. This is reflected in the 3-year charts of some of the major home builders including Toll. As you might expect, Toll has held up a little better than some of the other builders because Toll caters to a more affluent home buyer. It's a QE thing.
Toll Brothers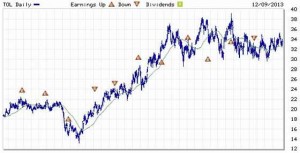 Lennar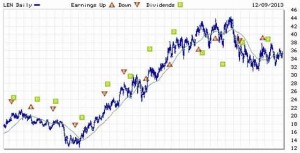 DR Horton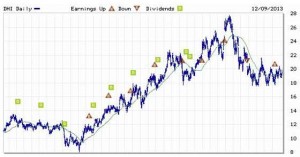 Recently I elaborated why I was in no mood to go long on the home builders. Now that Toll has come out with results confirming what I already knew (namely that affordability is going to put a lid on the housing euphoria), we can get on with the business of analyzing what's actually been driving the markets. Recent results from Toll and Hovnanian are just more confirming indicators that normal market forces are getting ready to exert themselves, if they haven't already. As fundamentals begin to come into play (heaven forbid!) all of the national home builders are going to face more challenging conditions. That includes Toll , KB Homes (NYSE:KBH), Lennar (NYSE:LEN), DR Horton (NYSE:DHI), Beazer (NYSE:BZH), Pulte (NYSE:PHM), Hovnanian (NYSE:HOV) etc.
This quote from Calculated Risk sums it up pretty nicely:
"Hovnanian said in its sales release that its "sales slowed from July through September due to the adverse impacts of higher mortgage rates, the sequester and the government shutdown," but another factor was Hovnanian's aggressive price increases (highlighted in last quarter's presentation) in several markets, especially California. Hovnanian's net orders in California last quarter were down 48.4% from a year ago, at an average contract price of $571,800, up 41.5% from a year ago."
What few people appreciate (or in many cases refuse to acknowledge) are the enormous efforts which have been undertaken to prop up the housing sector and reflate the markets. As Grant Williams noted, the purchase of mortgage backed securities in 2013 has actually been larger than advertised, actually $736 billion in MBS in the first 11 months of the year. Anyone who thinks monetary stimulus hasn't been propping up these markets has their head in the clouds. Yes, correlation is causation!
The FHA is set to reduce loan limits in more expensive markets next year to reduce its share of the U.S. mortgage market. This will obviously impact the luxury home space. But the larger issue with all real estate markets is, and will continue to be affordability. All home builders will be coming to grips with the same inflation that is plaguing most of America, the same inflation that isn't showing up in the massaged CPI the government chooses to tell us about.
As 2014 plays out, mortgage rates and affordability will be critical factors for home builders. Pay close attention to those cancellation rates, because that "backlog" of orders can evaporate pretty quickly if the punch bowl of monetary stimulus is taken away. I still think the home builders are a more speculative or short play until we get sustainable growth. All we have now is a speculative, QE-driven real estate market. Until this chart shows a sustainable rising trend, I will continue to be cautious of homebuilder stocks.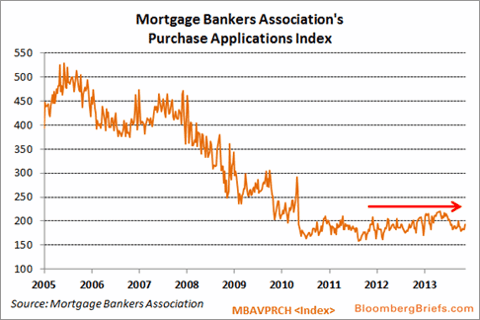 Disclosure: I have no positions in any stocks mentioned, and no plans to initiate any positions within the next 72 hours. I wrote this article myself, and it expresses my own opinions. I am not receiving compensation for it. I have no business relationship with any company whose stock is mentioned in this article.