Gerald J. Ford is a self-made Texas billionaire who made his fortune in the banking industry. He served as the former Chairman and CEO of Golden State Bancorp before selling it to Citigroup for $6B in 2002. He took a stake in Hilltop Holdings (NYSE:HTH) in 2007 in order to use it as a vehicle to acquire other banks. Before Hilltop acquired PlainsCapital Bank in 2012, it led a $100M strategic investment in SWS Group (NYSE:SWS) in July 2011 in order to help it shore up its capital due to losses. SWS Group is the parent of Dallas area brokerage firm Southwest Securities and is the largest full-service brokerage firm headquartered in the Southwestern United States based on the number of financial advisors. SWS Group generated impressive revenue and EPS growth up until 2000 however, its performance has been mediocre since then even though it is located in the fast-growing Texas marketplace. I believe that this has resulted in SWS Group's share price trading at a 40% discount to its book value. I believe its share price will eventually converge with its book value through either improved business operations or a sale to a stronger competitor.

Source: Hilltop's Q3 2013 10-Q Report and SWS Group's Q1 2014 10-Q Report
Hilltop and Oak Hill each lent SWS $50M at 8% for 5 years and received 8.7M SWS share warrants that can be exercised at $5.75/share. SWS's share price was at $6.11 as of September 30 2012 before dropping to $4.02 in November in the wake of sour Q1 2013 results. At least its share price recovered since then and is now at $5.84. Hilltop will most likely not exercise the warrants until it sees demonstrated improvements in SWS's revenue trends and expense management. SWS had another year-over-year revenue decline in Q1 2014 versus the prior year's period, at least the Q1 2013 revenue decline of 6.9% was primarily due to reductions in net interest income and net interest income should bottom out due to rising interest rates. Hilltop's Investment in SWS earned a total return of 36.6% as of September 30th, 2013, vs. 45.53% for the S&P 500, 51.3% for the S&P 600 and 8.9% for SWS's common shares.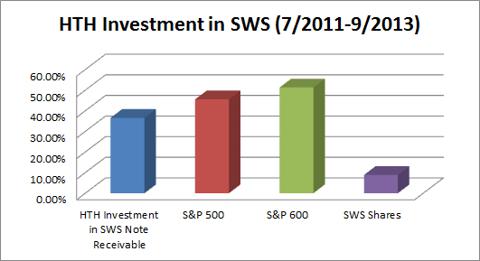 Click to enlarge
Source: Morningstar Direct
SWS Group's Key Business Segments:
SWS Institutional is comprised of businesses serving institutional customers in the areas of securities borrowing and lending, municipal finance, investment banking, fixed income sales and equity trading. The institutional segment derives revenue from the net interest spread on stock loan transactions, commission and trading income from fixed income and equity products and investment banking fees from taxable and municipal securities transactions:
For Q1 2014, the institutional segment posted pre-tax income of $6.2M on net revenues of $28M, as compared to pre-tax income of $9.9M on net revenues of $32.9M in Q1 2013. The decrease in net revenues was primarily due to $3.2M in revenue declines from its taxable fixed income operations $2.5M from its portfolio trading operations and $1.1M in stock loan and other operations. Offsetting these revenue declines were $2.2M in increased revenues from its municipal fixed income operations as the result of a more favorable mix in the public finance deal flow. Q1 2014 operating expenses in the institutional segment decreased slightly to $21.8M from $23M in Q1 2013 due to a $1.9M decrease in compensation expenses due to weaker segment revenues, which was partially offset by a $0.5M increase in operations and technology expense and a $0.3M increase in quotations.
In November, SWS hired Martin Baxter II as a as a Senior Vice President, Mortgage-Backed Securities (MBS) Salesperson. Mr. Baxter brings more than 25 years of experience in MBS sales to his new role with Southwest Securities, Inc., most recently with Gleacher and Company, where he served as Managing Director. Mr. Baxter will work out of Washington, D.C. During his career, Mr. Baxter was National Sales Director at Amherst Securities and has held senior-level fixed income sales positions with Raymond James & Associates and Paine Webber, Inc. He earned Bachelor of Arts and Master of Business Administration degrees from the University of Virginia. This was one month after SWS hired Kurt Kaline as a Senior Vice President, Commercial Mortgage-Backed Securities (NYSEARCA:CMBS) Trader for its NYC office. Mr. Kaline brings more than 16 years of experience in CMBS trading to his new role with Southwest Securities, Inc., most recently with Brean Capital, LLC.
SWS Retail includes the sale of retail securities, insurance products and managed accounts. This segment generates revenue primarily through commissions charged on securities transactions, fees from managed accounts and the sale of insurance products as well as net interest income from retail customer account balances:
The retail segment posted a pre-tax profit of $2.25M in Q1 2014 on net revenues of $29.84M, as compared to pre-tax income of $319K on net revenues of $28.07 million in Q1 2013. Retail segment operating expenses decreased to $27.59 million in Q1 2014, as compared to $27.75 million in Q1 2013. The decrease was due to a $0.7M decrease in legal expenses offset by a $0.7M increase in commissions and other employee compensation. One island of tranquility in an otherwise truculent quarter for SWS Retail was that its advisory related revenues increased by 20% in Q1 2013 versus the prior year's period.
Southwest Securities FSB offers traditional banking products and services through 9 full-service banking centers with nine banking centers located in Texas, one located in each of Arlington, Dallas, El Paso, Fort Worth, Granbury, Southlake and Waxahachie, and one located in each of Albuquerque and Ruidoso, New Mexico:
Net revenue from the banking segment declined by 22% in Q1 2014 versus Q1 2013 due primarily to a $2.8M reduction in net interest revenues. This reduction in net interest revenues was primarily due to the 32% decrease in average loan balances, as well as an 80 basis point decrease in the net yield on interest-earning assets. The reduction in net interest yield was due to the roll-off of the held for investment loan portfolio with proceeds being invested in the Bank's investment portfolio. SWS Bank weighted this portfolio to provide liquidity to fund new loan originations.
Operating expenses decreased $2.5M, or 24%, in Q1 2014 compared to Q1 2013 and was primarily attributable to the $0.6 M decrease in commissions, other employee compensation, and a $0.5 million loan loss recapture for Q1 2014. There was no provision for loan loss recapture for Q1 2013. Additionally, other operating expenses decreased $1.3M for Q1 2014 compared to Q1 2013. This decrease was due primarily to a $0.8M decrease in REO related expenses, including a $0.4M decrease in the REO loss provision, a $0.3M decrease in outside services and a $0.3M decrease in regulatory fees.
SWS Clearing provides clearing and execution services for other broker/dealers (predominantly on a fully disclosed basis). SWS Clearing's clientele includes general securities broker/dealers and firms specializing in high-volume trading:
Net revenue from the clearing segment declined by 6% in Q1 2014 versus Q1 2013 as a 7% increase in clearing services fees was offset by lower net interest income and an increase in other revenue primarily due to an increase in administrative fee income from revenue sharing with money market fund providers. The clearing services fee increases was due increased revenue per ticket as trade tickets processed for high-volume trading firms decreased 89% but trade tickets processed for general securities broker/dealers increasing 9%.
Operating expenses increased slightly for the three-months ended September 30, 2013 as compared to the same period last fiscal year primarily due to an 11% increase in operations and information technology expenses, offsetting this was a 32% decrease in salaries and incentive compensation due to departmental restructuring. The division generated $227K in pre-tax losses in Q1 2014 versus $195K of pre-tax profits in Q1 2013.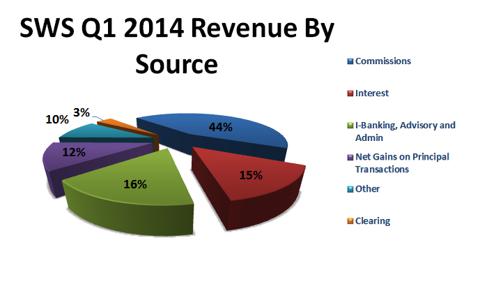 Click to enlarge
Source: SWS's Q1 2014 10-Q Report
SWS's Consolidated Corporate-Wide Performance:
Here are the highlights (or lowlights depending on your perspective) from SWS's Q1 2014 results:
Total Net revenue declined by 6.9% year-over-year ($5.2M) primarily due to reduced commissions and net interest revenue.
Net operating expenses declined by 5.5% year-over-year ($4.1M) due to reduced compensation expenses as well as reduced expenses associated with legal and real estate owned.
Compensation expenses declined by 3% versus Q1 2013 due primarily to reduced incentive compensation payments to its institutional division because of that division's revenue declines.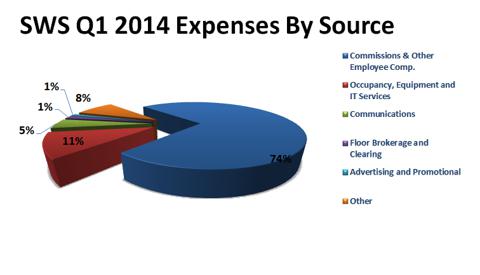 Click to enlarge
Source: SWS's Q1 2014 10-Q Report
SWS's Major Stakeholders:
SWS Group's two largest stakeholders are Hilltop Holdings and Oak Hill Capital Partners because of their $100M loan and warrant investment in SWS in July 2011. Gerald J. Ford is Hilltop Holdings' Chairman of the Board and has been serving on SWS Group's board of directors since July 2011. Oak Hill Capital Partners' lead investor is Robert M. Bass and he appointed J. Taylor Crandall to serve as Oak Hill's representative on SWS Group's board. Hilltop and Oak Hill each received 8.7M warrants to purchase SWS Group's shares at $5.75/share and would each own over 17% of the company if both firms exercised its warrants. Other notable stockholders include the following firms as of September 2013:
Alternative investment manager Highland Capital Management L.P. owns 2.3M shares representing 7.14% of SWS Group.
Boutique valued manager WHV Investment Management owns 2.1M shares representing 6.46% of SWS Group.
Hilltop Holdings also owns 1.475M shares of SWS's stock representing 4.5% of SWS.
Mario Gabelli's Gamco Investors owns 531K shares of SWS (1.62%)
Gerald Perritt's Perritt Capital Management owns 515K shares of SWS (1.58%)
SWS's Executive Officers:
James Ross, President and CEO of SWS Group since October 2010, worked in various leadership positions in SWS's private client and brokerage businesses since 2004
J. Michael Edge, Interim CFO and Treasurer of SWS Group since October 2013, joined SWS's finance department in 2000, named Director of Finance and Investor Relations in 2009
Daniel Leland, Executive VP of SWS Group since May 2007, previously served as CEO of SWS's Southwest Securities brokerage division
One area of concern that I have about SWS Group's management is the low Glassdoors.com score that it has. SWS Group has a Glassdoor.com score of 2.3 out of 5 and only 22% of employees recommend this company to a friend. The company appears to be run as a social clubhouse in which advancement is based on who you know, not what you know. I believe has contributed to its mediocre financial performance since 2000 and its sagging, split-adjusted share price during this time-period.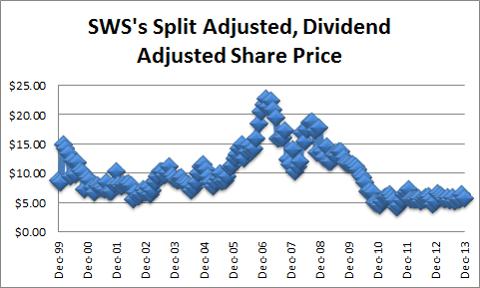 Click to enlarge
Source: Morningstar Direct
SWS's management needs to learn that SWS's shareholders own the company and no one else. Anyone who works for SWS is just hired help, they are there to serve SWS's shareholders if they want their paychecks and they need to get that straight through their heads. SWS's shareholders own this company; they have every right to the benefits of their capital investment in the company. SWS's employees including its executive management needs to have a goal of making money for the shareholders by serving SWS's customers rather than "to suck all the milk from the SWS corporate cow without killing it". Gerald Ford should press SWS's management for a sale to a stronger firm or replace its existing management with adults in the room who can take charge and positively shape SWS's destiny.
SWS's Value Proposition:
SWS's market price of $5.84 per share is well below its book value per share of $9.64 and represents a 40% discount to its book value. I can see why SWS's management rejected Sterne Agee's $6.25 per share in 2011 and rejected Sterne Agee's sweetened offer of $7.50 per share. Dallas area investment manager Hodges Capital believed that SWS was worth $8 per share in 2011 and nothing has changed to impair that value since then. According to Morningstar, SWS's brokerage peers are trading at 1.3X book value. If SWS was to ever hope to achieve that level, its shares would be trading at $12.53. However, in the interests of conservatism, I believe that SWS's fair value is equal to its book value of $9.64 per share.
Click to enlarge
Source: Morningstar Direct, Hodges Capital and Reuters
Conclusion:
In conclusion, investors should see why Gerald Ford took a $50M position in SWS through his Hilltop Holdings holding company. Gerald Ford originally took a debt position and he got his 17% equity position as a sweetener through warrants rather than outright stock. However, Ford added 1.45M shares to Hilltop's position since then. Since SWS has already written down its $50M provision for loan losses in FY 2011, I expect SWS's banking group to incur less credit losses than before. The good news is that the one analyst covering SWS's shares is expecting SWS to narrow its adjusted loss per share to 2 cents in FY 2014 (versus 17 cents in FY 2013) and earn a 12 cent per share profit in FY 2015. The bad news is that it is racking up revenue declines and weak financial performance even though the Texas economy is booming. The company will need to do a better job in matching its expenses to revenues, as the company's expense decline of 5.5% was narrower than its 6.9% revenue decline. Considering the soft environment for brokerage firms and considering the consolidation in the industry, I think that Gerald Ford should press SWS's management for a sale to a stronger firm or replace its existing management with adults in the room who can take charge and positively shape SWS's destiny. The company is undervalued relative to its peers, its shares are trading at a 40% discount to its book value, and there is potential for shareholders to realize this value.
Disclosure: I have no positions in any stocks mentioned, and no plans to initiate any positions within the next 72 hours. I wrote this article myself, and it expresses my own opinions. I am not receiving compensation for it (other than from Seeking Alpha). I have no business relationship with any company whose stock is mentioned in this article.