Historically, Nestle (OTCPK:NSRGY) has not been a major advertising spender. Adbrands estimates Nestle's 2008 advertising expenditure at $2.3 bn, whereas P&G (NYSE:PG) has spent around $9.7 billion in 2008.
It is no secret that brand recognition helps people lean toward a company's product when given the choice between the company's product and one they have never heard of. Since Nestle is commencing its advertising offensive from a low base, the company is likely to reap the low-hanging fruits relatively easily.
When one looks at Nestle's results, one sees that the company stepped up its media spendings by 10% in 2009, as advertising rates became more affordable.
This is really important for Nestle, as it has around 28 brands which have sales above $1 billion. They know that long-term successes of these brands are dependent on long-term brand recognition and loyalty. An increase in advertising can only help.
Besides the encouraging news with regards to advertising policy change, the results were pretty good. In its earning teleconference, the company said:
Our organic growth at 4.1% clearly outperformed the industry. With a disciplined focus and clear alignment against our strategic priorities and key initiatives, we once again improved our EBIT margins 40 basis points in constant currency, while at the same time increase investment in our brands and reinforced our capabilities positioning us for another year of total performance improvement…In this year, uncertain times we are proposing an increase of dividends of 14.3% to CHF 1.60 per share, a 51.8% payout ratio of the underling EPS for a total sum of CHF5.6 billion, a 3.2% return on the year-end stock price of CHF50.20.
This statement is in line with the stock's image as a reliable and long-term investment vehicle that one can comfortably keep in the retirement portfolio.
The company's strong business line is Food and Beverages in Zone Americas with an organic growth of 6.5%. The weakest link seems to be the Waters business with a contraction of 1.4% mainly due to private label pressure. The tables taken from company's presentation give a detailed summary (see below)
To summarize, coupled with strong advertising, the company's rich product portfolio is likely to deliver good results moving forward.
click to enlarge image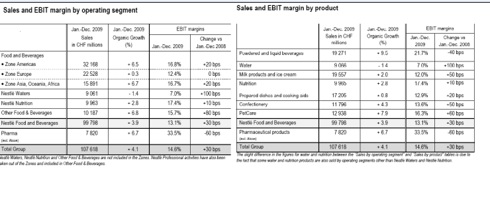 Disclosure: Author holds no positions in the above mentioned stocks