Avon Products (NYSE:AVP) reported disappointing numbers in its latest fiscal quarter. For the third quarter of 2013, revenues decreased 1% on a constant dollar basis (revenues decreased 2% after excluding the impact of favorable VAT tax credits in Brazil). Total units decreased 7% and price / mix was up 6%. Active representatives were down 3%. The company continues to struggle across all regions including Latin America, which represents over 50% of revenues. Furthermore, the company continues to struggle in Beauty, its core category, amidst intense competition.
Globally, the share of the direct selling channel in Beauty and Personal sales has been steady, according to Euromonitor. However, Avon is facing an increasingly competitive environment from direct sellers such as Nu Skin (NYSE:NUS), Oriflame (OTCPK:ORFLY) and Natura (OTC:NUACF), and from global consumer players such as P&G (NYSE:PG) and L'Oreal. In order to understand Avon's turnaround, I have analyzed its recent financial performance to evaluate pain points and potential bright spots. For the purpose of this analysis, I have focused on Constant Dollar (C$) to evaluate sales trends.
Category Sales
Beauty is the largest category for Avon, representing over 70% of revenues. Sales in this category declined 2% in the third quarter. Fashion, which represented 15% of revenues, declined 6%. Home, which represented 10% of revenues, was the only bright spot increasing 6%. Within Beauty, Skin and Personal Care declined 6% and 5% respectively, while Fragrance declined 1% and Color grew 2%. The decline in Skin and Personal Care is a concern and highlights that Avon is facing tough competition and is losing market share in these fast growing categories. The reduction in advertising spend over the years has impacted the performance in Beauty. The table below shows the revenues by category in the third quarter.
C$ Revenues by Category in Third Quarter

Click to enlarge
Source: Company 10-Q.
The following chart highlights the consistently poor performance in Beauty.
C$ Revenue Growth Trend in Beauty (2011-2013)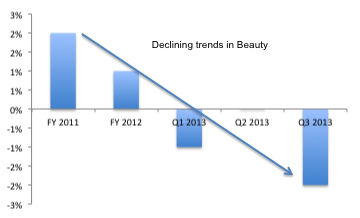 Source: Company 10-Q.
Within Beauty, Skin and Personal Care have underperformed as shown below.
C$ Revenue Growth Trend in Beauty by Category (2011-2013)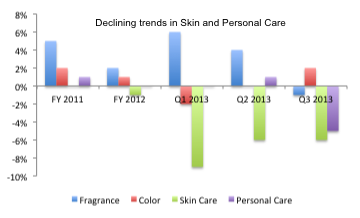 Source: Company 10-Q.
Latin America
Latin America is the most important region for Avon, representing over 50% of its revenues. In C$ terms, overall Latin America top-line performance was mediocre, with revenues increasing only 4% (after adjusting for VAT tax credits in Brazil) in the third quarter.
Overall, Brazil and Venezuela's performance was satisfactory, with revenues increasing 9% and 15%, respectively. Mexico was down 7%. Revenues in Brazil were largely driven by Fashion & Home, which increased 18% in the third quarter. Beauty sales in Brazil increased only 6% in the third quarter. In the first nine months of 2013, sales from Beauty in Brazil increased only 4%, while sales from Fashion & Home increased 21%. The fact that Avon's Beauty business is not growing strongly in Brazil is a cause for concern and highlights that Avon is losing market share in its most important market. In the third quarter earnings call, the management highlighted the successful re-launch of the Avon Color line and the launch of the new hand and body line in Brazil. While these are positive initiatives, the overall Beauty industry is growing much faster in Brazil. According to figures from Euromonitor and the Brazilian Association of Perfume, Personal Hygiene and Cosmetics last year, wholesale sales of beauty and personal care were up 15.6% to USD14bn, making Brazil the third-largest beauty market worldwide with a 9.6% share. Furthermore, in Mexico, the company continues to face increasing competition particularly from traditional retail channels.
Latin America Financial Performance in Third Quarter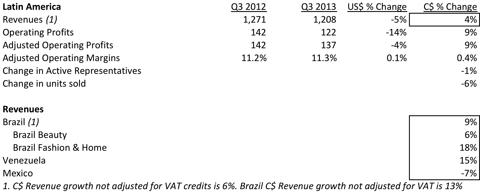 Click to enlarge
Source: Company 10-Q.
The following table shows the relative underperformance of Beauty in C$ in Brazil.
Brazil Beauty vs. Non-Beauty C$ Revenue Growth 2012 and 2013

Click to enlarge
Source: Company 10-Q and 10-K.
Adjusted operating margins in Latin America increased only 0.4%. While gross margins benefited from the favorable impact of pricing and mix, the operating margin improvement includes a 1.5% benefits from VAT credits. Avon is also making investments in representatives and sales leaders in Brazil to support new product launches, which has negatively impacted margins.
EMEA
EMEA is the second most important region for Avon, representing over 25% of revenues. While revenues grew 2% in the third quarter, the performance in several key markets was poor. The company experienced decline in Turkey, Russia and the UK. The only bright spot was South Africa, which grew 21%, benefiting from the increase in units and representatives. Avon experienced a decrease in representatives in the UK and Turkey and had execution issues in Russia. The adjusted operating margins improved 1.3%, due to lower field compensation in Turkey and cost rationalization, which were offset by higher advertising costs.
EMEA Financial Performance in Third Quarter

Click to enlarge
Source: Company 10-Q.
North America
North America represented 14% of revenues in the latest quarter. Revenues decreased 18% due to a significant decline in representatives. Sales of Beauty and Home decreased 20% and 16%, respectively. In the U.S., the One Simple Sales model caused disruption and impacted relationships built by sales representatives. The company is addressing these issues, however, this will take several quarters to fix. The management will give more details about the progress at the CAGNY early next year. Aligning the cost structure to reduced sales could yield some cost savings, but I am not confident that management will be able to address this without further hurting the top-line sales in the U.S. Historically, the fourth quarter has contributed to strong revenues for the company in North America.
North America Financial Performance in Third Quarter

Click to enlarge
Source: Company 10-Q.
Asia Pacific
Asia Pacific represents a relatively small portion of Avon's revenues - 7% in the third quarter. Revenue declined 19% due to poor performance in China and the Philippines. The company underperformed in Skincare, which remains extremely competitive in China. The company continues to expect ongoing operational challenges in Asia Pacific and is in the process of transitioning its regional management. China does represent a missed opportunity for the company. Over the last five years, the Beauty and Personal Care direct selling market in China has grown at a CAGR of over 15%.
Asia Pacific Financial Performance in Third Quarter

Click to enlarge
Source: Company 10-Q.
Conclusion
Apart from a strong performance in a handful of relatively small markets, the company's performance was weak across the board and reflects the strong challenges the management faces in turning around the business. The biggest issue continues to be the mediocre performance of Beauty in Latin America, particularly Brazil. In EMEA, the company needs to demonstrate stabilization in Russia, UK and Turkey.
If in the coming quarters, management can demonstrate that the investments they are making in Latin America in new product launches, representatives and sales leader are having a demonstrable positive impact (particularly in Beauty), it might be worth considering buying shares. This, of course, assumes that the company is able to resolve the issues around FCPA.
North America and Asia Pacific continue to be a huge drag on the financial performance. The two regions combined had adjusted operating losses of USD31m in the third quarter. In comparison, Latin America and EMEA generated adjusted operating profits of USD198m in the third quarter.
Financial Performance and Contribution by Region in Third Quarter

Click to enlarge
Source: Company 10-Q.
Even if the problems are fixable in North America and APAC, it will take some time before any meaningful turnaround is possible. In North America, it is highly conceivable that the Avon brand has lost its appeal as demonstrated by the significant drop in sales representatives. Earlier this year, Avon appointed Pablo Munoz as SVP and President, North America. It remains to be seen if the former Tupperware executive, responsible for turning around Tupperware Americas, is able to fix the challenges in the field.
It might well be prudent for the company to consider strategic alternatives for its North America business and find a local business partner in Asia Pacific. This is particularly important in China, where the market is extremely competitive. In the consumer products industry a number of international players have worked effectively with local partners (e.g. SABMiller and China Resources Enterprise in beer, and Pepsi's recent partnership with Tingyi). The direct-selling industry in China is growing at more than 20% according to secretary-general of the Direct Selling Expert Committee of the China Marketing Association. Avon is well behind Nu Skin, Mary Kay and Amway in China. Amway China generated turnover of 27.1 bn yuan in 2012 (USD4.4 bn) according to a representative of Amway China.
Taking into account some of the factors I discuss above, Avon's current valuation of forward P/E of 15.2x based on 2014 forecast earnings is relatively expensive. I don't see any catalyst for the shares in the near term, unless the company can demonstrate that investment in new products and sales representatives is yielding significant benefits. Furthermore, as the company hires more representatives, its margins would be impacted by wage increases in emerging markets. The stock might get a jump from the successful resolution of the FCPA issues, however, this is likely to be short lived.
Avon is an iconic global beauty brand, and while I believe in the longer-term potential in Avon, I would be inclined to wait a few more quarters before I consider an investment. I am quite sure that a number of private equity players and activist investors have reviewed Avon as a potential investment opportunity given its relatively depressed earnings. Given the enormity of the task and increasing competition in Beauty, several of these players would have backed away. The company might do well to engage in discussions with Coty (NYSE:COTY) about a potential transaction.
Valuation information from Yahoo Finance
Disclosure: I have no positions in any stocks mentioned, and no plans to initiate any positions within the next 72 hours. I wrote this article myself, and it expresses my own opinions. I am not receiving compensation for it (other than from Seeking Alpha). I have no business relationship with any company whose stock is mentioned in this article.