Prospect Capital (NASDAQ:PSEC), has a very good trailing twelve months dividend yield of 11.7%. When it comes to asset quality, the company has shown substantial improvement in the last few years. The fair market value of the company's non-accrual assets, or non-performing loans, as a percentage of total assets stood at approximately 0.3% on September 30, 2013. This is a significant decrease from 1.9% on June 30, 2012. The company has decreased its non-performing assets effectively from a high of 5.8% in June 2009 to the present 0.3%. Further, since 2008 the company hasn't initiated any investment that has been placed on non-accrual status.
Non-accruals as percentage of total assets from Jun-2009 to Sep-2013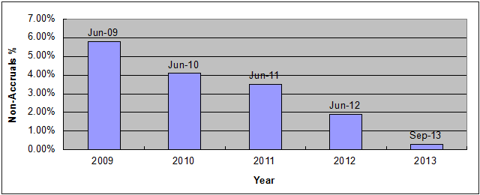 Prospect focused on initiating high quality investments over the last few years. So, the risk profile of its portfolio has decreased considerably. This is encouraging as Prospect hasn't taken inappropriate levels of risk to maintain high yields while growing its portfolio.
One of the other players in the BDC market, American Capital ltd (NASDAQ:ACAS), reported non-accrual loans of $169 million, representing 11.3% of total loans at fair value, as of September 30, 2013. This is a decrease from $245 million of non-accrual loans, indicating 14.2% of total loans at fair value, as of June 30, 2013. There was a decrease in non-accruals, as investments in two portfolio companies were removed from non-accrual status due to improved performance. Though American capital decreased its non-accruals, Prospect Capital still has a very good asset quality compared to American Capital. In my opinion, the asset quality of Prospect Capital will have a positive bearing on the company's credit quality in the coming years.
Asset Sensitive Balance Sheet, an advantage in rising interest rate environment
After the financial crisis in 2007-08, the interest rates decreased substantially. The LIBOR decreased from a high of 5.34% in January 2007 to around 0.57% at present. The lower LIBOR has affected the Interest income of companies that have floating rate assets. Prospect Capital's balance sheet comprises of around 90% floating rate assets. The company lends money using LIBOR as the standard rate. It adds an extra charge on the LIBOR, based on the credit quality of the company it invests in.
Thee macroeconomic environment in the U.S. has considerably improved in the last three quarters. The third quarter GDP growth of 3.6% was the highest of the last four quarters. As the economy improves, the interest rates are expected to go up in the coming quarters.
Even if the interest rate doesn't increase in the short term, I expect it to go up in the second half of 2014. In my opinion, this will be favorable for Prospect Capital, as it will benefit from rising interest rates. As the interest rates rises, the borrowers have to pay a certain amount higher than what they actually pay to Prospect Capital. So, the higher the rise in the LIBOR rate, the higher the increase in the company's interest income. When it comes to Prospect Capital's liabilities, around 93% are fixed rate liabilities. This means the company will have to pay fixed interest on its liabilities. In other words, in a rising rate environment, the interest expense of Prospect Capital will stay almost flat.
Apollo Investment Corporation (NASDAQ:AINV), one of the major competitors of Prospect Capital in the BDC market, has total assets of $2.7 billion. On a cost basis, 63% or $1.7 billion, of its investments are fixed rate and 37%, or $1.0 billion, are floating rate as of the third quarter ending in September 2013. Apollo Investment was at an advantage when the interest rates were decreasing, as most of its assets were fixed rate investments, but the company is at a disadvantage compared to Prospect Capital in the increasing interest rate environment.
Prospect Capital's annualized current yield was around 12.5% across all performing interest bearing investments as of September 30, 2013. As the interest rates increase, I expect the current yield to rise considerably, increasing the company's NII. Increase in the NII will increase the dividend for the investors, as company distributes more than 90% of its income to investors as a BDC. This will increase the company's dividend yield, which is already very attractive at 11.7%.
Conclusion
| | | |
| --- | --- | --- |
| Company | Price to Book Value | Dividend Yield |
| Prospect Capital | 1.1 | 11.7% |
| Apollo Investments | 1.1 | 9.1% |
| Industry | 1.8 | 2.8% |
The company's stock is trading at a price to book, or P/B, ratio of 1.1 compared to the industry's 1.8, which indicates that the company's stock is relatively undervalued. Even if we compare the dividend yield, the company provides a yield of 11.7%, which is very high compared to the industry's dividend yield of 2.8% and Apollo Investment's 9.1%.
Going forward, I expect Prospect Capital's NII will increase as the interest rates in the market go up. Also, the company's asset quality has improved substantially in the last five years. I expect this to have a positive effect on its credit quality going forward and attract more investors in the coming days. In my opinion, Prospect Capital is a very good investment for dividend seeking investors.
Disclosure: I have no positions in any stocks mentioned, and no plans to initiate any positions within the next 72 hours. I wrote this article myself, and it expresses my own opinions. I am not receiving compensation for it (other than from Seeking Alpha). I have no business relationship with any company whose stock is mentioned in this article.