Here's another reason why I'm a great believer of Micron's future growth and profitability. Micron Technology, Inc. (NASDAQ:MU) has released its 45nm MT25Q SPI NOR Flash product. This latest SPI NOR memory model is a big upgrade in terms of power, flexibility, and cost-efficiency.
Micron's great success in NAND and DRAM this year has been heavily covered already. I agree with all the bullish forecast for MU, this semiconductor company will most probably make another strong rally in 2014 thanks to its great portfolio of NAND and DRAM products. I do not want to do another rehash of the aforementioned topics.
In this article, I'd like to highlight Micron's other memory format, the NOR Flash. The web news feed has not given this topic enough focus lately. The commercial launch of the MT25Q SPI NOR is worthy of discussion because of its future impact on Micron's balance sheet for the next five years.
NOR Flash is Not a Dying Technology
While I believe that Digi-Key's assessment that NOR Flash will continue to decline is correct, I have a nagging suspicion that other movements in the tech industry will keep the NOR Flash remain relevant. The smartphone and tablet PC manufacturers now prefer NAND memory for their products. The decline in feature-phone and traditional PC sales justifies the projected lower NOR Flash market revenues until 2016.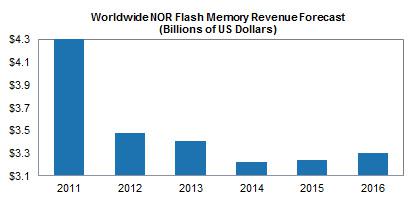 However, Cisco's (NASDAQ:CSCO) Internet of Things concept is a clear saving grace for the NOR Flash. Unlike, smartphones, Internet-enabled household appliances and smart devices are a perfect fit for NOR Flash. All of those appliances and small electronics products will need an embedded random-access memory chip that Micron can supply.
Micron has made it official that they are fully committed to the NOR Flash industry. It won't be making this declaration without compelling evidence that NOR Flash is a future growth industry which will give them a substantial revenue stream in the future.
A little history throwback makes me believe that Micron really sees big numbers in NOR Flash. Back in 2010, Micron bought Numonyx for $1.2 billion in an all-stocks purchase agreement. Numonyx is one the big three in NOR memory sales prior to the Micron takeover. This acquisition is notable because Micron stopped selling their own in-house NOR Flash products in 2006. The management's decision was a big surprise when they bought Numonyx, considering it stopped making NOR products because of lackluster sales.
In my opinion, Micron strongly feels that Numonyx's superior technology and market leadership will help it gain a strong market grip once the NOR Flash industry improves. The past two years has been disappointing, but wireless NOR Flash products can make a strong recovery when Cisco's vision of the Internet of Things become a reality.
The MT25Q is Multi-Purpose
The new 45nm MT25Q SPI NOR is a powerful multi-purpose solution that can be used in embedded products, consumer appliances, networking, and industrial applications. This description should already tell you that Micron has changed its tactics for NOR.
Micron created MT25Q to be an all-round solution. This new high-density NOR is backward-compatible and is available in 512MB, 1GB, and 2GB densities. Micron is already touting MT25Q best-in-class 2 MB/s programming speed and 66 MB/s read performance as perfect for embedded systems. It offers fast boot-ups and updates.
Jeff Bader, Vice President of Micron's Embedded Solutions Marketing, also revealed that the MT25Q family includes the world's first 2GB serial NOR in 6mm x 8mm BGA package, the smallest package available to date.
The introduction of our new SPI NOR family reconfirms Micron's commitment to NOR technology and further enables us to continuously meet customer needs", said Bader. "As customers increasingly move to higher-density NOR designs, our MT25Q product line, with 2 MB/s programming speed, supports the need for improved performance, higher manufacturing efficiency and a small footprint.
The MT25Q also offers advanced sector protection scheme, software write protection, and one-time programmable (OTP) security features. Manufacturers can also easily migrate their old designs on Micron or non-Micron Serial NOR products.
Micron is aggressively pursuing new markets for NOR. The company is pushing this memory technology as part and parcel of its Connected Automobile Solutions. The automobile industry is ideal for NOR saturation, SPI NOR is still the memory of choice for booting smart vehicle applications and storing road signs and preferred languages' data.
Conclusion
Micron's continued support for NOR makes it a One-Stop-Shop company capable of satisfying all the memory requirements of its customers. Based on the recent Agero Connected Vehicle purchase of Sirius XM (NASDAQ:SIRI), there's a big money opportunity for Micron to push all of its DRAM, NAND, and NOR memory solutions to car makers.
The car industry is just a drop in the bucket for Micron-branded NOR Flash. Buy more MU.
Disclosure: I have no positions in any stocks mentioned, and no plans to initiate any positions within the next 72 hours. I wrote this article myself, and it expresses my own opinions. I am not receiving compensation for it (other than from Seeking Alpha). I have no business relationship with any company whose stock is mentioned in this article.