L&L Energy (NASDAQ:LLEN) broke through to new highs last week, marking a record high close on Thursday at $7.83, and advancing to a new intraday high on Friday (as of this writing) of $8.20, surpassing its January 12th intraday high of $8.09.
Several factors have propelled the stock into new territory, including its NASDAQ uplisting on Tuesday, a rapid rise in global energy prices last week, and China's accelerating demand for coal. It has not yet established a new P&F buy signal--the price will have to reach $8.50 for that to happen--but recent bullish activity has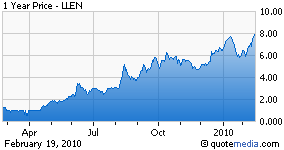 resulted in a P&F price objective of $15.75 and I won't be surprised to see the new buy signal occur soon. The NASDAQ uplisting will likely result in increased institutional demand for this growth stock, so I will continue to seek buying opportunities to increase my holdings.

My Position: Long.