Frontier Communications (NYSE:FTR) is a telecommunications company in the U.S., serving mainly rural areas and smaller communities. It is the sixth-largest telecoms carrier in the U.S. and offers one of the highest dividend yields within its sector. However, as usual with high-dividend yielders it may be a good opportunity for income investors or a dividend trap. Currently, it has a dividend yield of close to 9%, which is above its major peers like AT&T (NYSE:T) or Verizon (NYSE:VZ). Frontier has a market capitalization of about $4.5 billion, and is traded on the NASDAQ.
Company Overview
Frontier offers voice, broadband, satellite video, wireless Internet data access, data security solutions, bundled offerings, specialized bundles for small businesses and home offices, and advanced business communications for medium and large businesses. It has operations in 27 states and approximately 13,900 employees based entirely in the United States. It was founded in 1935 and known as Citizens Utilities Company until 2000 and Citizens Communications Company until 2008. It has more than 3.2 million customers and 1.8 million broadband connections. West Virginia and New York are the company's two largest states, accounting together for above 22% of its customers.
In 2010, Frontier completed the acquisition of Verizon Communications' local wireline business in 14 states for about $8.6 billion. This transaction tripled Frontier's size and was fully integrated in 2012. However, the company has suffered significant customers losses since it purchased Verizon's business. During 2012, it has lost about 240 thousand customers or a rate of residential customer loss of 7%. This was however an improvement from the 9.9% loss rate registered in 2011. On the positive side, the company was able to increase its average revenue per user [ARPU] by 4.5% which helped to partly offset the number of costumer losses. Frontier is pushing its broadband offer to gain new subscribers, a strategy that is paying off as the company has been able to reduce costumer churn over the past few quarters although is still losing costumers.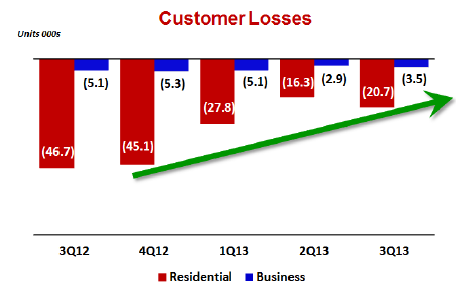 Regarding its financial performance, Frontier has reported declining sales for several straight quarters since it purchased Verizon assets in 2010. In 2012, its revenue fell by 4.4% to about $5 billion. Business customers' revenue amounted to $2.3 billion and residential customers to $2.1 billion, with the remaining $600 million being regulatory revenue. Frontier's profitability is very high given that its EBITDA was above $2.3 billion, or an EBITDA margin of 47%. However, as the company as a lot of debt its net profit was only $137 million, leading to earnings-per-share of $0.14. During the first nine months of 2013, Frontier has reported improved operating and financial results posting relatively stable revenues and costumer losses, driven by broadband which is offsetting its wireline decline. Its revenues were relatively stable and its EBITDA margin has also been stable between 46-47%.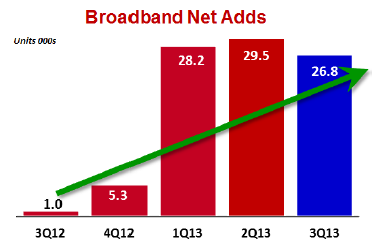 Dividends
Regarding its dividends, Frontier's track record is not impressive given that the annual dividend was slashed from $0.75 to $0.40 per share or a 46% cut, at the beginning of 2012. Since then, its dividend has been unchanged with four quarterly payments of $0.10 per share. Nonetheless. at its current stock price, Frontier has an attractive dividend yield of 8.75%. Its dividend payout ratio is very high, reflecting the company's low earnings. In 2012, its dividend payout ratio was 252% which is very worrisome.
On the other hand, Frontier's cash flow generation is quite good. In 2012, its cash flow from operations were about $1.6 billion, which was more than enough to finance its investment and dividend payments. Frontier has invested significantly over the past few years on broadband, expanding its coverage to more than 6.2 million household. Frontier was required to invest in its network as part of its Verizon assets transaction, having to reach minimum broadband coverage in its acquired territories. Part of this investment has been funded from the Connect America Fund [CAF] to support broadband deployment in unserved high-cost areas. In 2012 and early 2013, Frontier has received more than $70 million from CAF. However, this is a small part of its capital expenditures [capex] that amounted to $800 million in 2012. For 2013, its capex should decline to slightly more than $600 million due to the completion of its planned geographic broadband expansion.
Therefore, its cash flow coverage of dividend has increased which is supportive of its shareholder remuneration policy. As shown in the next graph, over the past four quarters Frontier's free cash flow has been much higher than dividend payments, so its dividend seems to be relatively safe.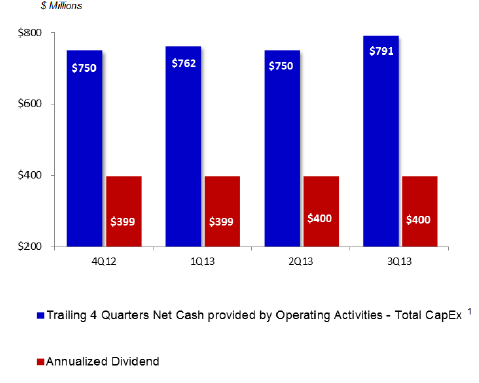 Regarding its balance sheet, the company has a highly leveraged balance sheet, given that as of 30 September, 2013, its net debt was $8.1 billion or a net debt-to-EBITDA ratio of 3.6x. Frontier has a long-term target of reducing its leverage to about 2.5x. Despite its high debt levels, the company does not want to reduce debt over the next couple of years beyond the bonds maturing until the end of 2015. Frontier has enough cash to repay the $402 million of debt that matures through 2015, so its free cash flow generation will be used to reinvest in the company, increase shareholder remuneration and ultimately reduce leverage.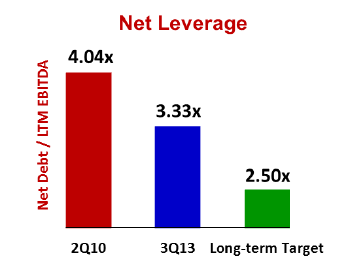 Conclusion
Frontier Communications offers a very high-dividend yield of close to 9%. For income investors, this is very appealing but as usual with high yielders, this reflects poor business fundamentals that put in doubt its long-term sustainability. However, the dividend is covered by Frontier's cash flow generation and for the next two years the company seems to have financial flexibility to sustain it. For long-term investors, Frontier is risky given its fundamental issues and leveraged balance sheet which may result on a dividend trap going forward.
Disclosure: I have no positions in any stocks mentioned, and no plans to initiate any positions within the next 72 hours. I wrote this article myself, and it expresses my own opinions. I am not receiving compensation for it (other than from Seeking Alpha). I have no business relationship with any company whose stock is mentioned in this article.