The USS Enterprise (CVN-65) was the largest warship ever built. With 6 machinery rooms and 4 main engines powered by 8 nuclear reactors, she was arguably the most powerful naval vessel ever floated. It wasn't until 1975 that a larger commercial vessel, the Berge Emperor, hit the water. Since then, the biggest of the big supertankers have come and gone, with the measly 1,300 foot Maersk Triple E class container ship being the largest ship afloat. That has now all changed.
Royal Dutch Shell (NYSE:RDS.A) (NYSE:RDS.B) floated the liquefied natural gas facility Prelude out of dry dock at the Samsung Heavy Industries (OTC:SMSHF) shipyard in South Korea. (And you though Samsung just made cool phones…) At more than 1,600 feet in length and a deadweight tonnage of 600,000 the Prelude is by far the largest sea going vessel ever.
Overview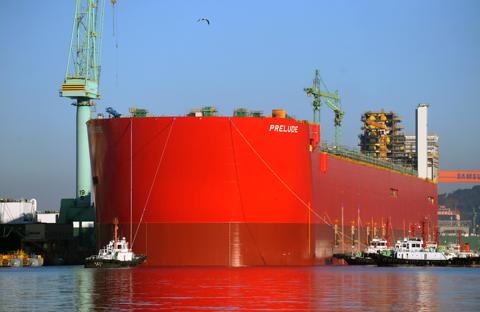 Prelude is more than just a ship. It is an entire floating processing unit that is meant to allow Shell to produce natural gas at sea, turn it into liquefied natural gas and then transfer it directly to ships for transport to customers. Theoretically, the Prelude will help Shell realize efficiencies by enabling the development of multiple gas resources (ranging from clusters of smaller more remote fields to potentially larger fields) where onshore development is not viable. This is supposed mean faster, cheaper, more flexible development and deployment strategies for resources that were previously uneconomic, or constrained by technical or other risks. Here is how the company states it:
Prelude FLNG is the first deployment of Shell's FLNG technology and will operate in a remote basin around 475 kilometers north-east of Broome, Western Australia for around 25 years. The facility will remain onsite during all weather events, having been designed to withstand a category 5 cyclone.

Shell is the operator of Prelude FLNG in joint venture with INPEX (OTC:IPXHF) (17.5%), KOGAS (10%) and OPIC (5%), working with long-term strategic partners Technip (OTCQX:TNHPF) and Samsung Heavy Industries (the Technip Samsung Consortium).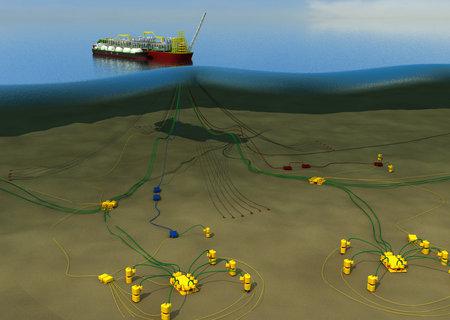 About The Prelude
Shell expects the Prelude to produce 3.6 million tones per annum (mtpa) of LNG, 1.3 mtpa of condensate and 0.4 mtpa of LPG, and to remain on location for approximately 25 years. It has adapted existing technologies of on shore facilities for use on board, while taking about only about 25% of the equivalent area of an on shore LNG facility. According to Shell, these adaptations include:
Close coupling between the producing wells and the LNG processing facility - This is the physically short length from one to the other
Mooring systems - making it bigger for the largest floating facility ever built and dealing with the associated forces.
The marinisation of processing equipment, so that it will work on a floating facility.
Water intake risers, as water will be used as part of the cooling process needed to turn the gas into LNG.
LNG tanks that can handle sloshing - that is the motions of the liquid LNG within the hull if and when there are stormy seas.
LNG offloading arms which will transfer LNG from the facility to the ships moored alongside - two moving facilities instead of just one.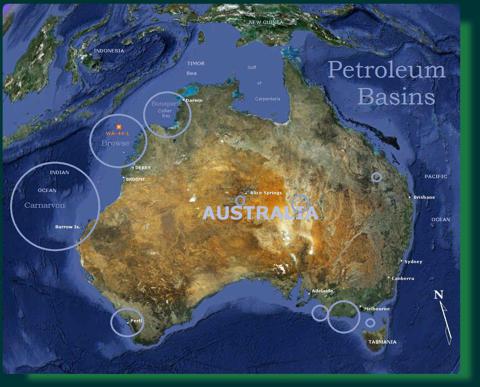 Placement and Production
The Prelude gas field is located in the Browse Basin offshore Western Australia in the WA-44-L permit. It is estimated to contain between 2 to 3 Tcf of recoverable gas. Historically, LNG projects need more than 5 Tcf of gas before it is considered economical to construct offshore platforms, lay pipelines to shore and construct a land-based processing plant. Therefore, after its discovery in 2007, Shell began investigating the use of a floating-production, storage, and offloading vessel to develop the Prelude field.
The idea is that a floating LNG facility on Prelude would permit development of other marginal gas fields in the area at lower costs. The next year, well development started with a 12-well drilling campaign in the area, and since then, several other small discoveries have been made. But, Shell has not released information on these finds. Therefore, the quest to answer is; is now the time to implement development?
Current LNG Environment and Outlook
Forecasts of supply and demand abound from multiple sources. Consensus shows that current supply levels exceed demands on a global level, but the outlook for growth is promising, specifically along the Asian rim. I'm including a couple of graphics from an Earnest and Young report that landed on my desk earlier this year discussing the global outlook for demand growth in China. Note the LNG Imports to Balance row, and the projected growth from 22 mtba in 2014 to 81 mtba in 2020. Also included are the current conditions on a global scale of LNG supply and demand as disclosed in this past springs corporate presentation from Cheniere Energy (NYSEMKT:LNG).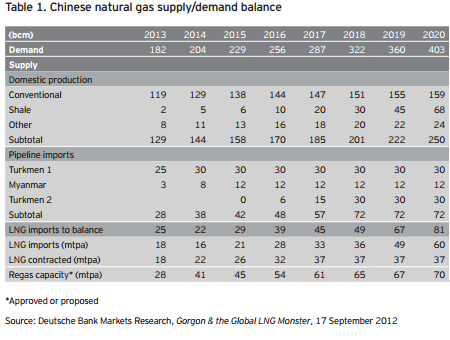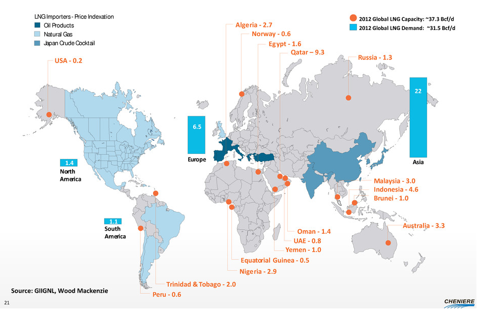 The key points right now are that supply and demand are in near balance, and there are sufficient resources available. However, future concerns have been raised with respect to capacity. The US Energy Information Administration suggests:
Shale gas supplies could also be crimped if global opposition to fracking gathers strength amid widespread accusations that its application has led to the contamination of underground freshwater reserves and triggered earthquakes in different parts of the world.

Long term security of LNG supplies from three of Asia's leading producers has become a matter of concern for their customers in Japan, China, South Korea and Southeast Asia.

Indonesia and Malaysia are losing their positions as the world's second and third leading LNG suppliers due to rapid domestic demand growth and depletion of mature gas fields. Both could become net importers later this decade.
Summary
Based upon the current economic environment in liquefied natural gas, Royal Dutch Shell is moving to position themselves to capture efficiencies in the Pacific Rim region by launching the Prelude now. While these will still be a considerable amount of time until the Prelude is on station and operational, the company is acting prudently to position itself once demand outstrips supply.
Disclosure: I have no positions in any stocks mentioned, and no plans to initiate any positions within the next 72 hours. I wrote this article myself, and it expresses my own opinions. I am not receiving compensation for it (other than from Seeking Alpha). I have no business relationship with any company whose stock is mentioned in this article.