Frank De Rose is the founder of Ferrata Capital Management, an event driven hedge fund based in New York. De Rose started his career at Goldman Sachs, then moved to Chase/JP Morgan where he worked in fixed income, investment banking and leveraged finance. He then spent time working in Swiss Re's acquisition arm, before founding Ferrata.
We recently had the opportunity to ask De Rose about his highest conviction holdings, and what asset class he's most bullish on at this time.
Seeking Alpha: What are your highest conviction stock positions?
I believe that if the market makes a real turnaround it will be led by technology, the banking sector and large cap companies in general. So we have selected certain companies which at current valuations I feel are good buying opportunities.
I believe JP Morgan (NYSE:JPM) is the best positioned bank in the US, with an excellent CEO who understands risk and was able to make two solid acquisitions which will pay dividends in the next two years, Washington Mutual and Bear Stearns.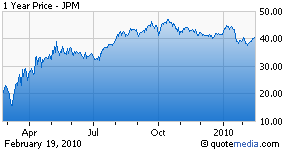 I also anticipate another acquisition from them to build on their retail base (Note: since this interview, JPM acquired RBS Sempra Commodities for $1.7 billion). And when the economy rebounds, I believe the stock will clearly outperform all its competitors.
All of JPM's divisions have been performing well, considering the fact that they have made these large acquisitions in the past two years during difficult times.
I also believe that thought Citigroup (NYSE:C) still has to repay its TARP funding, management is making the correct moves. I believe the stock is worth the risk based on its current price.
I have also been a strong believer in Apple (NASDAQ:AAPL) for a long time - it is a company that continues providing products that the consumer will continue buying despite a recession. They have a solid balance sheet and plenty of cash to withstand any downturn in the market. I believe Research in Motion (RIMM) will be in a great position as they expand into China and other emerging markets in the next few years, but Apple is best positioned now for better returns. The question on Apple is valuation - but it seems whatever product they introduce, the demand is strong. Apple's sales have been driven mostly by the iPod and the iPhone. If they can continue gaining PC market share there is still plenty of upside for this company.
Which single asset class do you think will perform best in 2010? What stocks or ETF do you use to capture that?
I strongly believe Emerging Markets will outperform most benchmarks this year. I have taken a position in EEM which is an emerging market index fund.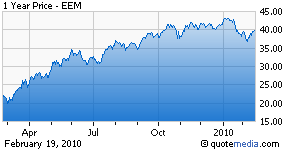 This is based on the following: I think presently the worst is behind us in the United States, but we have a deficit close to $13 trillion and until the US economy starts creating jobs, which I have not seen, I cannot say we are moving forward. Banks have become more stable but are not extending credit, which is what needs to happen.
I don't see any real opportunities in Europe. They are dealing with the integration of the former Baltic countries meeting EU entry guidelines and these countries have little or no infrastructure. Presently, Greece is bordering on default unless a resolution is presented, Spain has unemployment of 19% and Portugal is in trouble. Germany, the largest economy in Europe, is performing well. With France and Italy, we still don't know how serious their situation is. Take out Switzerland which is dealing with transparency issues and trust issues. England is dealing with higher taxes, a mass exodus and a large deficit - I don't see any real opportunities there.
Japan has been in a recession for the past 15 years and there doesn't seem to be a light at the end of the tunnel for them.
The obvious place where I think there is value is in Emerging Markets. I am apprehensive, however, about investing in a single country or stock (in say, Russia) because issues arise which can affect the performance. What has been driving the world economy for the past few years has been emerging markets, mainly China's and Russia's demand for natural resources - and to a lesser extent Brazil and India.
EEM allows me the diversification I need and want in my portfolio with the flexibility of owning a stock. I feel very confidently it will outperform the S&P 500 and any other benchmark. The real demand in the global market is not in the United States or Europe or Japan. There are too many outstanding issues which have to be corrected and this will take time. The BRIC countries will drive this economy, but since I am not so sold on any individual stock but rather the sector as a whole, EEM allows me to capitalize on this.
What is your general process for selecting asset classes?
I typically bring the same analysis to whatever asset class I am interested in. I typically look at sectors that have been beaten down and determine why and the catalyst for the poor performance. I focus on the cash flow, the capital structure and determine if it is being used correctly, market share and what the growth rates are. What are the drivers of the business, what are the long term trends, what are the competitors doing and what is the demand from their customers. This is the thesis I use when I invest in any asset class.
I totally avoid cyclical businesses, which will have unstable cash flows, and companies which are capital intensive and hold too much debt.
This is the same analysis that a Private Equity firm uses when determining whether to buy a company.
Have any new instruments emerged in the past few years that you've adopted in your portfolio construction?
ETFs, which allow you to be more flexible and to obtain the diversification which you need. If used correctly they can become very good hedges. And because they trade like a stock you can short them or use margin.
Could you give a bit of background on what's unique about your fund, and your current take on hedge funds and private equity?
Unlike most Hedge Fund managers who were traders or research analysts, my background is very different and diverse which I believe is a benefit. Recently, Ferrata has added a Restructuring Advisory arm and Principal Investment Arm which are separate from the investment side. I believe there are enormous opportunities presently in the market for these services based on what has happened over the past two years.
You are seeing a convergence in the hedge fund and private equity sectors. For example, Blackstone (NYSE:BX) bought a distressed fund and TPG, a large private equity firm, has a hedge fund arm. At the same time, certain hedge funds have added Private Equity personnel.
Presently, there are many opportunities for Ferrata to capitalize on with all the issues companies are facing in a difficult economic landscape. It is easy to make money in the market when everything is positive - the smart investors are the ones who take the road less traveled and can unlock value.
Thank you very much, Frank.
Happy to participate.
Disclosure: Funds managed by Frank De Rose are long JPM, C, AAPL and EEM.
Read more High Conviction Picks »
If you are a fund manager and interested in doing an interview with us on your highest conviction stock holding, please email Rebecca Barnett.