Chevron (NYSE:CVX), BP (NYSE:BP), and Exxon Mobile (NYSE:XOM) may have just hit a huge payday. The Mexican congress passed a law yesterday allowing for international companies such as these to enter Mexico to tap into the country's vast oil reserves. The move reverses 75 years of a state-run, nationalized oil industry that has seen its production notably decline over time.
What's the law about?
75 years ago, the Mexican government kicked out all international oil companies and nationalized its oil production. It established Pemex, a completely state-run consortium that has fallen behind privately run companies in terms of technology, development, and ultimately, production. This decline, in concert with the lagging Mexican economy, has driven President Enrique Pena Nieto to enact drastic change through the aforementioned legislation.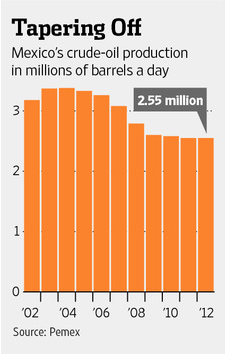 (Thanks to Pemex/WSJ for the data)
Why is this such a big deal?
Mexico's confirmed oil reserves of 10.2 billion barrels currently place it at 16th in the world, which by itself is only a decently significant amount. However, many analysts predict that Mexico has much more oil undiscovered and unproven due to Pemex's dearth of technology. Estimates abound, but several estimate untapped oil to the tune of 87 billion barrels. These reserves, primarily located in shale or in the deep waters of the Gulf of Mexico, represent a windfall of 8.5X current proven oil reserves, and would bump Mexico up to 8th on the list of international oil producers. Even if estimates are off by 50%, this still marks a great opportunity for oil corporations.
Companies like Chevron have had success in the deepwater Gulf before, as shown by the graph below. The Lower Tertiary Trend is primarily deepwater, and Chevron struck a large deposit at "Coronado" in March, 32,000 feet down.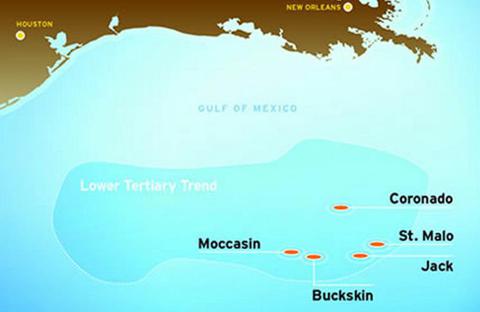 Click to enlarge
(Click to enlarge)
Taxes, royalties, other effects:
Mexico still has to decide on how to tax revenues generated by international firms, and how they might compensate these companies for the oil they do produce. Factors such as these will determine how large of an impact this move could have for international oil conglomerates. More legislation is anticipated to be coming that will give greater insight into this data.
In addition, if Mexico really does sit on 87 billion untapped barrels of oil, prices for petroleum are likely to decline. While this could have a negative impact on corporations like Chevron, Exxon Mobil, and BP, the net impact of this oil discovery is likely to be positive for whichever companies effectively utilize Mexican oil.
So the law is in effect?
The law isn't fully passed yet, as it requires approval from a majority of the Mexican states. However, this approval is expected to occur, because the ruling party who proposed the bill also rules a majority of the states.
Conclusion:
This landmark legislation could greatly impact the income statement for many major petroleum firms across the world. Once the law goes into effect, companies like Chevron, Exxon Mobil, BP, and many others will be scrambling to get a seat at the table. Keep an eye out for who gets there first, because there is potential for a feast.
Variant view:
This likely isn't going to send any oil stock on its way to a double, but potential still exists. Investors must keep in mind that the Gulf of Mexico has proven challenging to export oil from in the past, so companies will likely have a large capital investment in any operations for deepwater rigging.
Disclosure: I have no positions in any stocks mentioned, and no plans to initiate any positions within the next 72 hours. I wrote this article myself, and it expresses my own opinions. I am not receiving compensation for it (other than from Seeking Alpha). I have no business relationship with any company whose stock is mentioned in this article.