By David Russell
Mobile TeleSystems (NYSE:MBT) has recently rallied against a four-month downtrend, and one big investor apparently thinks that it will experience another push to the downside.
optionMONSTER's Depth Charge tracking program Friday detected the purchase of 2,000 March 50 puts for $2.05 and the sale of an equal number of March 45 puts for $0.60. The trade cost a debit of $1.45.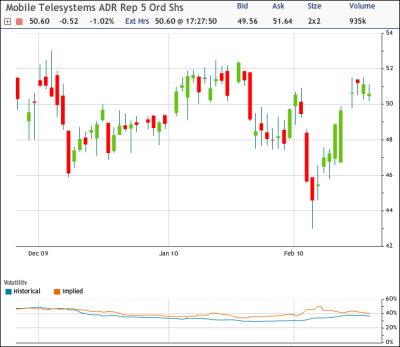 MBT fell 1.02 percent to $50.60 on Friday. The Russian telecom stock is up 11 percent in the last two weeks but has been making lower highs since peaking a $55.71 in October.
Friday's trader apparently thinks the shares will return to their recent support level around $45, which is also the location of their 200-day moving average. If correct, he or she stands to earn about 245 percent.
The strategy, known as a bearish call spread, uses the income from selling lower-strike puts to offset the cost of buying the higher-strike options. It permits the implementation a downside bet without the risk of selling the stock short.
A form of vertical spread, the trade reflects the power of options to provide more flexibility and better risk management. (See our Education section)
Overall options volume in MBT was more than five times greater than average. Puts accounted for three-quarters of the activity.
(Chart courtesy of tradeMONSTER)