By Chris McKhann
Traders are betting that the technology sector will continue to be volatile for the rest of 2010.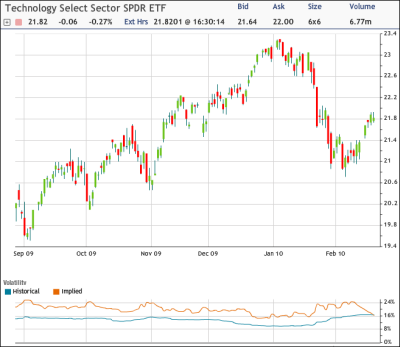 The average daily volume for the Technology Index SPDR (NYSEARCA:XLK) exchange-traded fund is fewer than 8,000 options, but Friday's action saw a trade of 25,000 contracts. Our systems show two blocks of 6,250 of the January 2011 22 calls bought within seconds of each other, the first for $1.70 and the other for $1.65. A few seconds later 12,500 of the January 2011 21 puts were bought for $1.65. The action at both strikes was significantly more than open interest, so these were new opening positions.
Shares of the XLK finished last week at $21.82. They rallied off of support down at $21 last week after falling from the 52 -week high of $23.30 set in early January. The stock certainly appears to be at a crossroads, and that is what the option trade is based on.
This long strangle is looking for shares to push above those recent highs or fall back toward the March lows. Paying $3.35 for the strangle means that on expiration, the XLK will have to be above $25.35 or below $17.65 to have a profit. (See our Education section)
The trade also reflects the opinion that the implied volatility of those options is too low at 23 percent, above the XLK average of 19 percent and slightly higher than the 52-week low of 16 percent from late December. The 30-day historical volatility is at 21 percent, the highest in six months, having climbed from a low of 13 percent a month ago.
(Chart courtesy of tradeMONSTER)