Background
I really wanted to become an investor in AT&T (NYSE:T). AT&T is a telecom and my portfolio lacks any presence in that industry at present. I love dividends and T boasts a healthy 5%+ yield. I love dividend growth even more and T has been raising its dividend for 29 straight years.
So, what's not to love? As it turns out, nothing is glaringly bad with AT&T, but I have completely failed at arriving at a compelling reason to be an equity owner of T.
The facts:
| | |
| --- | --- |
| | T |
| Current Price | $34.11 |
| Market Cap | $179.7B |
| Yield | 5.23% |
| P/E | 24.98 |
| Consecutive Years of Growing Dividends | 29 |
Data Sources: Yahoo! Finance, David Fish's List of Dividend Champions
Peer Comparison
The peer comparison for AT&T could conceivably run in multiple directions. On the one hand, when looking at the US telecom market, it could be compared with Verizon (and its subsidiary Verizon Wireless), Comcast (NASDAQ:CMCSA), T-Mobile (NASDAQ:TMUS), and any other US wireless or cable telecom company. I decided to take a bit of a broader look however and include some of the large multinational telecoms.
| | | | | | |
| --- | --- | --- | --- | --- | --- |
| | | Profitability | Earnings Growth | Leverage | Overall |
| AT&T Inc | T | 6 | 1 | 4 | 4 |
| China Mobile Ltd. | | 1 | 3 | 1 | 1 |
| Vodafone Group PLC | | 5 | 5 | 3 | 5 |
| Verizon Communications Inc | | 7 | 7 | 7 | 7 |
| America Movil, S.A.B. de C.V. | | 2 | 2 | 5 | 2 |
| Telefonica SA | | 3 | 6 | 6 | 5 |
| NTT DoCoMo Inc | | 3 | 4 | 1 | 2 |
As I have mentioned before the peer comparison that I conduct is nothing more than a high level filter comparing similar companies. Looking at this list, T falls somewhere comfortably in the middle. It seems like there is a bit of skewing going on in the earnings growth category where AT&T's failed T-Mobile bid and the ensuing multi-billion dollar penalty caused a hit to 2011 earnings which in turn made 2012 earnings compare nicely.
Since this is a very shallow force ranking process, I will often continue analyzing a company if it finishes near the top of the peer comparison. Even though AT&T does not fit this requirement, I decided to try to look a bit deeper for hidden value hoping that I could find a compelling story that I could believe in.
Looking at the margins…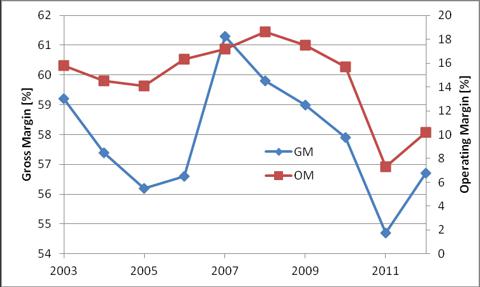 When the T-Mobile deal finally died in 2011, AT&T took a $4.2B charge to operating income according to their 2011 10-K. In addition, AT&T took a $6.3B non-cash charge "from actuarial losses related to pension and postretirement benefit plans." This latter point was repeated in the 2012 10-K as a $10B non-cash charge. Going back to 2008, here is how these numbers hold up:
| | |
| --- | --- |
| Year | Actuarial Loss ($B) |
| 2008 | $25.2 |
| 2009 | $0.2 |
| 2010 | $2.5 |
| 2011 | $6.3 |
| 2012 | $10.0 |
Data Sources: 2010, 2011, and 2012 10-K forms
This article does a great job of explaining what exactly AT&T will be doing about plugging its pension hole. Needless to say, that article isn't exactly a glowing endorsement nor does this action necessarily fix the problem that drives the revaluation losses to the pension account.
Conclusion
Even though operating cash flow will likely remain strong enough to support the rising dividend going forward there are three main reasons (beyond the poor peer comparison above) that I'll stay away from AT&T for now.
If AT&T could put these losses behind it, earnings would jump and conceivably the share price would too. The problem is I don't see that happening any time soon. One of the things I learned from reading Ben Graham is that if seemingly non-operating charges like this pop up every year, you should expect that they will continue popping up every year. If the scale of the losses were to drop under $2B (just to pick a number), yearly earnings will eclipse $2 per share and the share price could see some upside. Unfortunately I have no idea if that is realistic and sustainable.
The fact of the matter is that AT&T operates in very mature, very competitive markets. Right now, the company is split between Wireless (54% of revenues in Q3), Wireline (46% of revenues), and assorted other smaller businesses. While you can argue about the virtues of the various services compared to competitors, I will say that I have yet to see a compelling competitive advantage from any company operating in either of these spaces. This leads me to believe that margins will continue to be under pressure moving forward and that top line growth will be difficult to attain. All this in an industry where T will be shelling out $20B per year in capital expenditures just to hold position.
So what do you think? Are there elements of AT&T that I am underestimating? Do you believe T can put its string of non-operating charges behind it and unlock some value? Is the 5% yield enough of a lure to keep you invested?
Disclosure: I have no positions in any stocks mentioned, and no plans to initiate any positions within the next 72 hours. I wrote this article myself, and it expresses my own opinions. I am not receiving compensation for it (other than from Seeking Alpha). I have no business relationship with any company whose stock is mentioned in this article.
Additional disclosure: I am not a professional investment advisor nor a financial analyst; I am writing this article because I feel that investing is not a zero sum game for the individual investor and because I believe that the process of writing and receiving feedback improves my own performance.