By Platinum Tiger

It was the best of times, it was the worst of times. Depending on where you've placed your bets on Chinese equities, you may feel, to paraphrase that old bard Dickens, that you're in the spring of hope, or perhaps you're in the winter of despair.

So far this year, Chinese small caps have decoupled from their big cap cousins and outperformed them by a huge margin. Our China OTC Player small cap index advanced another 2.6 percent this past week and is up 10 percent for the year. The large cap Shanghai Composite Index, on the other hand, is down 7.9 percent since January 1st. The small caps rose to their third consecutive weekly gain, and I'm going on record here, albeit cautiously, in saying that they are now in a bullish uptrend. But Chinese large caps have struggled against the double whammy of sluggish global demand and increasingly tighter domestic fiscal policies, leaving them in a short-term, and possibly longer-term, downtrend.
Click to enlarge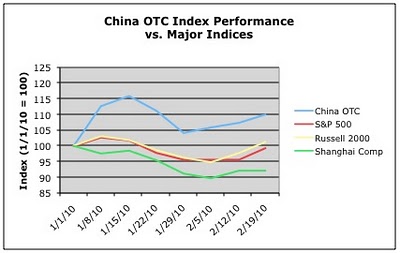 I'm cautious regarding small caps because the signals have been mixed. Breadth was positive for this past week, with gainers outnumbering decliners by more than 2-to-1, but breadth for the year has been far less convincing, with declining stocks actually outnumbering gainers. Furthermore, the past two weeks have started much stronger than they've finished, with the index losing ground on consecutive Fridays.

Chinese industrial small caps have actually performed poorly, as exemplified by such laggards as instruments supplier China Shuangji Cement (OTC:CSGJ), down 26 percent for the year, chemicals manufacturer Changda International (OTC:CIHD), down 23 percent, and China Power Equipment (OTCPK:CPQQ), down 21 percent.

Consumer and services small caps, on the other hand, have been responsible for most of the index gains this year, with computer service company Jingwei International (NASDAQ:JNGW) and housing provider China HGS Real Estate (OTC:CAHS-OLD) both up by more than 75 percent since January 1st.

On balance I expect that we'll see small caps continue to rise for at least the short term, with my bets largely concentrated on food, consumer services, and pharmaceuticals stocks.